Freight
Sustainable Transport Advocates Decry 'Precision Scheduled Railroading' After Ohio Derailment
12:01 AM EST on March 1, 2023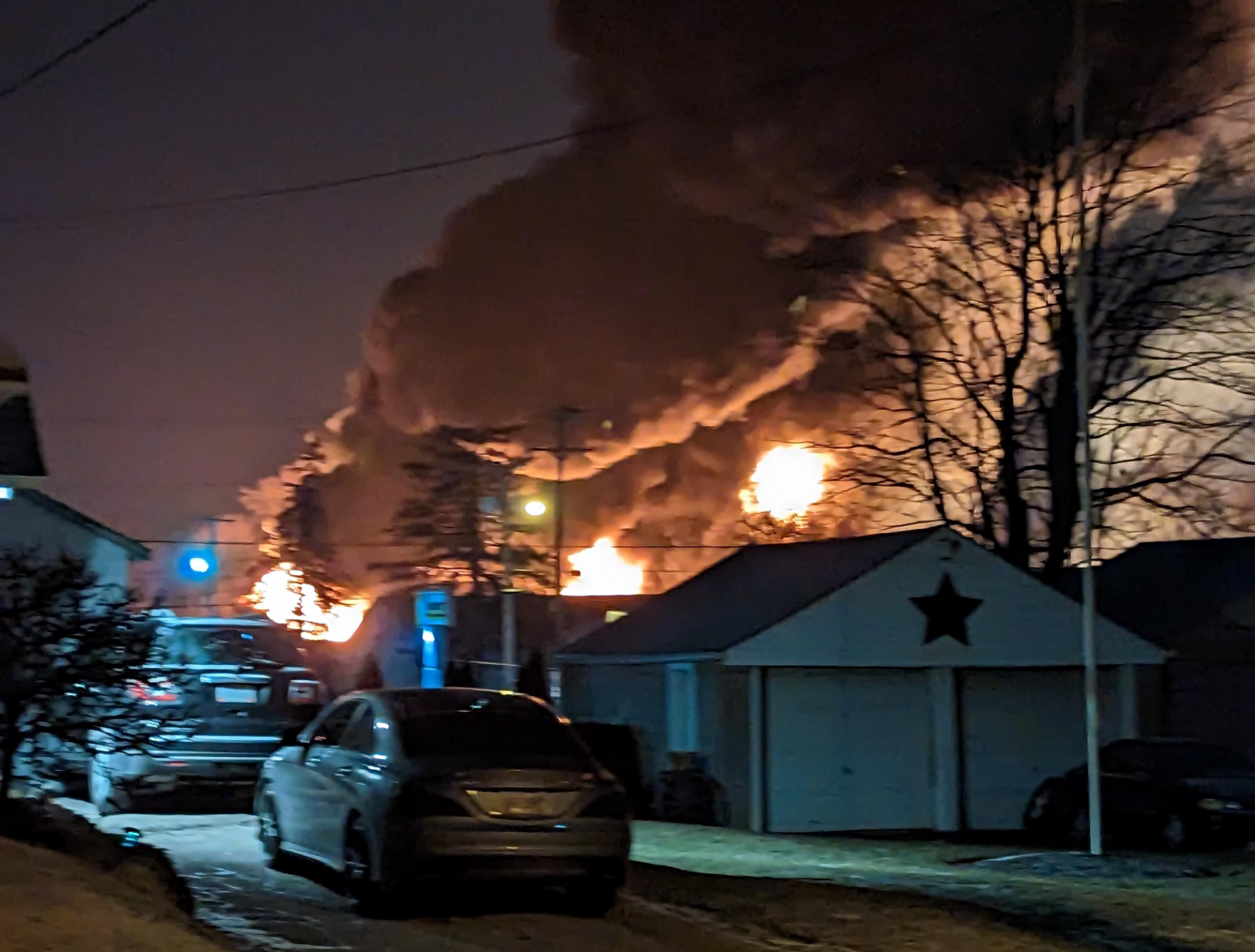 The ongoing debate over who's to blame for a toxic Ohio train derailment is obscuring a more critical conversation about the freight rail industry's tendency to put profits over safety, sustainable transportation advocates say — and DOT, Congress, and the rail industry itself must all play a role in unraveling the mess.
According to a preliminary report from the National Transportation Safety Board, an overheated wheel bearing likely played a significant role in the Feb. 3 derailment of a Norfolk Southern freight train in East Palestine that sent dozens of cars careening off the tracks.
No one was killed in the immediate aftermath, but five of those cars were tankers carrying polyvinyl chloride, an industrial chemical used in the production of plastics that's linked to several cancers.
The report set off a wave of finger-pointing in Washington, particularly among Republicans such as Sen. Ted Cruz of Texas, who said the document "exposes the shallowness of Secretary Buttigieg's recent grab-bag of policy proposals ... many of which the NTSB report shows are irrelevant to this derailment."
Advocates, though, say that take ignores both the preliminary nature of the NTSB's assessment, as well as the wide-reaching structural factors that aren't the primary focus of the agency's investigation into the direct causes of the crash, but still actively endanger American communities. And chief among those factors is the concept of "Precision Scheduled Railroading," a cost-cutting approach that's come to dominate the U.S. freight sector — despite the objections of safety and labor advocates, who have been sounding the alarm about it for years.
"Nobody can say that Precision Scheduled Railroading made a bearing overheat and caused a wreck," said Jim Matthews, president and CEO of the Rail Passengers Association. "However, I think you can say that PSR created the conditions in which the steps that would have potentially avoided that wreck were not taken, or were not taken well. … Zeroing in on direct causes is important, but it misses the larger picture: this is an industry that, if it had its way, would run a completely cost-free operation. And that's reaching a dangerous point of absurdity."
Now in use by almost every large rail outfit in the United States, Precision Scheduled Railroading initially began as a management strategy aimed at speeding up freight travel by streamlining routes, minimizing staff, and combining as many shipments as possible into ultra-long trains known as "mixed consists." Over time, though, Matthews said the concept has evolved into what he calls "a business culture" — and he says "that business culture gets us to a place where these avoidable disasters keep happening."
And those disasters aren't just dramatic catastrophes like the one in East Palestine. Matthews also named PSR as "the real root" cause of the harsh working conditions that nearly forced a labor strike last year, and points out that the growing length of freight trains is a primary culprit for long delays on passenger trains that are supposed to get track priority by law, but often don't.
The potential safety impacts of PSR, though, may deserve particular scrutiny in light of the "White Noise"-like Ohio disaster, and the thousands like it every year. Under the system, even massive trains are typically staffed with just one to two workers — the Norfolk Southern train had two plus a trainee — and Matthews says they're given roughly 90 seconds to inspect each car to minimize "dwell times" in yards. Some have argued that 90 seconds simply isn't enough time to spot small defects on, say, individual wheel bearings.
"One of the worst effects is that because you have fewer crews, the crews that are there are working to exhaustion," added Matthews. "You saw in the lead-up to the potential rail strike that a lot of crews were saying, 'These schedules are brutal, everyone's strung out, this is an accident waiting to happen.' And they were right."
Moreover, because PSR emphasizes making trains as long as possible by combining delivery cars for many different customers, those rapidly inspected (perhaps too rapidly inspected) trains often include innocuous materials like sand and wheat alongside as many as 34 cars full of toxic materials like vinyl chloride, without meeting the threshold for being classified as "high-hazard flammable train," which triggers additional safety requirements like decreasing the train's maximum speed.
Some experts pointed out, though, that those requirements do not include electronically controlled pneumatic brakes, despite the fact that they can sometimes prevent derailments that less-modern systems can't. (The Obama administration moved to make such brakes mandatory on hazmat trains, but the proposed rule was rescinded under the Trump administration before it could go into effect.) Nor do they require the use of safer, modernized tank cars that comply with a standard known as DOT 117, which Congress initially required railroads to phase in by 2025, until the deadline was pushed back to 2029.
Matthews emphasized that because the holes that Precision Scheduled Railroading has torn in America's safety net are so complex and numerous, it will take all hands on deck to repair the damage — including to the reputation of the rail industry itself. He said high-profile disasters like East Palestine's tend to fuel public misperception that trains in general aren't safe — despite the fact that only a tiny fraction of of the 1,700 derailments that happen in the U.S. every year involve companies like Amtrak, which averages just 24 derailments annually. (Even freight rail companies, for the record, are significantly safer than freight truck outfits, which log 90 percent of all hazmat crashes and significantly fewer collisions with bicyclists, pedestrians, and other road users.)
"People think, 'I'm not gonna ride Amtrak, it'll derail!'" Matthews said. "This just creates a sense of doom around taking a train, which now we have to go out and dispel."
In a Feb. 21 memo, federal DOT officials committed to "pursuing further rule-making, to the extent possible under current statute" to require the pneumatic brakes, safer tank cars, stronger staffing rules, and other safety measures they say will be impactful, even if they might not have prevented the Palestine derailment.
The agency pointed out, though, that many of the most impactful safety reforms aren't possible without outside help. Congress, for instance, are the only ones who can change the definition of what qualifies as a "high-hazard flammable train" and strengthen safety regulations on railroads that run them, and they're also the only ones who can increase the maximum fines that DOT can levy when companies violate those regulations, which are currently capped at just $225,455.
House Democrats answered many of those calls in a bill introduced Tuesday called the DERAIL Act — but notably, lawmakers elected not to increase the maximum fine, which DOT compared to "a rounding error for a company that reported an astonishing record annual operating income in 2022 of $4.8 billion and has posted operating margins approaching 40 percent."
Moreover, there's no guarantee that the bill will even pass the divided Congress — or that the industry will step up when lawmakers don't demand it. Norfolk Southern has made a vague commitment to "develop practices and invest in technologies that could help prevent an incident like this in the future," but not to take the concrete steps that the DOT and advocates like Matthews are asking for, like providing paid sick leave to workers to help them from becoming exhausted and joining a "confidential close call" reporting program to protect safety whistleblowers.
"People say, will say, derailments are down, they're not as bad as they used to be, no one was killed [in this disaster], and Precision Scheduled Railroading isn't the problem," Matthews added. "But come on: are we really going to say, 'We're just going to gas a small town once in a while, and that's the cost of doing business?' ... We've got a get a handle on this as industry, and we've got to do it as soon as possible."

Kea Wilson is editor of Streetsblog USA. She has more than a dozen years experience as a writer telling emotional, urgent and actionable stories that motivate average Americans to get involved in making their cities better places. She is also a novelist, cyclist, and affordable housing advocate. She previously worked at Strong Towns, and currently lives in St. Louis, MO. Kea can be reached at kea@streetsblog.org or on Twitter @streetsblogkea. Please reach out to her with tips and submissions.
Read More:
Stay in touch
Sign up for our free newsletter