Atlanta
A Fixation on Parking Threatens Transit Progress in Atlanta
1:49 PM EST on March 2, 2017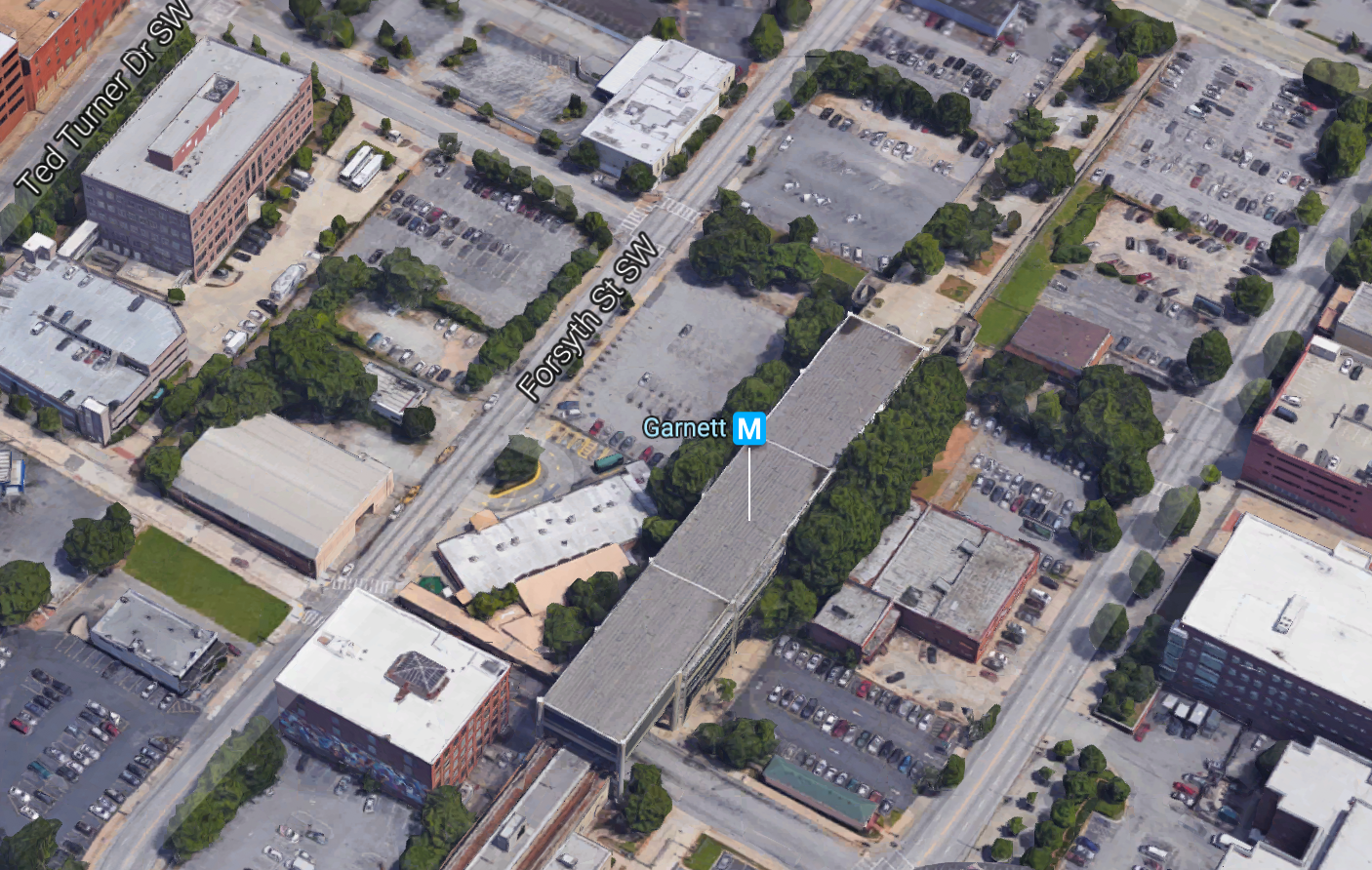 Darin Givens is frustrated with the way the Atlanta region is planning for the future. "We don't feel like the city is building transit that fits needs, or places that fit transit," says Givens, the founder of the local advocacy site Thread ATL. "You see nodes of density nowhere near transit, located nowhere near a MARTA station or a regular MARTA bus. We're not matching development and transit."
The facts bear Givens out. As I noted in the first installment on Atlanta in our "Getting Transit Right" series, since 1970 the region has spread out in a low-slung development pattern that confounds effective transit. The number of people living within one mile of MARTA's rail stations actually declined between 1970 and 2015, despite massive regional growth. And several major job clusters are disconnected from MARTA's frequent rail and bus lines.
In this piece, we'll examine land use in Atlanta, and whether policy makers and the private sector are creating development that supports transit and walkability.
The Atlanta region ranks as the nation's most sprawling major metropolitan area, according to a 2014 analysis by Smart Growth America. Within most of the city of Atlanta itself, zoning mandates at least one parking space per housing unit and one parking space for every 600 square feet of commercial space. Even around the Beltline corridor, which is supposed to be the site of walkable development along a multimodal trail, one parking space per residence is the minimum required.
As the map below illustrates, most of the city is reserved for single-family homes.
The city of Atlanta is in the process of reworking its zoning code. This initiative has the potential to foster a more equitable, transit-oriented pattern of growth, where more people can get where they need to go without owning a car -- but only if officials seize the opportunity to encourage compact development and reduce parking requirements.
Opportunities for transit-oriented growth
Atlanta does have major potential for transit-oriented change. Christopher Leinberger and Patrick Lynch have identified 27 "walkable urban places" in the region. These areas mix different types of uses together, shortening trips and making it easier to get around without driving -- and they contain 33 percent of the region's office space. The problem is that many of them are not located on major transit lines, meaning most people have to drive to them.
Between 2002 and 2014, the number of jobs in the Atlanta region increased by 270,000, while those within a mile of a MARTA station increased by 21,000. The total share of regional jobs near a MARTA station fell from 21.6 percent to 20 percent.
But big employers are starting to catch on to the value of transit access. Everyone I spoke to for this article pointed to the recent decisions of several companies like NCR and State Farm to move offices from suburban locations to areas near MARTA rail stations. "Every time we talked about transit, news stories would always mention these relocations," said Brionté McCorkle of the Georgia Sierra Club.
"We're seeing a situation where people are locating their offices near transit," said Givens. "It underlies a sea change in how we're thinking about transit."
Along the Beltline, certain projects have brought a dense mix of uses that could get people out of their cars and, if available, onto transit. And even suburban Atlanta elected officials are eager to encourage transit-oriented growth.
It remains to be seen, however, whether the private sector's newfound affinity for transit will translate into development that is truly walkable and conducive to car-free travel.
The new residential buildings by the Beltline pictured above wrap around large parking decks, for example. State Farm's new building -- right next to a MARTA rail stop -- hovers over a seven-level parking deck. The provision of parking near offices encourages people to drive, even when transit is nearby.
MARTA's transit-oriented development program
An Achilles' heel of many transit services in the U.S. is that they often cater to car commuters -- people who drive up to stations, park their cars, then take a train or express bus into downtown. Atlanta is no exception.
"When MARTA lines were originally designed, it was very obviously to bring suburbanites into the city," said Givens.
MARTA alone has 25,000 parking spaces, many on surface lots surrounding its rail stations, and some in very marketable locations. A surprising number of spaces sit empty. "Less than half of them are used on a day-to-day basis," according to Amanda Rhein, who leads transit-oriented development initiatives at MARTA. Rhein is working to replace lots with dense, mixed-use projects to "increase ridership, generate new sources of revenue, and build local and regional economic development."
MARTA General Manager Keith Parker told me that "we want to turn our transit system into actual, dynamic places," and developing lots near stations is part of the strategy.
Four sites -- at Avondale, Brookhaven, Chamblee, and Edgewood -- are either under construction or almost there, and they'll collectively add more than 1,000 housing units and more than 400,000 square feet of commercial space.
While investments will certainly bring more riders, they'll also add many parking spaces. MARTA does not require a certain amount of parking, but Rhein noted that "TOD is a relatively new concept in Atlanta, and [developers are] providing more new parking than we'd probably like to."
Givens says officials need to do better. "These new developments have parking closer to their door than transit," he said. "Are we building TOD or regular development that would go anywhere?"
Concerns about affordability
Some advocates are concerned that MARTA's development projects may exacerbate inequality and displace the people who need transit access the most.
Nathaniel Smith of the Partnership for Southern Equity is working with a coalition to fund more affordable housing near transit. Without adequate measures in place, "the market will return and people will be kicked out." Combined with local sales taxes for transit, he added, this would be "positioning people to invest in their own displacement."
At the same time, MARTA is struggling to develop parcels in poorer, more transit-dependent parts of the region. "We're focused on identifying potential TOD in the south and west sides, but it's more challenging to make rents work there," said Rhein.
MARTA officials say 20 percent of the housing in the agency's TOD projects will be subsidized, and the agency has committed to using an evaluation system created by the TransFormation Alliance, a coalition of government and nonprofit groups, to ensure that development in lower-income neighborhoods does not spur displacement.
Marisa Ghani, a program manager for the Alliance, said the group is focusing on the Lee Street Corridor in southwest Atlanta, near the Beltline, and a former army base ripe for redevelopment. "We don't want to spread ourselves too thin," she said.
Grading Atlanta land use
Atlanta is at a turning point. There's substantial momentum for transit-oriented development, but unless the public and private sector can update policies and practices to put this energy to good use, it might be squandered.
Threats
A legacy of low-density sprawl works against transit, with most growth still happening far from MARTA stations.
Current zoning mandates parking and low density, and it won't produce transit-friendly neighborhoods.
MARTA stations often surrounded by parking, inhibiting ridership and walkability.
Developers have yet to adopt low-parking standards, even when building near transit.
New development near transit may not be affordable for long-time residents.
Opportunities
Zoning code revisions offer opportunity for change.
Several walkable, mixed-use areas are primed for better transit service.
Growing private sector interest in building near transit.
MARTA actively seeking to develop parking lots by stations into mixed-use places.
Engaged community of advocates pressing for affordable housing and low-car development near transit.
Coming next
In the next installment of Getting Transit Right, we'll look at recent transit investments -- including the Atlanta streetcar -- and evaluate how well they meet local needs.
Stay in touch
Sign up for our free newsletter