Complete Streets
MassDOT Mistake: How Not to Rebuild Main Street
12:41 PM EDT on July 10, 2012
This op-ed was written for the Berkshire Record, where it is being published in two parts, last week and this week. John Massengale is co-author of Street Design, The Art & Practice of Making Complete Streets (Wiley & Sons, 2013) and New York 1900, Metropolitan Architecture and Urbanism, 1890-1915 (Rizzoli, 1983). He is an architect and urbanist in New York City.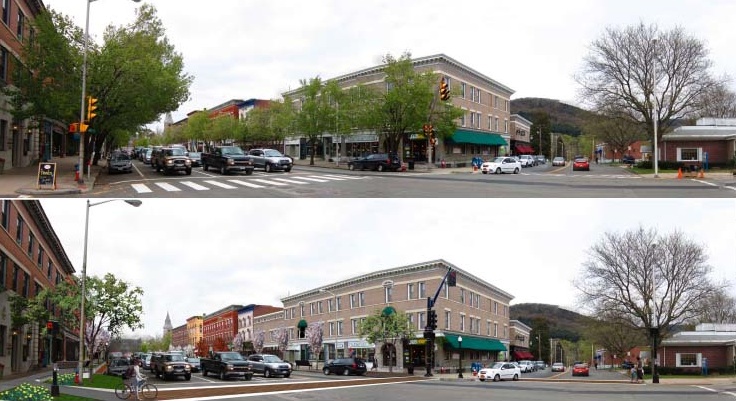 Great Barrington has one of the best and most beautiful Main Streets in New England. After MassDOT cuts down the Bradford Pear trees that line the street during their Main Street reconstruction project it no longer will be. Let me explain why I say that.
A successful main street in a sustainable, walkable town or city is a place where people want to get out of their cars and walk. There are many factors that contribute to that, including things to do (like shopping or going to a concert), interesting things to look at (including people – we like to watch each other), and a level of physical and psychic comfort. As we walk along, we like to feel safe and secure. Beauty is also important in making a place where we want to be.
After the MassDOT construction is over, Main Street will have new brick-patterned sidewalks and granite curbs. That might give the impression that the new Main Street will be more beautiful than the current street, but after all the problems of the demolition and destruction of Main Street are over, the result will be a place that in all meanings of the word will be less attractive.  Both locals and tourists will be less attracted to coming to Great Barrington and getting out of their cars.
Urban designers think of streets as outdoor rooms. They know that people enjoy being in these "rooms" when they are well-proportioned, comfortable spaces. If the space is wide and uncontained, as it is north and south of downtown on Route 7 where the road travels through sprawl and shopping centers, we are more comfortable in our cars than on foot. Urban designers work with simple principles of placemaking to make streets where people want to be. In our book we point out that a street is not a place if there's no one there or if it's primarily made for cars.
Traffic engineers don't think about placemaking. The engineers at state Departments of Transportation think of streets the way that plumbers think of pipes: their first job is to make everything flow smoothly. To facilitate flow, traffic engineers invented roads with the characteristics of Route 7, and gave us a pattern of development that favored the car over all other means of transportation, including walking. The death of public transportation like streetcars, and the death of town centers all over the country, followed like night follows day.
MassDOT is more sensitive to this than most state Departments of Transportation. They run some of the mass transit in Massachusetts, and unlike the New York State DOT, they rarely went through small towns removing all trees along main streets and reducing sidewalks to uncomfortably narrow strips. But their first priority in the Great Barrington plan is still traffic flow and infrastructure engineering, and like all DOTs, they have developed an impressive ability to procure funding, even in times of recession like now. Once they have those funds, one of their highest priorities becomes to spend the money on what they do best.
A real Department of Transportation, as opposed to a Department of Auto Flow, might say the highest and best use of the funds in Great Barrington would be to rebuild the streetcar line that once ran from Canaan to Pittsfield, or to restart train service to New York City. MassDOT has said it is important to change the road camber from 1 percent to 2 percent, but urban designers or town planners with money to spend in Great Barrington would not begin the design with a 1 percent change in the grade of the road, cutting down trees that are one of the town's greatest assets, or tearing up serviceable sidewalks. They would recognize that the blocks between Town Hall and the Post Office are one of the town's greatest strengths, and that the money would be best spent to the north and south, where the town fabric and walkability quickly fall apart. Great Barrington could use many more projects like the River Walk. It wouldn't be hard to find better uses for the money.
The formulaic DOT plans for Main Streets usually cut down existing street trees. Traffic engineers don't like large trees. They call them "FHOs" (Fixed Hazardous Objects – pedestrians are MHOs, Moving Hazardous Objects). A speeding car can plow through a small tree with less damage to the car. Overlooked is that MHOs (pedestrians) behind the large FHOs will sustain less damage, and might actually live. Engineers also don't like messy trees that might interfere with their power lines. Last but not least, they use modern construction and compaction methods that interfere with existing tree roots. If engineers were poets, they would never write, "I think that I shall never see, a poem lovely as a tree."
Many of the trees proposed by massDOT's consultants can never grow to the height or the width required for a leafy canopy over the sidewalk or a "wall" of tall trees along the road. MassDOT uses consultants who think it's old-fashioned to use traditional street trees to shape a traditional American Main Street. The consultants use functional arguments about disease to support their preferences, but at heart the preferences are anti-traditional, promoting change for the sake of change.
The consultants will tell you that the Bradford Pear trees are brittle, which is true. They won't tell you that there's no such thing as a no-maintenance, mature tree. And they won't tell you that the trees they will plant will never grow as large as the Bradford Pears, or that a number of small-town Main Street studies show mature trees have a significant economic value for shopping streets.
That's particularly true for Great Barrington because its Main Street is unusually wide, and the buildings that line it are not big enough to comfortably shape and visually contain the space between the buildings. The mature Bradford Pear trees are large enough to do that job, however, as well as do things like provide shade in the summer.
Town officials and concerned citizens have improved the plan, working with massDOT and their consultants to choose trees that will eventually grow to form a mature canopy, and at the same time simplifying the design for better placemaking (the KISS Rule -- Keep It Simple, Stupid -- is always a good one for placemaking). Traditionally, new trees would have been phased in over time, because new trees grow slowly in New England. With the massDOT plan, decades might pass before Great Barrington's Main Street is as good a place as it is now.
If MassDOT will not replace the trees over time, the town should get a better street now, with wider sidewalks, a narrower roadbed and perhaps bicycle lanes. All over the country progressive towns looking to the future and thinking about climate change are working on transforming their "arterials" and "transportation corridors" (like Route 7 a mile north or south of Town Hall) into walkable "suburban retrofits." Great Barrington could too.
New Englanders used to be known as frugal people. "If it ain't broke, don't fix it," was a New England motto. When they spent money on big changes, they demanded value. MassDOT prefers big plans, like the Big Dig, where we sweep away the old and make the traffic flow better. That's not what's best for the town, its merchants or its citizens.
Stay in touch
Sign up for our free newsletter