Federal Funding
Why Create an Infrastructure Bank When We Could Just Expand TIFIA?
2:27 PM EDT on October 28, 2011
There's been a lot of adulation heaped upon the TIFIA loan program lately. Both houses of Congress are ready to increase funding for the program nine times over, from $100 million to $1 billion a year – despite warnings from outside groups that there may not be enough eligible projects to use up all that money.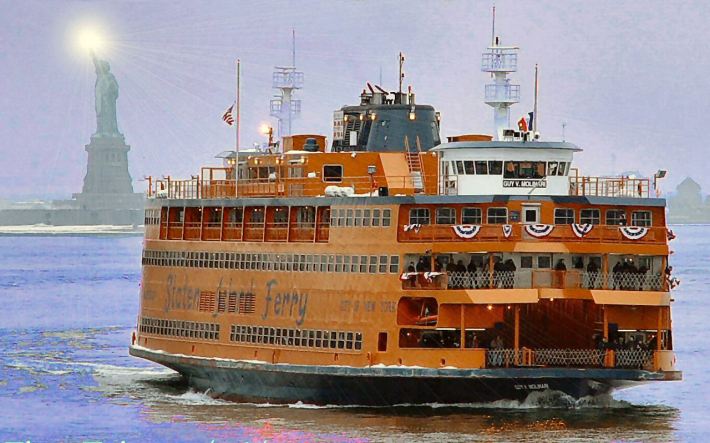 The TIFIA program has been around since 1998 but money pressures have led to a steep uptick in applications over the past few years. Some have criticized it for its lack of transparency in decision-making and suggested that it might be more effective housed outside of USDOT and functioning independently.
"Is TIFIA the first perfect federal program?"
Nevertheless, Congressional Republicans have thrown their full support behind the program, mainly as a counterweight to the president's proposed infrastructure bank. Consistent with their desire to limit the growth of the federal bureaucracy, they resist the idea of creating an entirely new entity, even though the bank would be independent from the government, a la the Export-Import Bank.
There are two competing infrastructure bank bills in the Senate and a new one introduced earlier this week in the House. The Senate is planning to vote next week on a bill to spend $50 billion on infrastructure with another $10 billion in seed money for a bank – pieces of President Obama's jobs bill, which has been dismembered for separate votes. Next week's bill isn't expected to pass. Indeed, many members think TIFIA is the way to go.
At a House Transportation Committee hearing earlier this month, nearly every Republican present spoke out in favor of expanding TIFIA instead of creating a new bank. Chair John Mica asked why a bank was needed when "we have a successful example" in TIFIA.
One of the things that the infrastructure bank can do is enter into long-term relationships with people who have decade-plus-long plans. They're trying to finance a plan. What Washington knows how to do is finance a segment of a project. The current TIFIA process does not allow us to do that.

- Roy Kienitz
Highways and Transit Subcommittee Chair John Duncan (R-TN) went as far as to ask, "Is TIFIA the first perfect federal program?" He noted, "Everyone has had glowing comments about TIFIA, and it's a program that I support as well."
Geoffrey Yarema of Nossaman LLP (a law firm specializing in public-private partnerships for infrastructure projects) told Duncan TIFIA wasn't perfect but that it did have 12 years of solid experience. He suggested it be "right-sized" by adding staff and he wants to "change it from a discretionary decision-making process that has the potential for being politicized – and some would say the reality of being politicized – to a first-come-first-served program."
That change, however, would eliminate the part of TIFIA reformers like most: The fact that it has the power to encourage innovation and goal-oriented, performance-based strategic transportation planning.
Yarema also noted that the Treasury "has actually made money off the TIFIA program," as opposed to many other federal programs that end up costing taxpayers. He's all in favor of casting off the idea of an infrastructure bank. "We already have a national infrastructure bank for transportation," he said. "It's called TIFIA."
One thing he and other transportation advocates like about TIFIA is that it's only for transportation. While the Rockefeller-Lautenberg infrastructure bank proposal in the Senate is transportation-only (at least at first), the dominant I-bank proposal is the Kerry-Hutchison version, which would include other forms of infrastructure like energy and water treatment. Yarema admitted that some may see the breadth of scope as a strength of the bank concept, but he was concerned that "transportation would be in there competing for loans, not just with other transportation projects, but with dams and levees and ports and all kinds of infrastructure."
Democrats support infrastructure bank -- reluctantly
Democrats agreed that TIFIA should be expanded but said that it should be a complement, not a replacement, for the I-bank. Democratic support for the bank was sometimes tepid, though. Even Senate EPW Chair Barbara Boxer has been known to support expanding TIFIA instead of an infrastructure bank. At the hearing this month, Rep. Peter DeFazio, top Democrat on the Highways and Transit Subcommittee, confessed:
Before Wall Street destroyed the economy, I had said, well, I really don't see why we need an infrastructure bank. Most of the states have good credit and they can go out and borrow on their own at very good rates.

But that isn't the case anymore. The states need guarantees. They need help. Many are against their borrowing limits. And most of the banks, who were generously bailed out by Congress, aren't lending. And credit bond markets are tight. So an infrastructure bank could be more useful for the states in that circumstance.
DeFazio did note, however, that an infrastructure bank is, in the end, a bank that "expects to be re-paid." So he wasn't optimistic that it would help with state of good repair or new investments for transit systems or for rail – some of his biggest priorities.
Sen. Mark Warner, an original (but often-unnamed) co-sponsor of what's most commonly known as the Kerry-Hutchison infrastructure bank proposal, admits that's a weakness of the infrastructure bank proposal. But he said at a recent event that even with a public funding source, an I-bank could be a helpful financing tool to drive interest rates down and lower the costs of a transit project.
Scott Thomasson of the Progressive Policy Institute testified at the transportation committee hearing that an infrastructure bank was needed, in part, because TIFIA is understaffed and outsources much of its work to people with greater expertise. The first step toward creating an effective infrastructure bank would be "hiring the financial professionals that TIFIA lacks," he said.
That could help, but it's not the strongest argument for creating a brand new entity. After all, if TIFIA just "beefed up" as many recommend, it could have that expertise in-house.
The clincher
A more persuasive argument for the necessity of an I-bank came this month from USDOT Under Secretary for Policy Roy Kienitz, who said at an infrastructure forum sponsored by the Washington Post that one problem with TIFIA funding – aside from the fact that it's far too low – is that it's released six weeks at a time, making it hard to do long-term planning.
But that's not all. Kienitz's answer to why TIFIA isn't a substitute for an infrastructure bank was so dead-on and coherent it's worth printing in its entirety.
One of the advantages of some more infrastructure-bank-like system is that some of the places that are innovating, at least some of them, are places like Denver, Salt Lake, LA, Seattle. In the transit world, what the federal government does is it says "show me the minimum operable segment for the transit line which you are currently considering." And what communities want to do is say, "I have a future 25 years from now that looks very different than today and here's all the pieces and parts. Here's what I want to do with my freeways, here's my HOT lanes, here's my light rail, here's my streetcar, here's my traffic flow improvements. It all works together. I want to raise an amount of money to do this plan; who do I talk to in Washington?"

And the answer is, blecch, we don't know how to do that. We're sliced up into our own little slices.

One of the things that the infrastructure bank, or something like the infrastructure bank, can do is enter into long-term relationships with people who have decade-plus-long plans, about the pieces and the parts of that plan. They're trying to finance a plan. What Washington knows how to do is finance a segment of a project. And that's a conversation that needs to change.

The current TIFIA process does not allow us to do that. With more money, we could do more segments of more projects, and that would be a good thing. But I don't think that's the ultimate goal.
The debate over an infrastructure bank will continue. John Mica has declared the proposal "dead on arrival" but President Obama and Congressional Democrats aren't letting up easy. Even if next week's Senate vote fails to get majority support for an infrastructure bank, they'll continue to push for it.
Tanya became Streetsblog's Capitol Hill editor in September 2010 after covering Congress for Pacifica Radio's Washington bureau and for public radio stations around the country. She lives car-free in a transit-oriented and bike-friendly neighborhood of Washington, DC.
Stay in touch
Sign up for our free newsletter