Elderly & Disabled
How Seniors Get Stuck at Home With No Transit Options
2:23 PM EDT on June 14, 2011
According to AARP, 88 percent of seniors want to stay in their own homes as long as they can. But where are those homes? In auto-dependent suburbs. That's where most Baby Boomers grew up, in the postwar era, and that's where most of them have stayed – even as the largest (and longest-living) generation ever enters its golden years.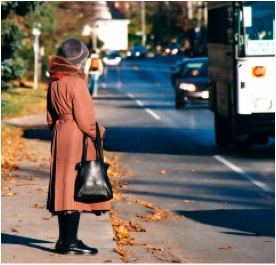 However, more than 20 percent of seniors (age 65 and up) do not drive at all. In the spread-out, transit-poor communities where many of them live, seniors who don't drive miss out on countless opportunities. According to a report released today by Transportation for America called "Aging in Place: Stuck Without Options":
Absent access to affordable travel options, seniors face isolation, a reduced quality of life and possible economic hardship. A 2004 study found that seniors age 65 and older who no longer drive make 15 percent fewer trips to the doctor, 59 percent fewer trips to shop or eat out, and 65 percent fewer trips to visit friends and family, than drivers of the same age.
The Center for Neighborhood Technology conducted the analysis for the T4A report, finding that a large proportion of seniors lack transit access currently, and that in 2015, just a few short years away, 15.5 million seniors will find themselves without transportation options.
"My generation grew up and reared our children in communities that, for the first time in human history, were built on the assumption that everyone would be able to drive an automobile," said John Robert Smith, former mayor of Meridian, Mississippi and co-chair of Transportation for America.
When seniors can't get out, the local economy suffers too. John Robert Smith says when he was mayor, Meridian set a goal of recruiting retirees.
"Retirees bring their retirement funds into your communities, deposit them in your banks; they support your school systems but they don't make demands on your school systems, they don't put children in the school system; they are law-abiding, good citizens so they don't have that impact on your police department, they're just an all around benefit and plus for your community," Smith said.
Even seniors who can still drive might find that they feel nervous driving after dark, or that their reflexes are slowing down. Still others start looking for other transportation options because their fixed incomes can't absorb high gas prices.
CNT's definition of access to transit is not without its problems. It defines poor access differently for different sized metro areas, which makes sense if you're comparing areas to each other, but for all intents and purposes, a senior with access to 11 transit lines in densely-developed New York City is a lot better off than a person without decent access to even one transit line in Houma, Louisiana – yet both are considered equally transit-poor by the study. (Of course, only 41 percent of New York seniors will lack good transit access in four years, as opposed to 87 percent in Houma.)
Meanwhile, the information on the metro areas was pulled from a larger data pool which considered "transit access" to mean that a person was within half a mile of a rail station or a quarter mile from a bus stop. Those distances weren't revised for this study, although this study dealt with a population for whom a half-mile may be a significantly long walk. Reducing the distance allowed for a definition of "access" would only increase the numbers of seniors stranded by the current system.
Transportation for America calls for federal-level fixes to the problem, which the group hopes to see included in the next transportation reauthorization bill:
Increased dedicated funding for buses, trains, vanpools, specialized transit and ridesharing
Continued funding of transit through the Highway Trust Fund
Inclusion of seniors and other community stakeholders as states and metros develop plans for meeting the mobility needs of seniors
Continued authority for states to "flex" a portion of their highway funds for transit projects and programs
A "complete streets" approach to make streets and intersections around transit stops safe for people of all ages and abilities
Those recommendations might help geographically isolated seniors reach services, but is it really the responsibility of the taxpayer to subsidize the decisions people have made to live in places that explicitly reject transit accessibility? Should those inefficient, low-density, sprawling areas be retrofitted with transit now that their populations are aging?
Cristina Martin Firvida, who works on these issues for AARP, said helping seniors marooned in those areas helps everybody. And besides, the suburbs were built through federal policies encouraging outward development after the second world war, she said – it's not just that one person built a house on top of a mountain and then demanded that taxpayer-subsidized transit come to them. "The suburbs is where our economy and our entire society has moved to since the fifties," Firvida said. "It's where everyone lives."
However, Cathie Berger of Atlanta's Area Agency on Aging acknowledged that that type of development isn't helping, and that at the very least, metro areas can try to change the way they plan land use. (And this is coming from Atlanta, the worst-ranked large metro area the report found, with 90 percent of seniors lacking adequate transit access by 2015.)
"We are trying to shift away from the continued development of the largest subdivisions that really don't provide the options people need," Berger said.
She also went beyond the report's recommendations, which maintain a tight focus on transportation solutions, to explore other land use options that can make for more senior-friendly neighborhoods. "We are trying to retrofit the built environment to make our communities more age-friendly and enable our seniors to age in place," Berger said. "This includes making our communities more walkable and improving access to services. We are also, for instance, working with our county and city planning departments to revise zoning codes to make it easier to develop denser projects that offer diverse housing."
"It's really important we get communities that work for people, having grocery stores and the amenities people need in their own community," added Peter Haas, the chief research scientist for the Center for Neighborhood Technology. "And if that's only market-driven, it's not going to happen in a low-density suburban location. So the incentives need to be there, or there has to be a redistribution of development patterns."
Tanya became Streetsblog's Capitol Hill editor in September 2010 after covering Congress for Pacifica Radio's Washington bureau and for public radio stations around the country. She lives car-free in a transit-oriented and bike-friendly neighborhood of Washington, DC.
Stay in touch
Sign up for our free newsletter