Highway Boondoggles
Highway Boondoggles 2023: This Year's Poster Children for Bad Projects
Once again, transportation funds that could be used to repair streets, roads and bridges are instead diverted into costly, damaging highway expansion projects. Here's this year's list of the worst of the worst.
12:00 AM EST on November 9, 2023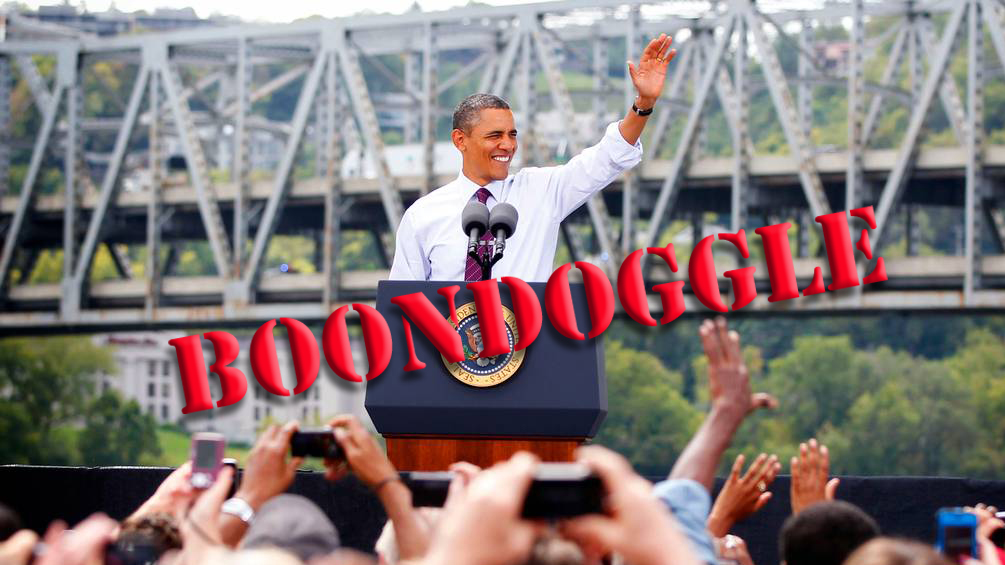 This article is a part of our annual Highway Boondoggles series in partnership with U.S. Public Interest Research Group. Click here to read the other articles in the series as they are published.
On Sept. 22, 2011, then-President Barack Obama stood before a crowd in front of the Brent Spence Bridge that carries Interstates 71 and 75 across the Ohio River, connecting Cincinnati and Kentucky. The speech focused on the need for increased infrastructure spending as part of the American Jobs Act – the cornerstone of his 2012 re-election campaign.
Obama is far from the only politician to use this aging structure as an example of America's infrastructure woes. For decades, the bridge – in need of repair and struggling under the volume of traffic it carries – has been a potent symbol of the need for investment in America's infrastructure and a backdrop for the oratory of Republicans and Democrats alike, from presidents Obama and Joe Biden to former House Speaker John Boehner, Senate Minority Leader Mitch McConnell and ex-President Donald Trump.
In the decade since Obama's visit, however, local transportation authorities failed to raise the money needed to carry out their plans to deal with the Brent Spence Bridge. But that's all about to change. 
On Dec. 29, 2022, Kentucky Gov. Andy Beshear and Ohio Gov. Mike DeWine announced that the Brent Spence Bridge Corridor Project had been awarded more than $1.6 billion in federal grants through the 2021 Infrastructure Investment and Jobs Act, at long last enabling the two states to set in motion their plans to deal with the Brent Spence Bridge once and for all.
But for all the years of photo ops, the Brent Spence Bridge isn't actually "crumbling." The bridge is old, but it remains structurally sound, and officials from Ohio and Kentucky plan to keep it in operation.
Instead of simply fixing it, federal infrastructure spending will jumpstart the construction of a new, 10-lane bridge alongside the existing one, and the construction of miles of widened highways and new interchanges further carving up the local area. By eliminating (at least for a time) the traffic bottleneck at the bridge, the project could very well lead to increased traffic through the corridor, more congestion on local streets that connect to the highway, and more air and noise pollution, carbon emissions and other environmental harms from highway traffic in the area.
Make no mistake: Many of America's roads and bridges are crumbling. But the Brent Spence Bridge project is a perfect example of how transportation funds that could be used to repair our streets, roads and bridges – or improve the safety, flexibility and environmental performance of our transportation system in other ways – are instead diverted into costly, damaging highway expansion projects.
The Infrastructure Investment and Jobs Act – also known as the Bipartisan Infrastructure Law – provides an historic opportunity to change that. The funding it provides could be used to address the nation's real and urgent transportation needs: repairing aging roads and bridges, expanding access to transit and other sustainable transportation options, and improving safety for all road users at a time of rising death and injury on America's roads. 
Unfortunately, many states have chosen to spend large amounts of IIJA funds on needless highway construction and expansion. The Brent Spence Bridge is a case in point, but it is by no means the only one. Across the country, Infrastructure Investment and Jobs Act dollars now flowing into state coffers are in many cases being used to double down on the same strategy of continual highway expansion that has failed this country for generations, inflicting immeasurable harm on local communities, the environment, public health and the climate, and almost always failing to do the job it is usually intended to do: ease traffic congestion.
Some of the projects now being put in motion are being funded through discretionary grant programs created under the law. Most, however, are being paid for with formula funding made available by the Infrastructure Investment and Jobs Act, over which states have near-total control. The battle over the nation's transportation future, in other words, is a battle now being waged in the states.
In fiscal year 2023, as of the end of May, states had committed $26.6 billion in highway and bridge formula funds to support over 19,300 new projects, on top of the $53.5 billion invested in more than 29,000 projects in FY 2022. Many of these projects include major necessary repairs and rehabilitation, but many include expansion of highway capacity. Of the top 20 largest projects supported by formula funds provided through the Infrastructure Investment and Jobs Act to date, at least 17 include the widening of existing highways.
In this edition of our Highway Boondoggles report, we continue to draw attention to these wasteful and damaging highway expansions, this year with special attention to projects that states are proposing to move forward with funding from the Infrastructure Investment and Jobs Act. Some of these have already received IIJA grants and are gearing up to begin construction. Others are pursuing them, with the aim of jumpstarting plans that have been in the works for years – many of them in the face of strong local opposition – but hitherto delayed by local agencies' inability to cover their often massive costs.
These projects highlight the large degree of autonomy afforded to individual states in choosing how to implement the Infrastructure Investment and Jobs Act, but they also highlight the gravity of that choice, and its long-term implications for future generations of Americans. On the one hand, the influx of transportation funding provided by the law could be used to fix the myriad problems caused by a century of highway-centric thinking and to build a healthier, more sustainable transportation system. Or it could be used for projects that do little but perpetuate those harms into the 21st century.
It's up to us to decide which course we want to take.
This year's Highway Boondoggles will highlight seven wasteful projects slated to waste a total of more than $15.9 billion and harm communities and the environment, while likely failing to achieve goals such as reducing congestion or improving safety:
Mid-States Corridor, Indiana: Cost: $735 million-$1 billion. Plans for a new 54-mile highway in Southern Indiana threaten thousands of acres of forests, farmland and wildlife habitat.

Interstate Bridge Replacement, Oregon and Washington: Cost: $5 billion-$7.5 billion. Under the pretext of a simple bridge replacement, an expensive and oversized highway expansion threatens to worsen congestion in Portland and nearby Vancouver, Wash.

Gorham Connector, Maine: Cost: $220 million-$240 million. A proposed new six-mile toll road threatens to worsen traffic and exacerbate urban sprawl even as local residents call for investment in rail and bus rapid transit options.

I-10 expansion, Texas: Cost: $750 million. Based on unrealistic traffic figures, major expansion of the I-10 freeway will bring demolitions and displacement to downtown El Paso.

Bourne and Sagamore Bridges, Massachusetts: Cost: $4 billion. The Massachusetts Department of Transportation hopes to replace the Cape Cod bridges with two new, wider bridges, potentially bringing additional traffic and congestion to the Cape.

The Brooklyn-Queens Expressway, New York: Cost: $1.5 billion to $4 billion. New York City transportation authorities are set to squander a once-in-a-generation opportunity to reimagine a polluting and outdated highway, instead pursuing IIJA dollars to fast-track a misguided expansion project.

I-15 Expansion, Utah: Cost: $3.7 billion. In the face of local opposition and based on over-inflated traffic projections, misguided plans for a major freeway expansion in Salt Lake City are being proposed as a way to deal with the region's rapid growth.
Highway expansion harms our health and the environment, doesn't solve congestion, and creates a lasting financial burden for the public.
Expanding a highway sets off a chain reaction of societal decisions that ultimately leads to the highway becoming congested again – often in only a short time. Since 1980, the U.S. has added well over 870,000 lane-miles of highway – paving more than 1,648 square miles, an area larger than the state of Rhode Island – and yet, prior to the COVID-19 pandemic, congestion on America's roads was worse than it was in the early 1980s.
Highway expansion fuels additional driving that contributes to climate change. Transportation is America's number one source of greenhouse gas emissions, accounting for 28 percent of the nation's total emissions in 2021.
Air pollution from transportation causes tens of thousands of deaths in the U.S. each year and makes us more vulnerable to a range of health problems, including asthma, impaired lung function, coronary heart disease and strokes.
Highway expansion can cause irreparable harm to communities – forcing the relocation of homes and businesses, widening "dead zones" alongside highways, severing street connections for pedestrians and cars, reducing cities' base of taxable property and overall community value, and stripping communities of their economic vitality.
Building new roads diverts billions of taxpayer dollars from repairing existing ones. More than 162,000 miles of major U.S. highways are in "poor or mediocre" condition and need repaving or "even more substantive" repairs. Approximately 7 percent of the nation's bridges are considered "structurally deficient."
Roughly 21 percent of all federal funds spent on highway projects over the last decade has gone toward adding capacity, such as a new lane or major widening, to an existing roadway. In fiscal year 2021, new federally backed road expansion or construction projects cost the American taxpayer a total of approximately $18.7 billion, including state and local contributions. In addition to the one-time costs of construction, these projects will cost taxpayers billions of dollars over the years to maintain, saddling future generations with expensive maintenance needs.
With more funding available than ever before to spend on addressing the real priorities of 21st century transportation, federal, state and local governments should stop or downsize unnecessary or low-priority highway projects.
Specifically, policymakers should:
Invest in transportation solutions that reduce our dependence on automobile travel. States should redirect IIJA funding and their own funds away from boondoggle projects and toward projects that expand transportation choices, prioritize repair and rehabilitation and reduce vehicle-miles traveled. Investments in public transportation, cycling and pedestrian infrastructure, transport demand management and other measures reduce the pressure on congested highways, as well as delivering significant public health and environmental benefits.

Adopt fix-it-first policies that reorient transportation funding away from highway expansion and toward repair of existing roads and investment in other transportation options.

Use the latest transportation data and require full cost-benefit comparisons, including future maintenance needs, as well as socioeconomic benefits and impacts, to evaluate all proposed new and expanded highways. Public officials should ensure that all evaluations of proposed projects use up-to-date travel information and reflect a range of potential future trends for housing and transportation.

Review the purpose and need of key transportation funding programs and the conditions attached to funding awards made through these programs, for example adding conditions that must be met before considering building new roads, as opposed to simply providing a blank check for state and local transportation authorities.

Invest in research and data collection to better track and react to ongoing shifts in how people travel.

James Horrox is a policy analyst with Frontier Group, based in Los Angeles. He works primarily on conservation and transportation issues and is lead author of the 2022 and 2023 editions of Frontier Group's annual Highway Boondoggles report.

Andre Delattre is executive director of U.S. PIRG and senior vice president of the Public Interest Network.
Read More:
Stay in touch
Sign up for our free newsletter