Podcast
Talking Headways Podcast: Women Who Ride Transit
9:18 AM EDT on May 18, 2023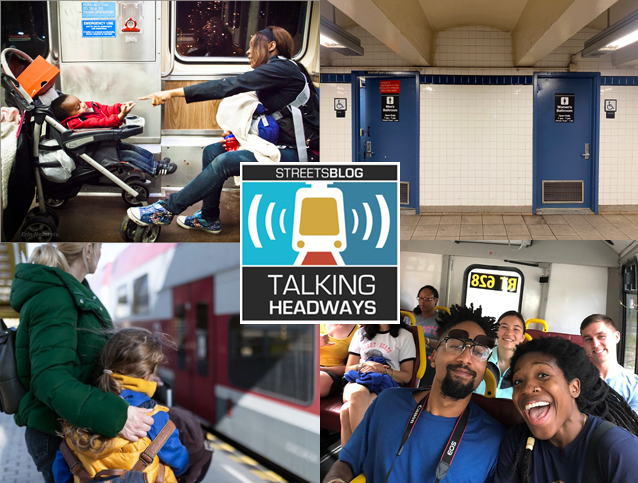 This week, we're chatting with Meghna Khanna of LA Metro and Scarlett DeLeon of the Alliance for Community Transit LA about women who ride transit. We talk about LA Metro's first of its kind Gender Action Plan and ACT LA's Metro as Sanctuary report.
A full unedited transcript (with typos!) is here and a partial edited transcript is under the player.
Jeff Wood: I noticed that both of you all were talking about ownership and pride over the system from riders and I think that ties everything together because if you provide a safe system, something that's frequent, reliable, then it feels like people will take ownership and pride. I'm wondering if you all have other stories about people's thoughts on pride in the system or why they think it's important that they introduce their children to Metro or make sure that they ride with their families or other things like that.
Meghna Khanna: One of the strategies we are looking at is working with the business organizations, be it a downtown business improvement district or one of these nonprofits or even a commercial street. We want look at ways of for communities to adopt a bus stop and take pride in making sure the bus stop is clean.
And if there is like issues around a light is not working or there's some paint issue, they can call Metro and notify us so we can go ... can fix that bus stop. And by doing that, we can even encourage people to use more and more transit, because they'll feel like now they're talking to their family members, they're talking to their community member and talking about how buses and bus stops feel safe.
Another thing we really want to do is promote business partnerships. So working with our programs where we currently have programs for Eat Shop Play during the construction of a project, we partner with these shops or you know, restaurants and we just promote them and they, they in turn promote the transit line. I want to use this opportunity to have this business partnership throughout our lines where we can offer transit riders some discount, they can go eat at these restaurants and in return we can promote these businesses, too. Again, there is pride in working together and in return some of the transit riders can use restrooms at these locations.
So that is addressing multi-issue that we've heard from women who travel with children. They're like, sometimes when you are on a transit system there's no restrooms and that becomes an issue.
Scarlett DeLeon: I think when you're raising a family or just even within yourself, there's so many choices that we have to make and a lot of those speak volumes about our values without us realizing it. And transit really carries the value of community. Cities and neighborhoods and communities who use public transportation just feel way more connected and way more have way more ownership, not only through public transportation but also of their neighborhood. And when you have ownership, you're gonna treat the people better, you're gonna keep it cleaner, et cetera. So that is one of the reasons public transportation is so important. And also we are in an environmental crisis and public transportation plays a key key role.
You know, the mayor, I remember when the former mayor, mayor Garcetti announced like these environmental goals we had, we are not going to hit any of our environmental goals as the City of Los Angeles, as California if we don't get everyone riding public transportation. And that's why public transportation is so important. So as we see kids growing up now learning about the environment and this environmental crisis at schools, like how hopeless must that feel as a little kid to learn about an environmental crisis, this huge thing. And here's this thing that we can actively do to address that, which is take public transportation as a family.
So it speaks volumes on our values. It also brings freedom. Not everyone as a teenager has money or access to cars. And it gives you this freedom to be able to get to know your city, to go places, to hang out with your friends and not only as a young person, but also as an elderly person when your life situation has changed because of your age, here's this tool, public transportation that can still keep you connected to your family to church, things that are crucial to our mental health. So it plays such an important role and I do have some stories I wanna highlight.
My great grandma, she took public transportation, she never learned how to drive. She came from Guatemala already in her thirties and worked really hard as a cook in a retirement home and never learned how to drive. So riding the bus was the way that she got to church and the way she worked every day and provided for literally our whole family. And the day she wasn't able to ride the bus anymore because of health complications, it totally changed her life. It disconnected her from everything. She was no longer able to go to church. And this is the reality, right? This was a few years back. Now Metro has a few other services that might have been helpful, but this is why public transportation is so important.
There's this lady Dona Rosa from Koreatown who had a bus stop on eighth Street. It was a few steps away from her apartment that she lived in. So it was her bus stop, she felt really connected to it. And one of the redesigns, redirections of Metro, that bus stop was taken away and she had to walk now a couple blocks, which is not a big deal for most people when you are, you know, maybe you have like some pain or some physical reason why you cannot walk a couple of blocks. It became very difficult for her. So she started her own petition and gathered hundreds of signatures just by riding the bus up and down and just talking to people who rode that stop.
And a lot of people relied on that stop. It was on eighth Street in front of Boya La Braza if you know where that's at. And she got her stop back. She was so proud. Until this day, if you talk to her about Metro, she will tell you that she got her stop back and she uses it still. And just last week we were at the Metro board meeting with some community members and one of the community members, a transit writer brought her daughter who is a high school student and rides the system and she gave public comments around safety concerns also and need for solutions like the ambassador program and, and she was also calling for a Department of Community Safety.
This girl is 15, 14, she's young and she got teary-eyed. She was so passionate and I asked her after like, are you okay? What's going on? She's like, I just care so much because I'm on it every day and I know what it's like. So the system, you know, if you don't ride it, you don't understand that this is something that it can make your day or it could break your day and you, you know, you have to be there. So it's, it's such an important part of our community and also it's an important part of our community now, of the people who run our city of workers, restaurant workers. But it's also an important part of our city for the future, for the type of city we want to live in.
Stay in touch
Sign up for our free newsletter