Albuquerque
Why Are We Still Waiting for Electric Buses?
10:28 AM EST on December 7, 2018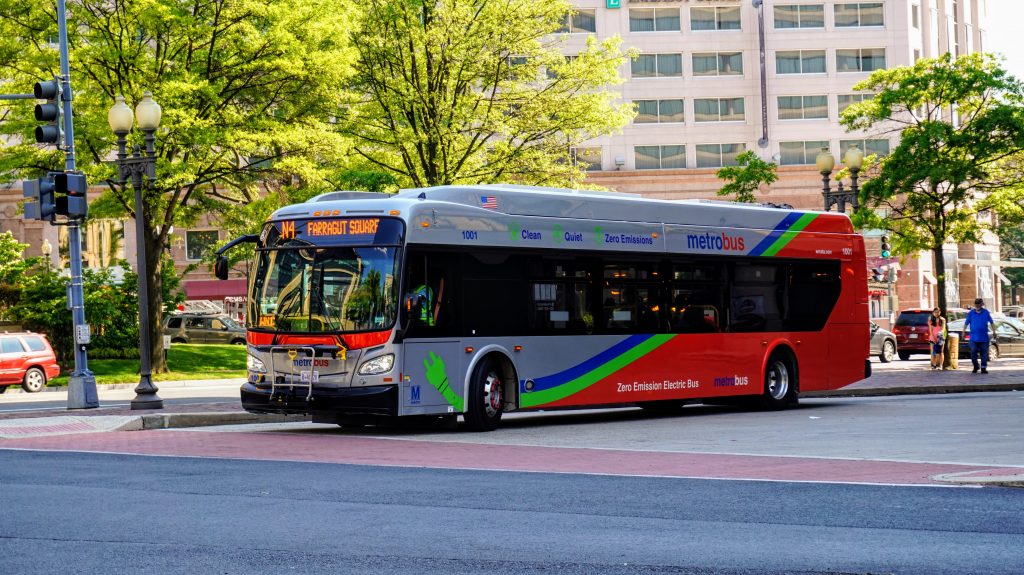 There are 300,000 battery powered electric buses in the world.
Only 1,600 are in the United States. China has 50 times that number.
Electric buses offer potentially big benefits for cities: Cleaner air, quieter neighborhoods, efficiency that saves $130,000 over the bus's lifetime, and, of course, helping cities achieve zero carbon transportation.
But America remains on the sidelines.
What's going on?
The nation is in the midst of a long-overdue attempt to bring its bus fleets from the 1940s to the 21st century. Even enthusiastic transit agencies are struggling, and some transit systems are only slowly waking up and smelling the electrons.
Albuquerque provides a disheartening example. The city's bus rapid transit system — ART — suffered a major blow this month when 15 specially made electric buses had to be returned to the manufacturer, the Chinese firm Build Your Dreams, the world's largest supplier of electric buses.
There were a number of design problems. But most notable was the range. The buses were only traveling 177 miles between charges. BYD had promised 250, Mayor Tim Keller told the Albuquerque Journal. The issue will delay the project for as much as 18 months.
There have been similar problems with buses from the same manufacturer in Los Angeles. "BYD's electric buses are contending with a record of poor performance and mechanical problems," the Los Angeles Times wrote in a May expose. L.A. Metro pulled five buses out of circulation, citing similar issues as Albuquerque. They weren't reliable after 100 miles and were running well below the promised range, sometimes as little as 78 miles before charging, the Times reported.
Issues with electric buses have fueled attacks from Koch brothers-linked political operatives, which are notorious defenders of fossil fuel interests. But transit agencies see the future and are starting to get on board. Foothill Transit, serving Los Angeles' San Gabriel Valley, operates 17 electric buses from Proterra and recently ordered 13 more. Nearby Antelope Valley purchased 34 electric buses from the Chinese company Build Your Dreams this year. Next year it plans to go 100 percent electric with its 70+ buses.
Park City, Utah, went all-electric for its six buses last year. Martha's Vineyard purchased a fleet of five electric buses this summer. The agency plans to double the number of e-buses in operation next year.
Los Angeles Metro has committed to going 100 percent electric by 2030. Metro has budgeted $128 million to purchase 125 electric buses from New Flyer, an Alabama-based company. It plans to purchase another 60 from BYD for $48 million. Those will go toward making Metro's Orange and Silver bus rapid transit lines electric beginning in 2020 and 2021.
New York City, meanwhile, is testing 10 buses right now, five from the American firm Proterra and five from New Flyer. Chicago won a grant this year to purchase 30 electric buses from Proterra, which is headquartered in Silicon Valley but has manufacturing plants in L.A. and South Carolina. Proterra has been rapidly expanding. It has reportedly been overwhelmed with orders.
The success stories
Leading experts tell Streetsblog, transit agencies should not give up.
Macy Neshati, executive director of Antelope Valley Transit said his agency hasn't experienced any of the problems with its 34 BYD buses that L.A. and Albuquerque did.
They are running "great," he told Streetsblog. "The buses are giving us the range that was advertised to us."
That's about 150 miles between charging.
The agency planned its routes with small "opportunity charging stations" in order to minimize problems, he said. The agency plans to go fully electric for its 70-plus bus fleet next year.
Lithium batteries have in wider use vehicles since about 2010, according to Hanjiro Ambrose, a Ph.D candidate at U.C. Davis who specialized in sustainable transportation. But they weren't cost effective for e-buses until about two or three years ago, when the price of lithium batteries came down.
"Few years ago, they were a few thousand dollars per kilowatt-hour," he said. "Now the cost of that battery is $100 to $200 per kilowatt-hour."
The challenges
The United States' slow adoption relative to China is the result of both policy and institutional inertia, says Ambrose.
"The types of negative impacts of a conventional bus aren't necessarily priced — the noise and the asthma it creates," he said. "There hasn't been a lot of policy in place to push the adoption of electric buses [in the U.S.] like there is in China."
Meanwhile, many transit agencies in the U.S. have to follow funding formulas from the Federal Transit Administration — and these rules typically favor cost-efficiency in the moment over long-term innovation.
"Those funding mechanisms haven't been aligned with trying to stimulate policy change," he said. "The cheapest technology available isn't usually the newest technology available."
U.S agencies may also have maintenance people who are uncomfortable with the transition to a new technology. At minimum it requires some new training.
But Antelope Valley CEO Neshati says transition has not been too difficult for his maintenance staff.
The agency had to do some diagnostic training and some high-voltage training — there are some safety risks associated with that. "It's ongoing" he said. But while the buses have no engine, no transmission and no drivetrain, in a lot of other ways, they're the same as diesels.
At Chicago's CTA said its maintenance staff will receive some additional training from in-house staff. But CTA spokesperson Jon Kaplan told Streetsblog that the agency expects every electric bus to save $237,000 over its lifetime because e-buses have 30 percent fewer parts, no exhaust systems and do not require oil and other fluid changes.
Meanwhile, China's large e-bus penetration has already had an impact on the global oil market, saving 233,000 barrels of oil in 2018 alone. Eventually e-buses could save 7.3 million barrels of oil a day, reports Eco Watch. (That's still a small fraction of overall annual global oil sales, which is about 86 million barrels a day.)
Jimmy O'Dea, a vehicles expert with the Union of Concerned Scientists, said the quality of electric buses is rapidly improving and more and more manufacturers are moving into the market. American transit agencies have a lot of options.
"The technology is there from my perspective," he said "There are 14 different manufacturers making everything from electric shuttle buses to electric double-decker buses. Nominal bus range has gone from roughly 150 miles a few years ago to over 250 miles today."
Tim Lipman, a Berkeley research scientist who specializes in sustainable transportation, mostly agreed. But he cautioned the climate and the driver and the terrain — hilly? or flat? — still make a difference.
"The range is an issue," Lipman said. "If it's really hot or cold you're going to use more energy."
Lipman and his team have been working with California transit agencies to help with the conversion. Part of what Lipman and Berkeley's Transportation Sustainability Research Center do is to help understand how bus drivers can conserve and maximize energy (battery-powered e-buses use regenerative braking which captures and stores some of the kinetic energy lost when a vehicle brakes).
Lipman said he expects the range issue to improve rapidly. But it's partly dependent on market forces. Without significant orders for electric buses, manufacturers can't step in to meet the need. Transit agencies tend to be somewhat risk averse.
"There is a curve there," he said. "You can't really improve a product until you see how it performs in the real world. That's just a natural part of the process."

Read More:
Stay in touch
Sign up for our free newsletter