Bus Rapid Transit
What American Cities Can Learn From Seoul's 2004 Bus Redesign
12:07 PM EDT on September 4, 2018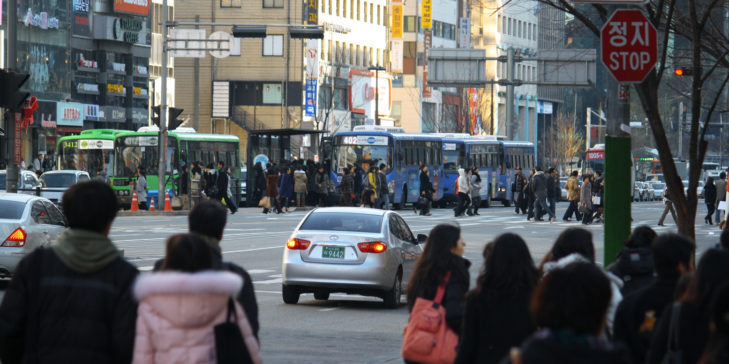 Cross-posted from Mobility Lab.
Bus redesigns aren't a new idea.
When Seoul – a city pursuing a car-first approach to surface transportation to satisfy the dreams of an increasingly wealthy population – faced plummeting bus ridership in the early 2000s, the city decided to act.
Thanks to bus route redesigns and an extensive network of dedicated lanes, transit ridership surged, helping Seoul return space to people, overcome the seductive status-setting appeal of car ownership, and restore a stunning downtown creek (that had, ironically, been paved over by a highway). Here's how they did it.
Seoul's transit death spiral wasn't unique
By 2002, Koreans' per-capita income had increased 40-fold from 1970 levels, and soccer fans attending that year's World Cup (which South Korea co-hosted) enjoyed an extensive, ultra-modern subway system that the economic turnaround made possible.
But the plethora of private companies running the city's bus system had continued managing it without any government oversight, other than standardizing fares according to law. Routes often provided meandering, duplicative service and companies did little to address cavernous gaps in the network. To make matters worse, the private companies' operators neglected elderly and disabled customers.
Meanwhile, car ownership skyrocketed as vehicles became more affordable. Riders abandoned buses in droves as reliability continued to decrease.
In 2002, average bus loads were less than half what they were in 1989. Private operators were going bankrupt, and the government subsidies required to keep remaining bus services running had multiplied by 10 in just three years.
The secret sauce: a massive public information campaign
In 2004, Seoul mayor Lee Myung-bak – a conservative and former Hyundai executive whose later presidential term was marred by allegations of corruption – decided to put an end to the transit death spiral.
"[Lee] had an integrated vision for reconfiguring life in Seoul," Heather Allen, a transit expert who conducted a study of Seoul's redesign for the United Nations' 2013 Global Report on Human Settlements, told me last week.
Transportation reform was an important component of Lee's successful 2002 mayoral campaign. Once in office, he commissioned a series of studies to help effectively plan the bus route redesigns and bus lane expansions. His administration then conducted an extensive public information campaign for the first six months of 2004 to educate people regarding the specifics of the proposed changes, as well as the benefits that would result from them.
Lee also personally attended nearly 30 briefings for Seoul's 16,000 bus drivers to emphasize his plans to protect their rights, increase their wages, and improve their workplace environment, helping ensure the labor community was on board with the reforms.
A holistic bus redesign
On the morning of July 1, 2004, Seoul residents woke up to what Allen described as a "route and branch" redesign. Instead of a jumbled mess of overlapping routes, a frequent network of priority bus lines – featuring local and rapid service – covered all of their city's main arterials. Feeder routes connected the heart of residential areas and activity centers to the primary corridors. First and last mile "village" buses provided quick connections between subway stations and surrounding neighborhoods, and downtown circulator routes made it easy to get around the city center and up to Namsan Tower, one of the city's primary attractions.
Although the city contracts private companies to operate bus lines, now the government determines the routes and strictly regulates vehicle and service quality. Buses are color-coded to clarify their role in the system and utilize an extensive network of center-road bus lanes. Seoul's Transport Operation and Information Service (TOPIS) provides citywide enforcement of the lanes usingunmanned cameras that confirm the registration of any cars who dare use them illegally within five minutes.
On some corridors, bus speeds doubled almost immediately after the overhaul, and travel times improved for cars as well.
Infrastructure modernization focused on improving the rider experience played a vital role in the overhaul. Spacious stops feature covered seating, and clear signage shows the full route of each bus line that serves any given stop (even without a smartphone, I had no trouble navigating the system when I lived there). Buses were fitted with GPS technology, and many stops feature live electronic arrival boards. Riders pay fares using a unified smartcard system also used for the subway, and enjoy seamless, free transfers between the two modes at well-built, neighborhood-integrated transit centers.
Bus ridership recovered rapidly, shooting up nearly 14 percent within a year of the overhaul and nearly 20 percent by 2010. Subway ridership also increased during the period, meaning the new bus system effectively complemented the rail system and attracted customers from non-transit modes (even though Seoul also has affordable, abundant taxicabs that accept the city's transit smartcard for fare payment).
Today, bus service in Seoul not only serves neighborhoods the rail system doesn't reach, but also provides high-capacity service on the roads above rail lines, helping ease crowding on the subway. This gives people more options to get around and makes destinations that may be located along a subway line, but between stations more transit-accessible. A number of my Korean friends even have developed a preference for buses, largely because they do not require riders to descend or ascend stairs to access.
With world-class transit symbolizing its wealth, Seoul created an urban marvel
Since the bus reform, Seoul has continued to aggressively expand its rail infrastructure: the subway system now has 22 lines, with 14 more major extensions and new lines scheduled to open by 2022.
Transportation demand management (TDM) initiatives have made the city's transportation culture even more multimodal. For example, residents who agree to leave their cars at home one day per week (as verified by RFID tags on their vehicles) enjoy roadway toll discounts on other days, helping reduce traffic congestion.
But the bus overhaul helped ensure that, despite the importance of status and appearances in Korea's ultra-competitive society, Seoul residents would perceive transportation as something that, first and foremost, must efficiently get people where they need to go. The new dedicated bus lanes carry six times as many people as mixed-traffic lanes, helping advance not just efforts to upgrade sustainable transportation, but also projects designed to improve residents' basic quality of life.
One such project was the restoration of 6.8 miles of Cheonggyecheon, a small creek that traverses Seoul's downtown area. Park Chung-hee, a dictator who led Korea for nearly 20 years, had addressed 1960s-era "blight" (in 1960s lingo) along the stream similar to what American cities did: by constructing an elevated freeway over the water.
Mayor Lee decided to remove the freeway and restore the stream.
Cheonggyecheon's restoration faced opposition at first, especially from local merchants concerned they would be priced out of the neighborhood.
Allen compared initial public concerns regarding the project to those that surrounded London's congestion charge when it was implemented.
"They said [London's] periphery would become unimaginably congested, which didn't happen," she said. "[Similarly, when planning Cheonggyecheon], Lee said, 'It's not going to cripple the rest of the city because it's investing in transit. Transit has to be more attractive.'"
The Cheonggyecheon linear park opened to the public in 2005, a year after Seoul's bus reforms, and hosts around 90,000 pedestrians each day. It's become one of the city's primary landmarks, providing a pleasant space for people to enjoy time together, hosting diverse wildlife, providing relief from summer heat, and boosting property values.
"It has become one of the iconic recreation areas in Seoul," Allen said. "I've never seen a 12-lane motorway filled with cars as iconic."
As for the removal of the freeway, travel times for drivers actually improved following the project – perhaps a result of "reverse" induced demand. And bus and subway ridership both spiked.
Seoul assistant mayor for infrastructure Lee In-Keun summarized Cheonggyecheon's renewal in 2009, telling the New York Times that "we've gone from a car-oriented city to a human-oriented city."
Stay in touch
Sign up for our free newsletter