Amtrak
Amtrak Foe Mica Meets His Match in John Robert Smith
4:04 PM EDT on July 9, 2013
I just sat through a pretty boring hearing on rail financing. But I'm glad I stuck it out, because the fireworks came at the end, when Rep. John Mica picked a fight with the wrong man.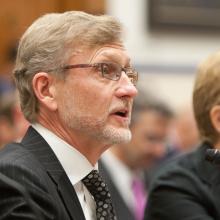 John Robert Smith is familiar face in transportation reform circles. The former Republican mayor of the town of Meridian, Mississippi, he now leads two of the most significant advocacy organizations in the field, Transportation for America and Reconnecting America. He also happens to be a former chair of Amtrak's board of directors. All of those qualifications made him a natural choice to testify as a witness at this House Transportation Committee hearing.
Smith's three main points were relatively uncontroversial: (1) a national passenger rail system has significant economic value; (2) maximizing the system's value requires increased, stable, and dedicated federal funding; and (3) station area development is a promising area for utilizing innovative financing mechanisms.
Questioning went relatively smoothly until John Mica, former committee chair and self-appointed Amtrak bully-in-chief, started in on Smith. (The video of their exchange is already on Youtube.)
Now that Mica has vacated the chairman's seat, he's really let his freak flag fly, as they say. No longer bound to even pretend to negotiate with the other party or with leadership, he can just focus singlemindedly on his obsession with defunding Amtrak, and he apparently doesn't feel bound to maintain any semblance of collegiality.
Mica started off asking Smith if he was aware that the federal debt was $16 trillion, or that funding had been cut for troops to receive hot meals.
Smith replied that his focus is transportation, and since he wasn't able to poke holes in Mica's line of argument, allow me to fill in. I didn't know about this cutting hot meals thing either, and my initial reaction, also, was indignation. But then I Googled it. John Mica could do this too. And if he did, he'd get a Snopes entry that says that troops get four meals a day, but yes, in a few places, a hot breakfast has been replaced with an "MRE" – "Meals Ready to Eat" – to streamline operations in preparation for force reduction. In reality, no one in the military seems all that bothered about it, and officials emphasize that it wasn't a budget issue that prompted the change.
Kind of funny Mica would pick such a poor example of budget-cut pain when there are so many legit ones to choose from. He could even stick with the "hot meals" theme and lament the nutrition assistance he voted to cut, or the hit taken by Meals on Wheels, which will deliver four million fewer hot meals this year because of the sequester.
Anyway, back to the topic at hand. So Mica transitions from the hot meals the troops aren't getting to the fancy chefs cooking up haute cuisine on Amtrak's long distance routes – his latest preoccupation. "I actually ride those trains and the dishes are not exotic aboard that service, and I think that ignores the larger issue," Smith started to say. They Mica interrupted him and they sort of yelled back and forth for a while about money losses and ridership trends.
But Mica spared his real invective for the next part, where he let Smith know he's seen "your little memo that you sent to my mayor." Something about the belittling, eyes-in-the-back-of-my-head tone there was just chilling, like he's saying he found the love notes Smith was writing to his wife. "House of Representatives slash Amtrak funding, putting the future of the national system in jeopardy!" Mica read the line in a high-pitched tone, mocking the hysteria Smith was clearly exhibiting when calling Winter Park Mayor Ken Bradley's attention to the House cuts.
Does Smith really think a cut of $1.4 billion to $950 million is such a big deal? Well, yeah, actually. "Don't you think the United States is under threat when you're in debt up to your eyeballs, when you're borrowing 40 cents on the dollar to underwrite your service?" Mica exploded. "You're aware that every ticket on Amtrak last year was underwritten more than $40 per passenger ticket? You're aware of that?"
"I'm aware that Amtrak is recovering 88 cents on every dollar," Smith replied.
"But you're aware that we subsidized every ticket on Amtrak over $40, including these long-distance tickets, some of them more than $400," Mica continued, "and we can't cut back, sir?"
Smith valiantly managed to get out, over Mica's loud interruptions, that "every transportation system in this country" gets subsidies, "whether that's highway, aviation, transit or rail," and that no passenger rail system in the world pays for itself out of the farebox. Which led to a somewhat embarrassing elementary-school-style volley of "Not true!" and "Is so true!"
Mica railed against Amtrak's "Soviet-style operations" and the money losses on food service aboard the trains and asked Smith if he should "go back and tell that mother [of the soldier not getting hot breakfasts], 'You know, we need to put this money into Amtrak; we can't take any cuts out of Amtrak.'"
To which John Robert Smith firmly replied: "That's a false choice, Congressman."
And he's right. Additional revenues would solve all these problems, but that's something Mica and others in his party refuse to countenance. Caught in a never-ending cycle of budget cuts, Mica himself has made some pretty devastating choices, like his vote to replace defense cuts with cuts to health care for children.
Still, he preferred to scold John Robert Smith like a schoolboy: "I'm not happy about your communication to my mayor," Mica said.
"Thankfully, as a former mayor I still have the ability to contact my colleagues across the nation," Smith said. "And most respond, and respond favorably, because they live in the same environment that I lived in for 16 years."
And now that Mica had yielded the microphone, Smith added one more thing:
Let me just say, on the subject of the long-distance trains, that when my senator, Trent Lott, got to see the Mississippians, and saw that system was vitally important to them -- the retired couples who use that system to visit their dispersed families across the country, the single mothers with children [for whom] the only the way they could visit their grand[parents] affordably was through the use of that train, the disabled vets that were on board that train -- when he saw the Mississippians impacted and affected, he saw the importance of that facility.
With that, Republican Jeff Denham hastily adjourned the hearing.
Tanya became Streetsblog's Capitol Hill editor in September 2010 after covering Congress for Pacifica Radio's Washington bureau and for public radio stations around the country. She lives car-free in a transit-oriented and bike-friendly neighborhood of Washington, DC.
Stay in touch
Sign up for our free newsletter