Amtrak
What Would Meaningful Amtrak Reform Look Like?
4:39 PM EST on November 29, 2012
For the past two years, Amtrak has been under constant attack from House Transportation Committee Chair John Mica (R-FL), who has used his gavel to bully the rail company. He likes to call it a "Soviet-style" monopoly and he goads it for losing money on everything from long-distance routes to food service. His vitriolic diatribes against Amtrak have become white noise, and they're about to fade into the background as Mica surrenders his post to Rep. Bill Shuster next year.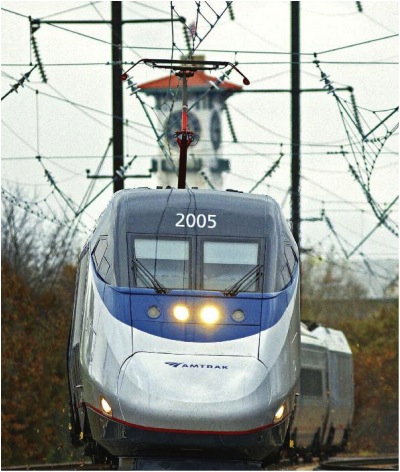 Still, Mica got a chance to trot them out yesterday at a Transportation Committee hearing on Amtrak's reorganization plan.
Mica and Shuster teamed up last year to push a plan to privatize Amtrak's Northeast Corridor service – the only place where Amtrak makes money. Republicans have also ceaselessly advocated for ending – or at least dramatically cutting – Amtrak's government subsidies.
That demand doesn't sit well with Democrats like Rep. Laura Richardson, who pointed out in yesterday's hearing -- as some Democrat always does -- that "we spent more in one year with the oil and gas and energy companies and their industry than we have spent in the life of the program of Amtrak."
The Mica-Shuster privatization proposal also met with such a fierce backlash that Mica and Shuster were forced to shelve it.
Amtrak has a different idea for how it's going to move into the 21st century and, they hope, become "more like a business and less like a government agency," according to Amtrak CEO Joseph Boardman. The Government Accountability Office criticized Amtrak in 2005 for not having a strategic plan, and the rail agency jumped into action – if acting six years later can be considered "jumping" – and is now in the middle of a reorganization that started last year and is due to be complete by the end of next year.
The strategic plan includes safety improvements, better risk management, energy efficiency, and lots of internal operational changes that the public will probably not perceive.
The plan's main dish is to segment the company into six "business lines": Northeast Corridor Infrastructure and Investment Development, Northeast Corridor Operations, State Services, Commuter Services, Long-Distance Services, and Corporate Asset Development.
Again, such internal corporate restructuring may not get most people's pulses racing with excitement – but Dan Schned of the Regional Plan Association says there's a nugget of gold buried in there.
"We've applauded their reorganization of their Northeast Corridor services, in particular the creation of two separate Northeast Corridor divisions," Schned said. "That's something that we have found to be very successful in other countries around the world, as they've unbundled their national railways and created separate infrastructure managers and operating divisions that can create open access."
That means that one arm of Amtrak can focus on improving infrastructure, which has suffered from underinvestment, and attract private capital to help finance it. Meanwhile, the other arm can focus on building ridership by improving reliability, customer service, and on-time performance -- and also, potentially, by inviting competitors to bid on the services.
Schned looks to Germany's Deutsche Bahn for a model that he says "looks quite a bit like how Amtrak has envisioned their reorganization." It hasn't been without its downsides, he said, but it has allowed Germany to triple investment in the rail line.
Perhaps the most meaningful change Amtrak could make would be to find a way to reduce interference by host freight rail companies. On the Northeast Corridor, Amtrak owns its own track. But in most of the rest of the country, it runs passenger trains on freight rail tracks and often ends up stuck behind freight trains, which don't run on a schedule. The impact on Amtrak's reliability is incalculable.
Stimulus-funded high-speed rail grants helped fund new stakeholder agreements with some of the freight rail lines, and Amtrak's strategic plan includes achieving "host railroad partner relationships," though not much is said about what that would entail or how it would be carried out.
Some critics, notably Stephen Smith (who writes for Bloomberg, Forbes, and Market Urbanism), point to FRA regulations as a major obstacle for U.S. passenger rail. He faults the agency for requiring heavier train cars, which use more fuel and reduce speeds. The FRA says they're important for safety; Smith argues that the reverse is actually true. Smith and others also criticize the way the FRA has mandated Positive Train Control, at the cost of billions.
Another source of inefficiency that Congressional critics don't seem to want to address is that Amtrak loses money, not (just) because of its own mismanagement, but because Congress mandates Amtrak to run long-distance routes as a public service, and that business model will never yield a profit. When Republicans call for the end of subsidies and sneer that Amtrak should gets its financial house in order, they don't also propose eliminating the requirement that Amtrak serve the millions of people who have the misfortune of living outside the Northeast Corridor.
None of these issues are addressed in Amtrak's strategic plan.
It's possible that the most important goal of the plan is to placate Republicans who have been out for blood. But far from celebrating Amtrak's attempts to shake things up, the GOP has responded with more doom and gloom.
In yesterday's hearing on the restructuring, Mica didn't have many substantive critiques of the plan but did warn that Amtrak "must not just rearrange the deck chairs on the Titanic again," indicating, one assumes, that Amtrak could meet the Titanic's fate if it does.
Mica said that past reorganizations have lacked clear goals, and that Amtrak has suffered from a lack of accountability. He's made clear that he doesn't plan to back off his siege of the system for a minute, until he surrenders the gavel to Shuster: Mica's planning two more hearings on passenger rail during the lame duck session.
There's reason to hope that things could change, however. As Keith Laing reports in The Hill, Shuster is expected to take a "less confrontational" tone as chair. Though Shuster worked hand-in-hand with Mica to sell off Amtrak's Northeast Corridor, he told reporters after yesterday's hearing that he'll take a middle road between Amtrak apologists and the haters.
Shuster acknowledged that Democrats are right in pointing out that passenger rail systems all over the world receive public subsidies, but said there's a middle ground between breaking up Amtrak and selling it off or maintaining the status quo.
The current passenger rail authorization law, which funds Amtrak, expires next year, and Shuster will have the opportunity to preside over the process of finding that middle ground.
Tanya became Streetsblog's Capitol Hill editor in September 2010 after covering Congress for Pacifica Radio's Washington bureau and for public radio stations around the country. She lives car-free in a transit-oriented and bike-friendly neighborhood of Washington, DC.
Stay in touch
Sign up for our free newsletter