Bicycling
Multi-Modal Summer Reading
12:33 PM EDT on August 10, 2012
Summer gives permission to set aside serious reading for the refreshment of fluffier stuff. This year, though, several meaningful books on transportation are out that you might want to tuck into your beach bag. Each is that rare thing: a should-read that's also a want-to-read.
Straphanger: Saving Our Cities and Ourselves from the Automobile by Taras Grescoe (Times Books)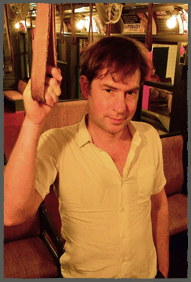 You don't have to have lived in any of the cities Taras Grescoe profiles to enjoy Straphanger, but it doesn't hurt. I especially enjoyed the chapter on New York City, where I happily spent a decade getting around mostly underground. You'll soon enough start thinking about your town and asking the questions he does in the book: What kind of transportation system do we have? How did we get here? Where might we go?
Interweaving personal experience and professional research, Grescoe takes the reader across the country and around the world, looking at the state and promise of transit. His city-by-city approach helps underscore the book's takeaways. The past has shaped each landscape in unique ways, he shows us, yet history is not destiny. At the same time, the future will not be won with a one-size-fits-all approach to transportation.
Grescoe does not conclude that the bus is best just because Bogota has brought about "the revenge of the loser cruiser" or that elevated light rail is the way to go just because the SkyTrain has transformed his hometown of Vancouver. Since each city has a different landscape and mindscape -- and because federal politics are a gridlocked mess -- he states, "the change that's going to come will almost certainly have to happen at the city, regional, or state level."
In the end, Grescoe shows how various people in various places are providing various ways toward greater mobility, providing inspiration and ammunition for transit advocates.
The Enlightened Cyclist: Commuter Angst, Dangerous Drivers, and Other Obstacles on the Path to Two-Wheeled Transcendence by Bike Snob (Chronicle Books)
The most entertaining of the three books is the one organized by the monkey mind of Bike Snob (aka Eben Weiss), whose ruminations on cycling swerve from the philosophical to the ridiculous and back in the course of a single paragraph. But don't let his whimsical tone and meandering path fool you: Bike Snob's purpose is rhetorical and sharply focused. He'd like all of us, by whatever mode we travel, to understand that we share more than the road: we share a primal and practical need to travel. He exhorts us to "remember that whatever we're doing and wherever we're all going, we all want the same thing: To be happy, and to not get killed."
Bike Snob is a master of the apt and amusing analogy such as these pleasures:
"We're all pedestrians once we step off our bikes and out of our cars. Therefore, we should be sacred when we're on foot, free like cows in India. Sure, it's annoying that when it comes to walking around town most people are about as careful as squirrels, but at the same time it is kind of comforting. We're animals too, and sometimes we need to roam."
"Just as noncyclists see people on bikes as strange centaur creatures, they also can't imagine them getting tickets for the sole reason that they've never seen it. I very rarely see squirrels have sex, either, but the damn things are all over the place, so I have to take for granted that they are in fact 'getting down.'"
"Anyone who's driven a car in the city and dealt with heavy traffic and scarce parking has inevitably faced that frustrating moment of desperation when you ask yourself, 'What the hell am I going to do with this thing?' It feels like someone asked you to watch their St. Bernard while they ran into the store and never came back."
"Unfortunately, this is what happens with some people who drive but never ride bikes --they have no use for bikes, and therefore they conclude that bikes are useless and that they somehow don't 'belong.' It's like someone that lives in the desert deciding that boats should be banned."
A small criticism is that analogy and metaphor occasionally pile up on each other like, well, cars on a Los Angeles freeway, slowing the flow of ideas that follow. If you seek succinctness, statistics, or case studies, look elsewhere. If you want to think, laugh, even find a way to talk to drivers about cyclists or cyclists about pedestrians, then pour a cold one, sit back, and enjoy being enlightened.
Engines of Change: A History of the American Dream in Fifteen Cars by Paul Ingrassia (Simon & Schuster)
Each chapter of Paul Ingrassia's latest book examines a single vehicle that has greatly influenced American car culture. From the Model T to the Prius, Engines of Change details each vehicle's life cycle, elevating what might have been yet another automotive history into an absorbing narrative.
Like many business books, Engines of Change vaunts individuals who, through force of personality and vision, heroically brought products to market. Fortunately, Ingrassia also touches on other forces — demographic, social, economic, and political — encouraging the introduction and ultimate success or failure of these fifteen products. He smartly opens the book with the deflection, "Whether the cars shaped the culture or the culture shaped the cars is just another version of whether the chicken came before the egg, or vice versa. Let's just say it's both."
One undercurrent of the book is the growing sophistication by which automakers have aced the game not of giving consumers what they want, but of getting consumers to want what they give. While occasional models may flop spectacularly (see: Edsel, Pinto, Aztek), Ingrassia shows how Americans have been taught to desire all manner of vehicular superfluity: from vehicles dripping in chrome to overbrawned muscle cars to three-ton pickups. Hyperbole be damned, some claims made to sell cars have been simple lies. Tail fins, purely a design element, were advertised as "directional stabilizers" that helped the vehicle hold the road; early SUVs were marketed as safer despite the tendency of some models to rollover.
Pulitzer Prize-winner Ingrassia is a fine journalist whose clear prose is grounded in solid research and depth of knowledge about cars and the people who make them. His objectivity goes only so far, however, as he'd likely admit. He is a car enthusiast and an industry insider; you quickly understand that he sees cars not as projections of or reflections of the American Dream, but as synonymous with it.
This becomes problematic in his discussion of the Corvair, the doomed car that brought consumer advocate Ralph Nader in legendary conflict with General Motors. Sadly, Ingrassia, like many auto executives, stubbornly holds that Nader's "most lasting legacy" is a culture of excessive litigation that has hampered industry, not a culture of safety that has preserved countless lives and prevented countless injuries.
Anne Lutz Fernandez, a former investment banker and marketing executive, is co-author, with anthropologist Catherine Lutz, of Carjacked: The Culture of the Automobile and its Effect on Our Lives.
Anne Lutz Fernandez is a former corporate executive with experience in management and marketing of consumer brands such as Weight Watchers frozen foods and Bufferin pain relievers. She also spent a decade as an investment banker in New York and London where her work included marketing the firm's services to multinational corporations and advising clients on strategic mergers and acquisitions. She left her position as Director at Credit Suisse to become a writer and teacher. She currently teaches English and lives in Connecticut with her husband, who is also a teacher. She co-authored her first book, Carjacked: The Culture of the Automobile and its Effect on our Lives, with her sister, anthropologist Catherine Lutz.
Stay in touch
Sign up for our free newsletter