Climate Change
Patent Troll Sues Transit Agencies For Releasing Real-Time Transit Info
2:36 PM EDT on April 16, 2012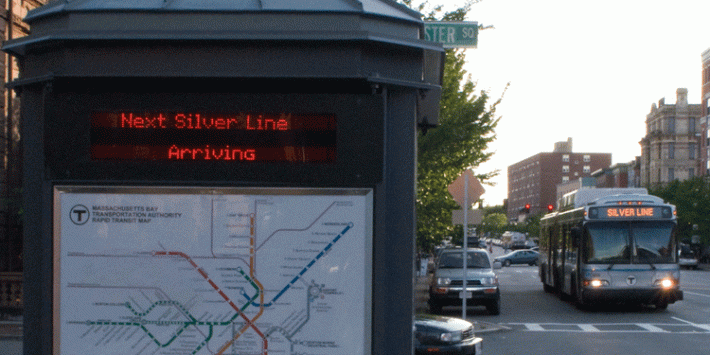 Lloyd Dobbler, John Cusack's generation-defining character in Say Anything, notably said, "I don't want to sell anything, buy anything, or process anything as a career."
Martin Kelly Jones lives by a similar creed. He doesn't make or sell anything. Instead he makes his living by attacking transit agencies for using real-time tracking technologies that he says he owns. It's a practice known as "patent trolling." Lloyd Dobbler probably wouldn't want to be a patent troll either, but Jones has made it into his entire career.
Jones filed his first transit-related patent in 1993, securing rights to the idea of letting parents know when school buses were running late. More than 30 additional patents of similar ideas followed.
Jones doesn't develop or sell any technology relating to real-time vehicle tracking, but that hasn't stopped him (and his two offshore firms, ArrivalStar and Melvino Technologies) from punishing anyone who does. To date, he's filed more than 100 lawsuits against anyone who uses such technology – everyone from Ford to Abercrombie & Fitch to American Airlines to FedEx. He's one of the top 25 filers of patent infringement suits according to a database maintained by the patent tracking site PriorSmart.com.
Lately, Jones has focused his litigious impulse on transit agencies around the country. According to a brief by the Georgetown Climate Center, "ArrivalStar has brought suit against at least ten transit entities, and at least eight more have received demand letters." GCC, which convenes the Transportation Climate Initiative, worries that the suits can create a chilling effect, discouraging agencies from employing vehicle tracking technologies. Providing real-time bus arrival information has been shown to increase ridership [PDF], taking cars off the road and reducing vehicle emissions.
Jones' strategy is not to sue transit agencies for all they're worth, but to offer them a relatively low-cost way to keep these cases out of court. In fact, not one of his lawsuits has gone all the way through trial. They always end up settling, usually for $50,000 to $75,000, though the demands can go as high as $200,000.
"That's $75,000 of taxpayer money that's going into ArrivalStar's pockets without the validity of the patent ever being challenged," said attorney Babak Siavoshy, who represents the Electronic Frontier Foundation. "If they make the settlement amount low enough, where the costs and benefits favor settling, then most municipalities are going to settle, and it costs them a lot of money, because the cost of litigation is a big stick."
Siavoshy and EFF want the U.S. Patent and Trademark Office to review Jones' patents. EFF is looking for what's known as "prior art": examples of real-time vehicle tracking being discussed before Jones took out the patent, to show that he wasn't the first one with the idea. Advocates also think they can prove that the systems Jones patented were too "obvious" or "non-novel" – that they were logical extensions of existing technology. Abstract ideas, with no technology or product attached, are not patentable.
ArrivalStar attorney Anthony Dowell contends that the patents are defensible and that Jones has the right to seek money from the agencies. "Just because an entity is funded with taxpayer dollars doesn't give them the right to steal property," said Dowell in a recent interview with ArsTechnica. "My client now owns 34 patents that are being infringed, and what else is he to do?"
The transit agencies I called couldn't comment, since the case was pending. But the general counsel of the Monterey-Salinas Transit Corporation, David Laredo, said that they're not challenging the validity of the patents. Their strategy is to assert that the vendor who sold the technology to the transit agency (Trapeze, a spinoff of Siemens) does hold a license from ArrivalStar, and if they don't, that's the vendor's problem, not theirs.
To date, ArrivalStar has reached settlements with the city of Fairfax, Virginia; Boston's MBTA; New York City's MTA; Chicago's Metra, and the Maryland Transit Authority. Suits are pending against the Port Authority of New York and New Jersey's PATH; King County, Washington; the Monterey-Salinas Transit Corporation; the Greater Cleveland Regional Transit Authority; and Portland's TriMet.
In the past, transit agencies may not have talked to each other about these lawsuits because Jones reportedly insists on a nondisclosure agreement as part of the settlement. He only brings a few suits at a time, using a divide-and-conquer strategy, taking care not to extract so much from these public entities that it would incentivize them to pursue litigation. The recent focus of Jones' lawsuits on transit agencies has inspired Georgetown Climate Center and the American Public Transit Association to get these entities to communicate more and to develop a more cohesive strategy. So far, though, Jones' strategy has been working.
But since Jones brought a suit against the U.S. Postal Service last November, the federal government is now affected. His suit charges the post office with violating his patents with its package tracking services.
Since U.S.P.S. is a federal agency, the Department of Justice is now involved, defending the post office against ArrivalStar's claims by saying the patents are invalid and that no infringement occurred. Advocates and attorneys are trying to persuade the feds to broaden their interest in ArrivalStar from just U.S.P.S. to all the transit agencies that have been affected.
After all, the transit agencies, by and large, bought the GPS tracking devices with federal dollars, in pursuit of federal transportation goals. Publicly available real-time transit information -- on smartphone apps, transit agency websites, or on screens in bus stops and train stations -- makes transit a more attractive option, with the potential to reduce congestion and pollution. SAFETEA-LU, the transportation authorization the country is still (amazingly) working under, specifically requires states to identify ways to deliver real-time transit information to the public.
Georgetown Climate Center Director Vicki Arroyo told Streetsblog that she's had some "early but hopeful discussions" with senior U.S. DOT officials.
"Earlier, some of the more junior people within the federal government were not keen to take this on, saying they didn't have a dog in the fight -- now they do," she said, referring to the suit against the postal service. "We're hoping they won't just look at this as a one-off matter. There's a much higher public stake here."
Tanya became Streetsblog's Capitol Hill editor in September 2010 after covering Congress for Pacifica Radio's Washington bureau and for public radio stations around the country. She lives car-free in a transit-oriented and bike-friendly neighborhood of Washington, DC.
Stay in touch
Sign up for our free newsletter