Barbara Boxer
Senate Leaders Vow to "Marry" Competing Infrastructure Bank Proposals
4:22 PM EDT on July 20, 2011
At a Commerce Committee hearing today, Sens. John Kerry (D-MA) and Kay Bailey Hutchison (R-TX) spoke out in favor of their infrastructure bank proposal, while Frank Lautenberg (D-NJ) and John Rockefeller (D-WV) championed their own legislation. Sen. Barbara Boxer (D-CA), who is a member of the Commerce Committee as well as chair of the Environment and Public Works Committee, also spoke strongly in favor of an infrastructure bank, although the transportation reauthorization outline she released yesterday didn't say anything specifically about such a bank.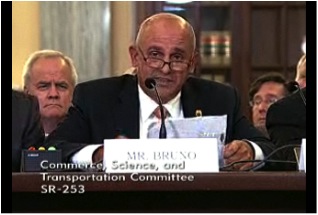 "Isn't it wonderful to see the bipartisanship behind the infrastructure bank?" Boxer said. "Count me in. I think it's a wonderful thing."
She and other senators affirmed that raising the gas tax, or switching to a VMT fee, is off the table. Still, she criticized House Transportation Committee Chair John Mica for "walking away" from the Highway Trust Fund since it's coming up short. "It's a 36 percent cut in our basic program," she said. "That's a loss of 630,000 jobs."
In the absence of new revenues, it becomes more important to leverage the scarce public dollars that are available, so the committee hearing focused on financing tools – specifically, an infrastructure bank.
Kerry and Hutchison have put forward a bipartisan bill to create an infrastructure bank with $10 billion in seed money that would fund not only transportation but energy and water projects as well. It would only make loans, not grants.
A somewhat more idealistic proposal is the Lautenberg/Rockefeller bill, which focuses exclusively on transportation. They also propose $10 billion, but over just two years, with $600 million a year for grants. Another major difference is that it would be housed within USDOT, whereas Kerry's proposal was to create a completely independent entity. The Lautenberg/Rockefeller plan hews more closely to the administration proposal than Kerry's does.
"I think our bill is the answer," said Sen. Hutichson today. Addressing Sen. Rockefeller, who chairs the committee, she said, "I would love for this committee to pass our bill, and I bet you probably want your bill to be passed. So maybe we can work together or maybe we can report both of them."
"Well, we usually work together," Rockefeller said, and indeed, all subsequent comments from all the bill sponsors included messages of "marrying" the two bills.
Several witnesses, from USDOT and the private sector, applauded the concept, saying an infrastructure bank will release private money and create jobs without exposing the taxpayer to risk. But Steve Bruno, vice president of the Brotherhood of Locomotive Engineers and Trainmen, had some questions he wanted answered before government goes too far with this love affair with private enterprise:
Who maintains control of the infrastructure? Who is liable if private entities encounter financial difficulty or withdraw if the rate of return is lower than expected? What are the long term costs to government? When does the public's needs superede the private investor's agenda? And where will the resources be applied?
Many of these are the same questions U.S. PIRG put forth this week in its report, "High-Speed Rail: Public Private or Both?"
"Some projects are never going to produce a profit," Bruno went on to assert. "Bridges, highways, passenger rail and public transportation facilities are intended to provide for the public good, not corporate profit. The people of the United States should be the primary beneficiaries of any infrastructure legislation, not the corporate shareholders."
J. Perry Offutt, who works on infrastructure financing for Morgan Stanley, agreed that "It is important to demonstrate that a project is commercially and financially viable, and has political support. Because of certain return expectations and the desire for stable cash flows, some projects might not typically lend themselves to P3's such as many transit projects." He said availability payments were a way to bring transit projects into the fold by protecting the private investors from risk – though that option then recalls Bruno's question about whether the public sector bears the financial risk for a private institution's profit.
Freshman Senator Kelly Ayotte (R-NH) had a similar critique from a conservative perspective. "The people of this country are very tired of bailouts," she said. "How can we assure taxpayers that this doesn't just become another government entity that ends up bailing out bad projects and that we end up privatizing the profits while socializing the losses?"
These warnings are important to keep in mind as the infrastructure bank idea moves forward, but it does appear to be moving forward, at least in the Senate. The House proposal – at least, the outline we've seen so far - doesn't include an infrastructure bank. But then, neither did yesterday's Senate bill outline, and it seems that we may hear more from EPW at tomorrow's hearing about the possibility of including such an entity in its final bill.
Boxer's priority has been the expansion of the TIFIA loan program, and the House and Senate have both agreed to massively expand it to $1 billion. Advocates urge caution to ensure that both TIFIA and the infrastructure bank examine not just a project's credit-worthiness but performance measures. Whether a project is funded by formula, by infrastructure bank, or by TIFIA, with so little public money around, it's of primary importance to make sure that every project meet major national goals of economic growth, connectivity, safety, and the reduction of fuel consumption.
Tanya became Streetsblog's Capitol Hill editor in September 2010 after covering Congress for Pacifica Radio's Washington bureau and for public radio stations around the country. She lives car-free in a transit-oriented and bike-friendly neighborhood of Washington, DC.
Stay in touch
Sign up for our free newsletter