Transit
Can 'Personal Rapid Transit' Really Replace Buses and Trains?
Is a shared autonomous vehicle on a dedicated track really the same as public transportation? San Jose thinks so — and officials are about to bet big on it.
12:01 AM EDT on June 20, 2023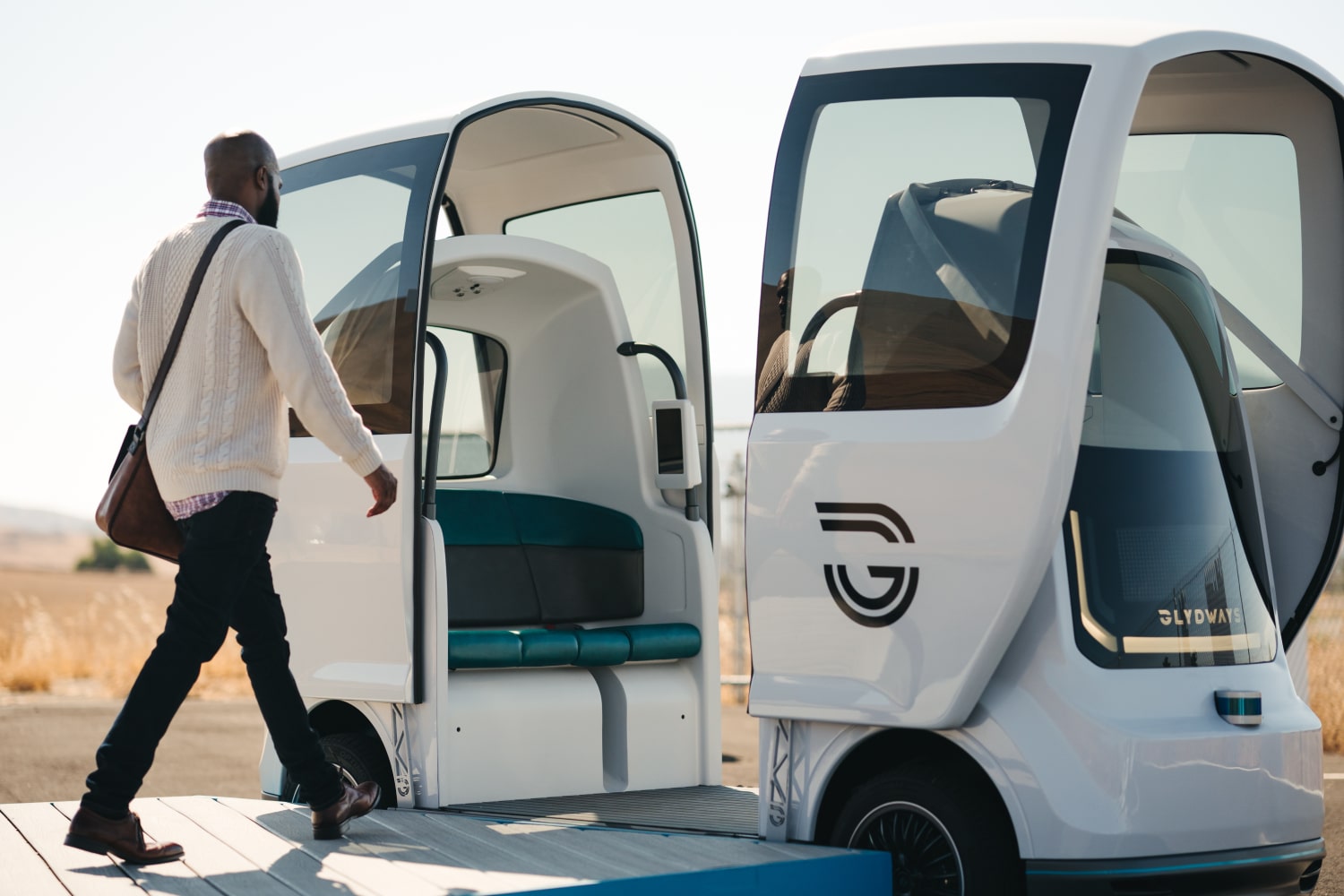 Imagine a solar-powered transit option that's cheaper to build than a train, cheaper to operate than a bus, as convenient as a cab, as private as personal car, and as safe as an advanced AV — all operating on a dedicated path that leaves pedestrians, cyclists, and other road users to move about unbothered. And it only costs about $6 a ride.
If that sounds to good to be true, well — it might be. But city officials in San Jose are apparently believers.
In April, transportation leaders in America's 10th largest city announced that they had greenlit the first leg of a new "personal rapid transit" (or PRT) system, with an initial route to run between the Diridon regional transit hub and San Jose's international airport. The project beat out traditional buses and trains, neither of which serve the airport now, and oft-blogged-about technologies like Virgin Hyperloop and Elon Musk's Boring Company tunnels, despite the fact that PRT systems, to date, only exist in a handful of airports, a futuristic Dubai neighorhood, and one small town in West Virginia.
Moreover the city says that the estimated $500-million project is only the beginning, and the system, as it expands, will eventually serve as a national model for "a new approach to transit that can be designed and built faster and at lower cost, and offers a better rider experience than traditional transit systems."
The initiative — at least if it can pass a battery of environmental, engineering and financial reviews — will be operated by Bay area start-up Glydways, whose vehicles have been variously referred to as "robot shuttles," "pod cars," and something out of the sci-fi dystopia "Minority Report."
For their part, the company calls them "Glydcars," and they're autonomously driven and dispatched on-demand, running at a max of about 31 miles per hour without stopping at stations, or even at intersections. That's possible because the robovehicles exclusively run on dedicated roads about five feet wide — roughly the width of a NACTO-standard bike lane — which can be configured to switch nimbly between ground-level, elevated, and even subterranean paths at what the company claims will be a fraction of the price of the comparable infrastructure required to handle a heavy bus or train. And when they've completed their journeys, they'll rest in any number of off-road disembarkation "bays" throughout the city, which double as stops and eliminate the need for massive depots.
Put it all together, and Glydways CEO Mark Seeger, says the Glydcar is one of humanity's best tools to fight car dependency — even if his products look, at first glance, a whole lot like a car, albeit a small one on a dedicated road.
"The fundamental thesis here is that there are too many cars on the road, and the road cannot handle it," Seeger told Streetsblog. "And if you throw a couple of buses in there, it just gets worse, because they're snarled in traffic congestion. … You've really got to think about the human element here, which isn't just about, 'Let's build more trains or bus lanes.' Let's actually solve the problem of getting you to work, of getting me to housing that I can afford, and let's do it for as many people as possible — and also, let's not choke our planet, with climate gases that are causing a worsening crisis."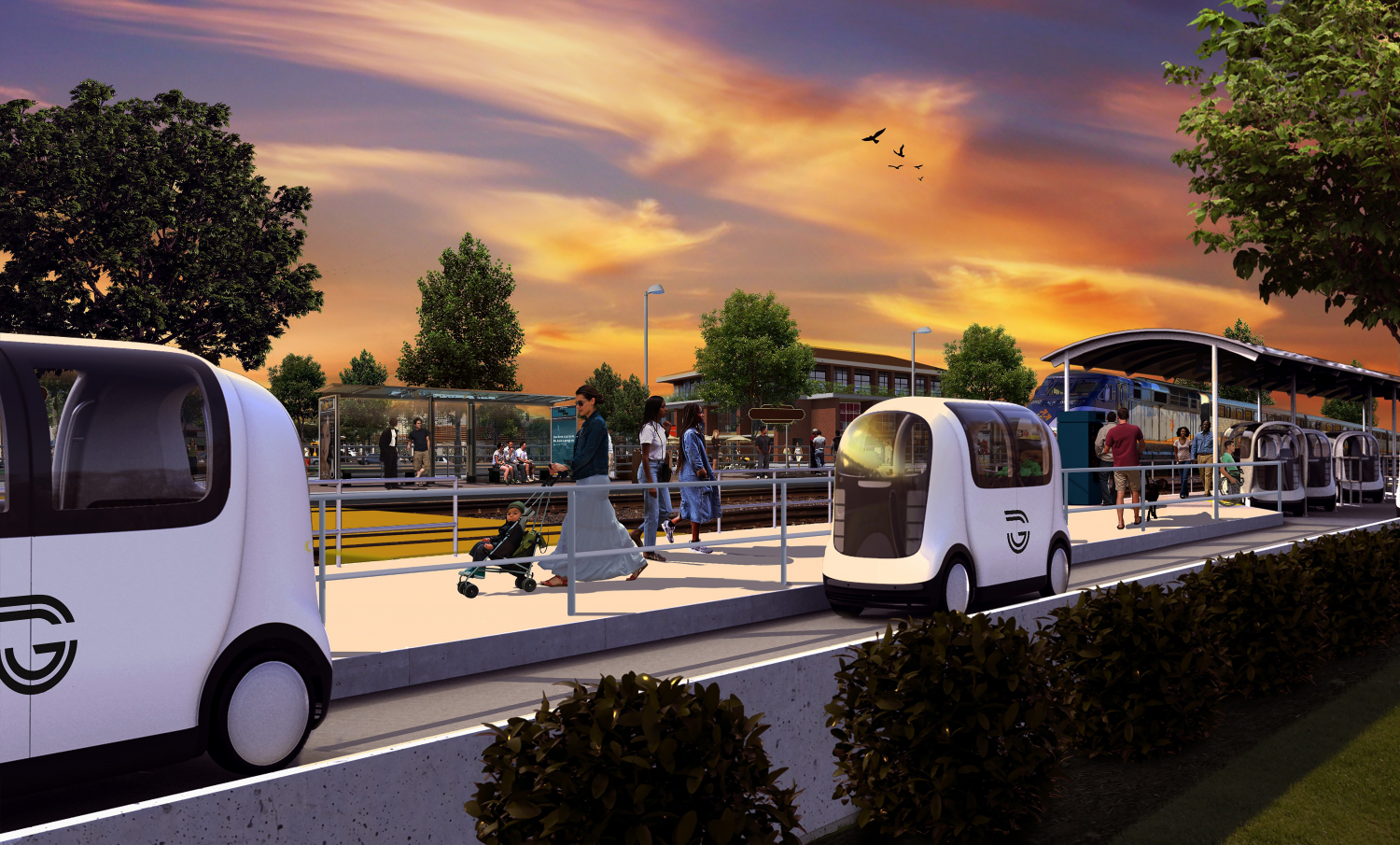 Before we unpack the objections sustainable transportation advocates might have with Seeger's perspective — and there are many — it's important to acknowledge that the problems he's attempting to solve are very real. There are far too many cars on the road in the United States — a whopping 76 percent of Americans drive alone to work — and mass transit agencies have struggled to get residents to stop driving them and switch to shared modes. And even if other countries have done far better, only about 200 cities on Earth have built the kind of rapid, electrified metro systems that Seeger argues are key to not just getting people to skip driving, but to give them the kind of convenient and attractive mobility option they'll actually want to ride.
Advocates might say, of course, that transit agencies' struggles with low ridership, failing fareboxes, and shoddy service are all problems that can be cured by robust subsidies — not to mention unsnarling buses from traffic by giving them their own dedicated lane and signal priority.
But Seeger argues that at least to some degree, these problems are inherent to mass modes. He maintains that even a world-class subway relies on a "paradigm of aggregation" wherein agencies run massive vehicles to massive stations on fixed schedules regardless of whether there's enough people to fill them, causing costs per passenger per mile to balloon to unsustainable levels the instant the rush hour ends. He says that's a recipe for insolvency — and for high-quality transit to never be built in any but the densest and richest places on earth.
Moreover, Seeger points out that even when the train is running at peak efficiency, people don't particularly like being packed asses to elbows with strangers, or waiting a few extra minutes for a bus that might not come on time, or offer them a pleasant ride.
"The whole issue with a bus line or a train line is that it is underutilized," he adds. "The Bay Area Rapid Transit System is an economic death spiral because people don't want to use it because the experience is terrible. I mean, frankly, it is awful — people get murdered on it and other nasty things happen. But even aside from the adverse events, it's just not a good experience. People would rather sit in traffic than take this system that is already there. … And so we're try to turn that on its head [with Glydways]; we're trying to provide a better experience."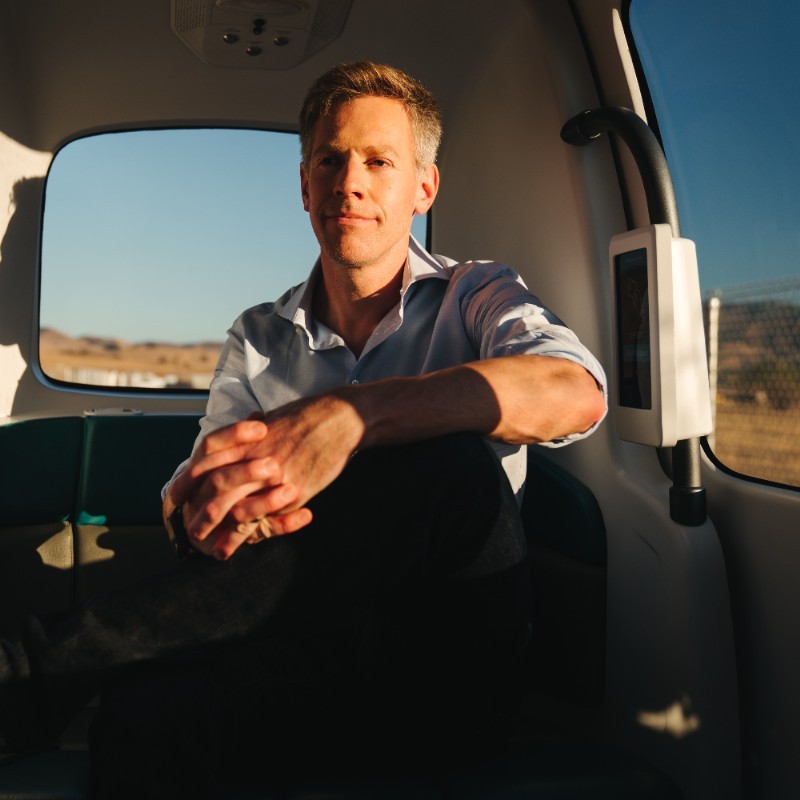 Of course, many transit advocates will question the notion that people would truly prefer a pod car experience to a high-quality, clean, murder-free mass option — especially if driving private automobiles were less heavily subsidized than it is now. And some also doubt that companies like Glydways can actually provide what they claim without exactly the same kind of subsidy.
"At least at first blush, my impression is that this seems like a system that's going to have all the same costs you'd get from creating a bus lane, but it's going provide you with less capacity, because you have smaller vehicles," said Chris Van Eyken, director of research and policy for the nonprofit Transit Center. "I would encourage caution here."
Despite their relatively miniature size, Van Eyken questions whether Glydways' lanes could really be built for all that much less than a typical bus rapid transit line, given the universe of soft costs like permits and consultants that make up so much of a typical BRT budget.
Those costs could swell even more if Glydways makes good on its promise that "pedestrians will never encounter Glydcars, and Glydcars will never have to stop and wait for pedestrians to cross" without ever encountering a signalized intersection — unless walkers are outright restricted from crossing in places where paths can't be elevated or tunneled underground. And that's not to mention the all-too-familiar political challenges involved in building a bikeway, which, again, is virtually identical in size to a Glydway — or the decades it can take to fight those battles. (Seeger, who notes that he grew up in Holland, insists that "Bikes are very important to me … and we won't take away pedestrian lanes either.")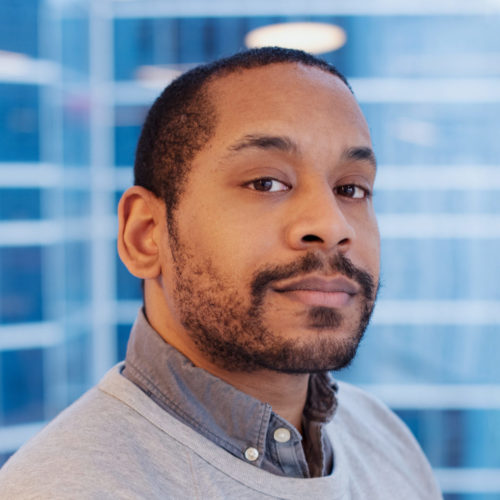 Van Eyken also questions the company's estimate that it could carry 10,000 people per hour and potentially transport more people than a conventional train — something Streetsblog SF also questioned in 2021 — especially given that a family, say, shoving luggage into a tiny pod on their way to the airport might need a little more time to board. By design, a Glydways vehicle can carry only four people, or less if one of those passengers is in a wheelchair, or carting a bike, or hauling a load of groceries, and Van Eyken suspects they'd have load in rapidly to keep the Glydcars running.
"PRT would have to run at incredible frequencies to ensure no waiting," he said. "I mean, it'd probably have to have more than one vehicle coming every minute. … I think it's either going to serve a low volume of people, to the point whether you wonder whether it's worth it, or it's going to be in high demand and be constantly backed up — and then you're going to be begging for a larger vehicle."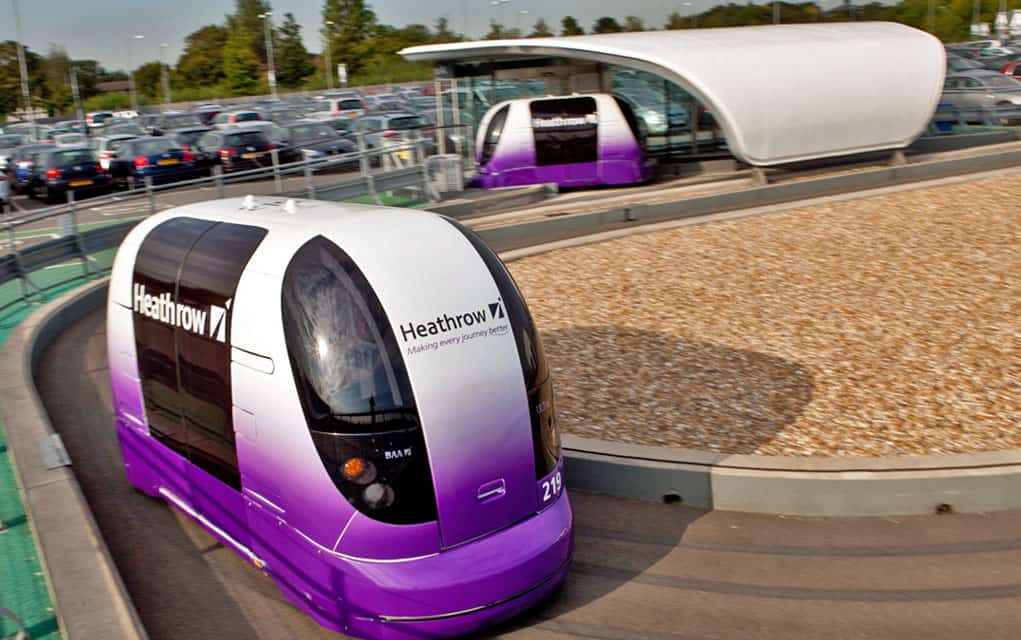 Seeger insists all those questions will be answered when the next generation of PRT is up and running — and that advocates shouldn't focus on earlier examples of the technology, which didn't have the kind of advanced AI that Glydways will rely on and only recently matured.
"At the end of the day, we're about equity of opportunity, the whole purpose of guideways, or PRT in general, is to create a scalable solution that can go from four percent of cities on earth to hopefully a few more," added Seeger. "And we think of that as equity of opportunity, through better access to mobility — and one that a bus or a train simply, technically and economically, cannot provide." 
Advocates like Van Eyken object to that statement – and question whether PRT is transit at all.
"It seems to be in a gray area where it's really close to being a personal vehicle, but it lacks the flexibility of a personal vehicle," he said. "If someone wants that [personal vehicle] experience, why wouldn't they just take a cab? … It's an untested concept, and I'd be wary of seeing my own cityinvesting money in this."

Kea Wilson is editor of Streetsblog USA. She has more than a dozen years experience as a writer telling emotional, urgent and actionable stories that motivate average Americans to get involved in making their cities better places. She is also a novelist, cyclist, and affordable housing advocate. She previously worked at Strong Towns, and currently lives in St. Louis, MO. Kea can be reached at kea@streetsblog.org or on Twitter @streetsblogkea. Please reach out to her with tips and submissions.
Stay in touch
Sign up for our free newsletter