Earl Blumenauer
Electeds, DC Advocates Ride Together For Policy Change
12:01 AM EDT on May 25, 2023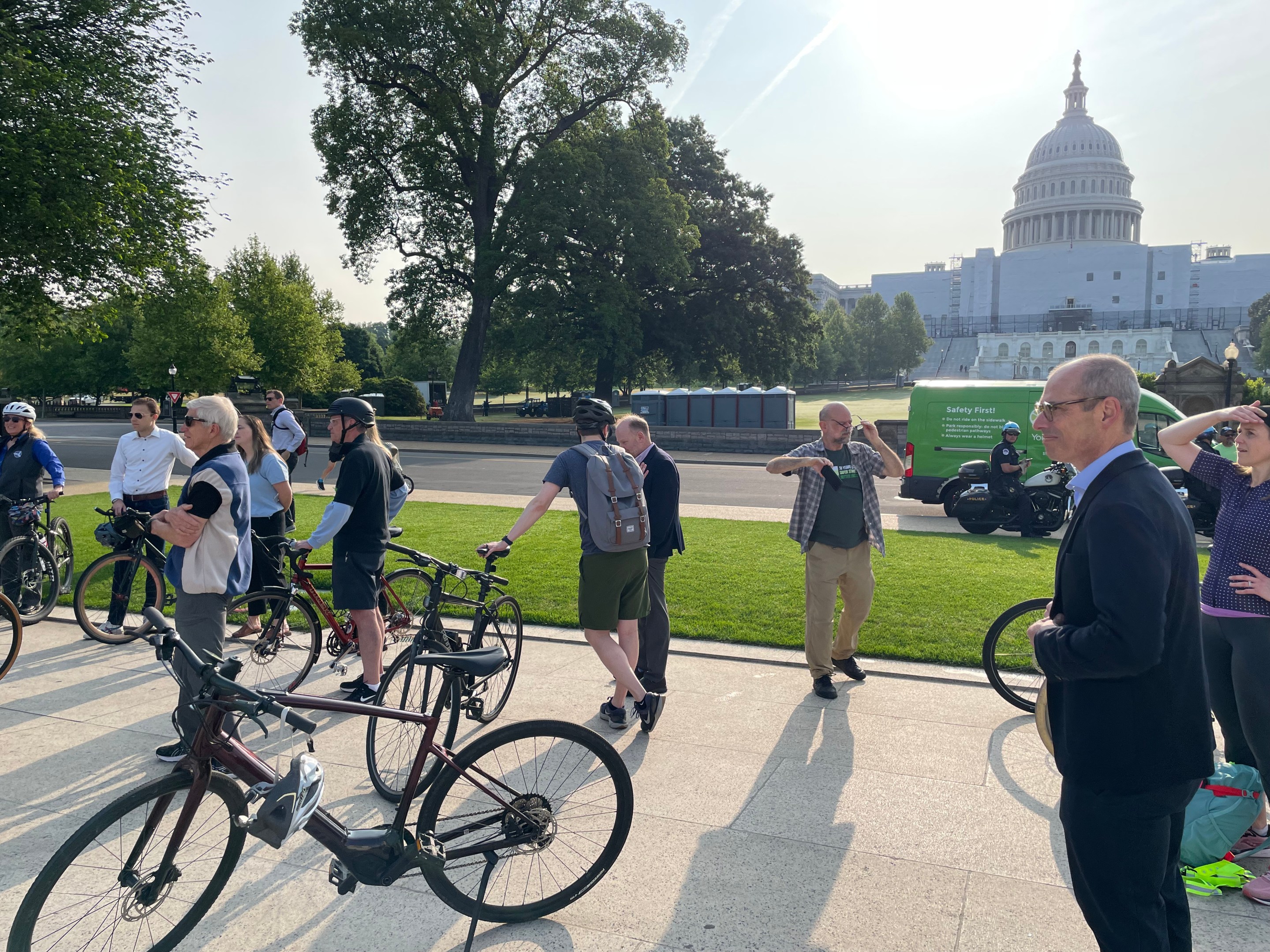 A recent ride through the nation's capital brought advocates and politicos together to experience life behind a set of handlebars — and rally support for new policies that could make that experience less deadly.
Last week, Congressional Bike Caucus Earl Blumenauer co-chair (D-Ore.) and the Washington Area Bicyclist Association hosted a bike tour through the streets of Washington, D.C., giving advocates and their representatives a unique opportunity to pedal together while pushing for legislation that makes our roads safer.
Though it was a bright and gorgeous day for a bike ride, dark concerns about traffic violence permeated the dialogue between the legislators and their constituents. In 2021 alone, more than 42,000 people were killed on US roadways, according to the data from the Department of Transportation, the highest number recorded since 2007; of those killed, 13 percent or more than 7,600 were pedestrians. The number of bicycle-related deaths have also increased a dramatic 44 percent over the last decade, according to data from the National Safety Council.
Jessica Hart, representing Families for Safe Streets, opened the tour with a speech about the stark realities of the country's failures to protect its most vulnerable citizens on the road — including her five year-old daughter Allison Hart, who was killed by a driver in September 2021, three year-old Lily Shambrook, who was killed by a driver in June of 2022, and Matthew Kenan, 42, who was killed by a driver in September 2021.
"Thousands of people are dying violent, traumatic, preventable deaths on American streets every year," Hart said. "Allie, Lily and Matt all paid the price of a society that refuses to build the infrastructure that can protect our most vulnerable road users. Paint is not protection."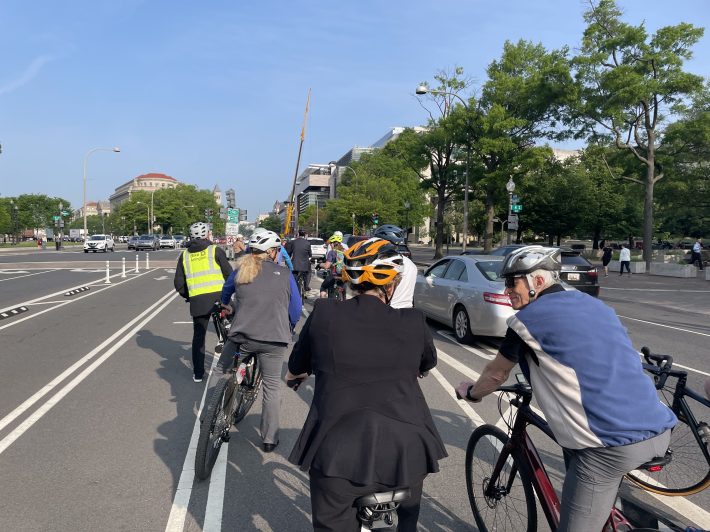 To highlight what a better path forward might look like for American communities, the tour route followed a series of protected bike lanes along Pennsylvania Avenue and 15th Street before stopping at the National Mall. Beneath the shadow of the Washington monument, WABA highlighted DC's partnership with the National Park Service to implement these protected lanes, as well as several ongoing projects like the East Coast Greenway, the great American Rail Trail, the September 11th Memorial trail, and more.
Rep. Blumenauer said it was past time to allocate more resources to provide these safe cycling experiences for people across the country, but he emphasized that many U.S. communities have already made considerable progress considering how little they've been given.
"We've seen cities around the country that are moving forward," Blumenauer said during the event. "I obviously agree that there's more that needs to be done. But compared to where we were 25 years ago, it's remarkable."
Bluemenanuer applauded the billions the federal government is adding to support Vision Zero initiatives across the country as part of the Infrastructure Investment and Jobs Act, as well as the local can-do spirit that helped push for legislation to build bike lane projects like Pennsylvania Avenue. He also stressed that bicycles are key to reducing fossil fuels, improving health outcomes, and even reducing housing costs.
"We have billions of dollars right here in the metropolitan areas, housing cars. And it takes up valuable land to be used for housing opportunities, and redirecting resources," the representative said.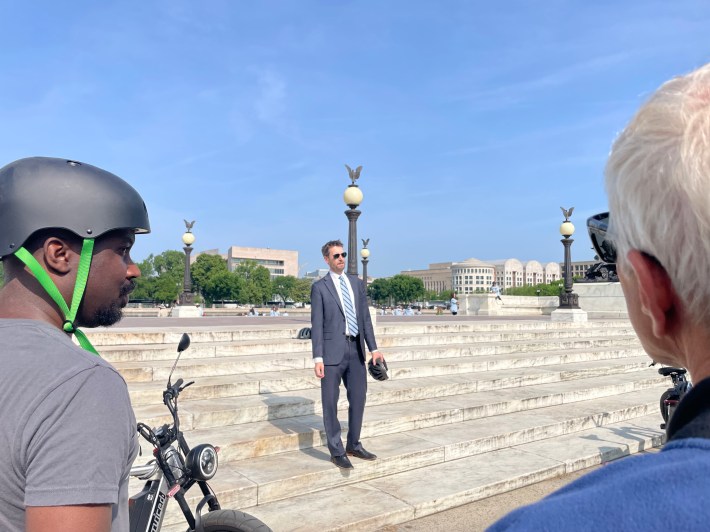 To help direct more resources towards active travel, Blumenauer recently introduced the Sarah Debbink Langenkamp Active Transportation Safety Act, which would open up millions in Highway Safety Improvement Program funds that connect two or more pieces of bicycling infrastructure by waiving the 10 percent local match typically required on bicycle and pedestrian projects. The act was named for a celebrated U.S. diplomat who was killed by a truck driver in August of 2022; her husband, Dan Langenkamp, attended the ride to rally support for the bill.
Langenkamp also urged leaders and the public to push the National Highway Transportation Safety Administration to rapidly implement new rules requiring automakers to install side underride guards and automatic emergency braking systems on large trucks.
"Sarah's bill [and] the automatic emergency braking could save a lot of lives," Langenkamp said.
Rep. Eleanor Holmes Norton (D-D.C.) also spoke about the pivotal role roads play in improving road safety.
"I know that safer roads are key to addressing this crisis," Holmes Norton said. "The bipartisan infrastructure law provides the largest long-term investment in national infrastructure in nearly a century and it will help us build safer, cleaner and more equitable transportation systems."
Ward 6 Council Member Charles Allen, who also heads the Council's Transportation and Environment Committee, also spoke of the positive trickle-down effect of safer infrastructure.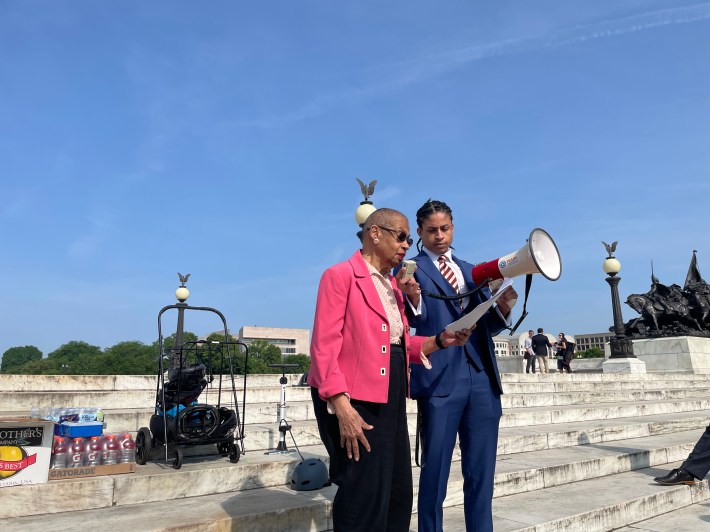 "We know that when we build places that are safe and comfortable for people to walk and bike, that they choose to," Allen said, adding that half of the trips Americans take everyday are less than three miles. "The biggest difference is choosing to [build safe places]."
Before the group set off to finish their ride, Hart urged policymakers and advocates alike to take what they'd heard that day to heart.
"Think about seeing your child, your partner, parent or friend or colleague or neighbor dying in the street. Would you do everything in your power to stop that? I would," she said. "Allie, Milli, Matt, and every other victim of traffic violence deserved to live. The very least we can do is give them a legacy that leaves behind safe streets for all users."

Kea Wilson is editor of Streetsblog USA. She has more than a dozen years experience as a writer telling emotional, urgent and actionable stories that motivate average Americans to get involved in making their cities better places. She is also a novelist, cyclist, and affordable housing advocate. She previously worked at Strong Towns, and currently lives in St. Louis, MO. Kea can be reached at kea@streetsblog.org or on Twitter @streetsblogkea. Please reach out to her with tips and submissions.
Read More:
Stay in touch
Sign up for our free newsletter