Amtrak
Opinion: Amtrak's Patchwork Policies Could be Deterring the Most-Obvious Riders — Cyclists
12:01 AM EDT on April 10, 2023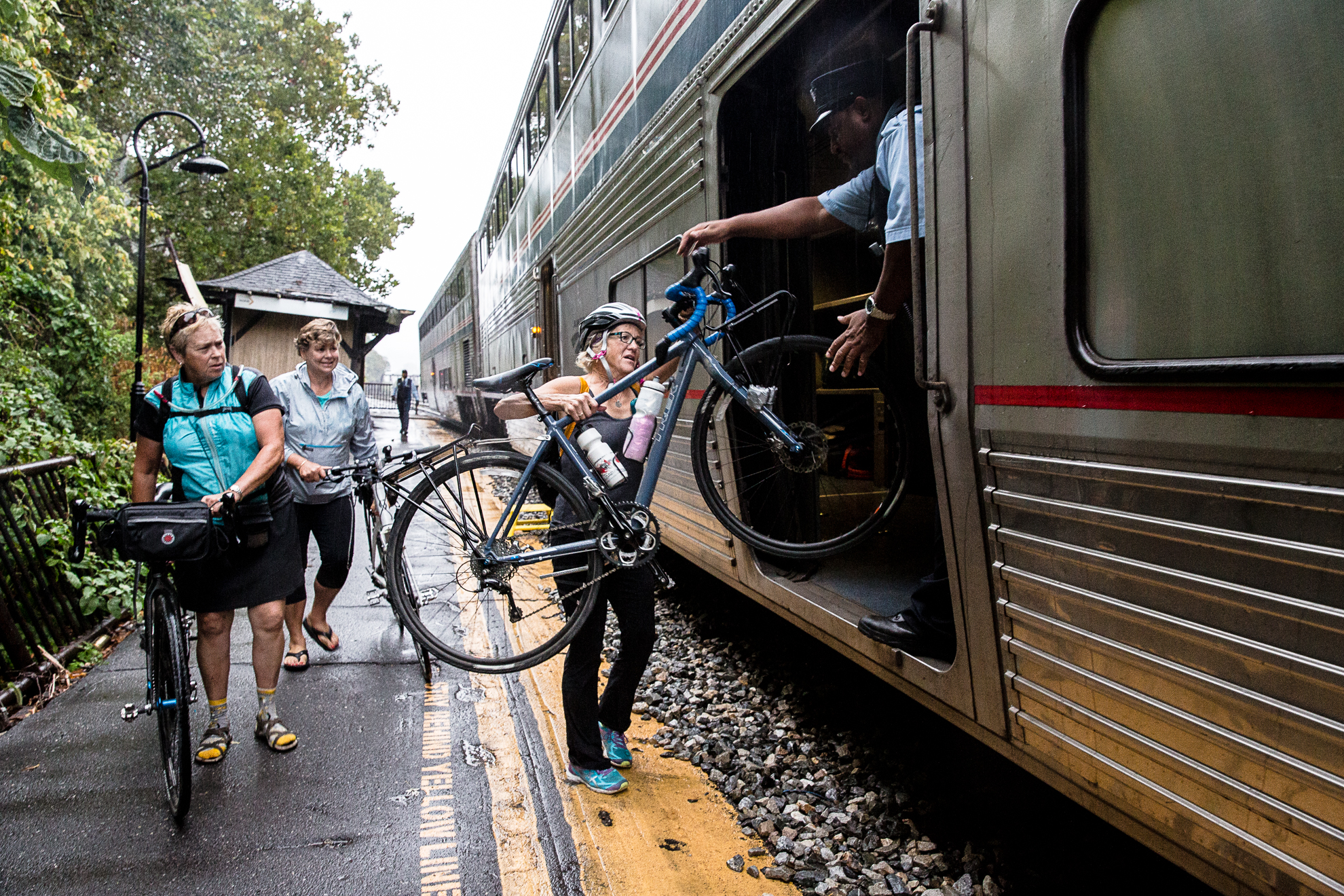 The question of whether you can bring your bicycle on your next Amtrak trip should be a simple one. But it isn't because Amtrak doesn't give a straightforward answer: Its rules vary widely from line to line, with some corridors taking a hard no policy, to a near limitless bounty of bike storage without fees or reservations required for others, to a strict disassembled storage in a checked box only or four bikes per train for large swaths of the country. (That's four bikes for the entire train, not per car.)
Many cyclists and advocates find the differing policies frustrating. The four-bike maximum policy is the norm for many lines, even those that run parallel to some of the country's best cycling and rail-to-trail infrastructure. The 150-mile Great Allegheny Passage from Pittsburgh to Washington, D.C., the 240-mile Katy Trail State Park across Missouri and the 24-mile Eastern Trail in Maine are all serviceable by train at either end if you're lucky enough to secure a bike spot. Trains could also be used to access expansive, long-haul trail networks like the Cross Washington Mountain Bike Route, Oregon Outback and Eastern Divide Trail.
Creating opportunities for multimodal transportation could be one of the best ways for expanding rail use, but some Amtrak policies are standing in the way.
Natural allies
Capitol Corridor, the rail line between San Jose and Sacramento, is one such line where lenient bike policies and ample storage have been great for cycling. The headline of the web page on pairing bikes with train travel is titled "Bikes and Trains — The Perfect Match," an astute assessment of how well these two transportation modes can complement the relative shortcomings of the other.
Commuters between Auburn, Sacramento, Oakland and San Jose can load up bikes for a quick train ride instead of spending hours in traffic. On arrival, they simply take down their bike from the rack and ride off to their next destination. Stops also include Santa Clara University, the Oakland Coliseum and Oakland Airport.
According to its own report, Capitol Corridor spent the five years preceding the pandemic breaking ridership records and generating $38 million in revenue. Unlike other Amtrak lines, the corridor is operated by the Capitol Corridor Joint Powers Authority, an independently elected board.
Remedying Exclusion
As companies like Patagonia, REI and The North Face double down on their commitments to promoting greater equity and inclusion in historically White sports, many recreational areas remain exclusively accessible by car. It's an unfortunate irony that many of the sports beloved by outdoor enthusiasts and conservationists alike, including hiking and mountain biking, are overly dependent on car culture.
We know bikes are an important tool for mobility. Combining that access with rail-to-recreation destinations could be a way to help remedy outdoor exclusion.
The Empire Builder runs daily from Portland just an hour and half to Bingen, Washington, across the Columbia River from the popular outdoor destination of Hood River, Oregon. Hood River is known for its access to hiking trails and scenic waterfalls along the Columbia River Gorge, plus is home to world-class downhill mountain bike trails. But the Empire Builder is one such line that only allows bikes disassembled in a checked box, and the walk from the small town of Bingen to Hood River is four miles one way, with most trailheads even further on foot and often up steep inclines. The station itself lacks shelter or even rain cover, not exactly the kind of place you want to sprawl out and quickly assemble a bike.
Near St. Louis, Shepherd Mountain Bike Park has been a boon for mountain biking in the area. Many trail users make the 90-minute drive from the city. But the Texas Eagle line runs from downtown St. Louis to just two miles from the trailhead of the popular mountain bike park and nearby campground. The rural town station is also not far from three of Missouri's most-visited state parks.
But like the Empire Builder, getting on and off the line quickly with a bike isn't possible due to its policy, leaving would-be trail users with the option to drive if they can or not visit at all.
Ridership hurdles, lagging infrastructure
Bike policies aren't the only factor keeping people from jumping on the train. Infrequent service means most lines can't replace a quick day trip by car, even when a destination is close by and the rider is willing to adapt their schedule to a fixed timeline. Many lines that used to offer twice-a-day service now run just once daily, making the timing of an out-and-back roundtrip impossible.
If you've been abroad in China, Japan or virtually anywhere in Europe, you may have been taken aback by the ease and convenience of the rail systems in those countries. Meanwhile, in the U.S., lagging, out-of-date infrastructure and sparse commercial travel lines paint a different story.
The 2021 Bipartisan Infrastructure Bill funded major expansions to Amtrak's passenger rail lines over 15 years. The investment comes at a time when ridership still hasn't recovered since the beginning of the pandemic, and even before 2020, ridership has remained relatively stagnant since 2013. Yet Amtrak's own policy almost completely removes one of the best solutions to competing with trips by car: allowing bikes.
Of the many hurdles to ridership, bike inclusion is probably the cheapest to fix. Updating rail infrastructure and developing modernized fleets to bring the high-speed trains already used and beloved in much of Europe and Asia to the U.S. will be a costly and time-consuming endeavor. Even with the major investment to the tune of $66 billion from bill H.R. 3684, Amtrak's first step will be making backlog repairs to aging infrastructure. Some bridges in the Northeast Corridor are at a critical state and more than 100 years old.
Just making our existing rail more functional and avoiding the frequent delays caused by sharing lines with freight trains will come at a significant price. The proposed map for expanding lines to bring service to more places will take years to execute due to increased construction costs, a shortage of machinists and electricians, and the lengthy process of training rail conductors. These disadvantages are also stacked against subsidized aviation options that can come at a lower cost to travelers and faster travel time for longer trips.
By comparison, adding a bike storage car or bike storage options to existing trains or simply allowing more bikes on low rider capacity trains would be a relatively inexpensive way to expand ridership options for the current lines. Thanks to Amtrak's capacity indicator, it's easy to see many lines are operating at less than half capacity. Some lines even help customers find space when bike racks are full; why can't others?
Dead on arrival
An adage I often hear when I propose using Amtrak instead of flying or driving is, "But what will I do when I get there?" Bikes can solve that problem.
In some U.S. cities, the train station drops passengers nearer to the city center than air travel would, or smack in the middle of it in some cases, solving another transportation issue. For example, Chicago O'Hare airport is a whopping 18.1 miles from the city's downtown while the Union Station sits blocks away from Grant Park. On the east coast, the South and North Station flank Boston's historic downtown and are connected to the city's impressive MBTA commuter rail services, while Logan Airport is across the main channel bridge and requires a pricy rideshare or long bus ride to reach.
In cities like Boston, Chicago and much of the west coast, train travelers can count on being greeted with a plethora of transportation options, including city subway lines or simply walking to their nearby destination, in addition to biking if they manage to get theirs on board.
But for the rest of the U.S., the station may consist of a parking lot and basic shelter or depot surrounded by miles and miles of countryside with no public transportation to speak of. Some more rural stations don't even have the option of ride-share options or cabs. It's places like these where ridership could most benefit from being paired with bike travel.
While riders wait for faster and increased service, intentionally connecting small town stations with nearby destinations could be possible with bike travel.
Until ridership becomes more widely adopted, finding potential riders and advocates where possible should be a priority. None are more low-hanging fruit than those already shirking car culture on whatever trips possible, or would be easier to court by removing the obvious barrier to entry.
Editor's note: opinion pieces do not necessarily reflect the perspectives of Streetsblog or its editors. This story has been updated.
Stay in touch
Sign up for our free newsletter