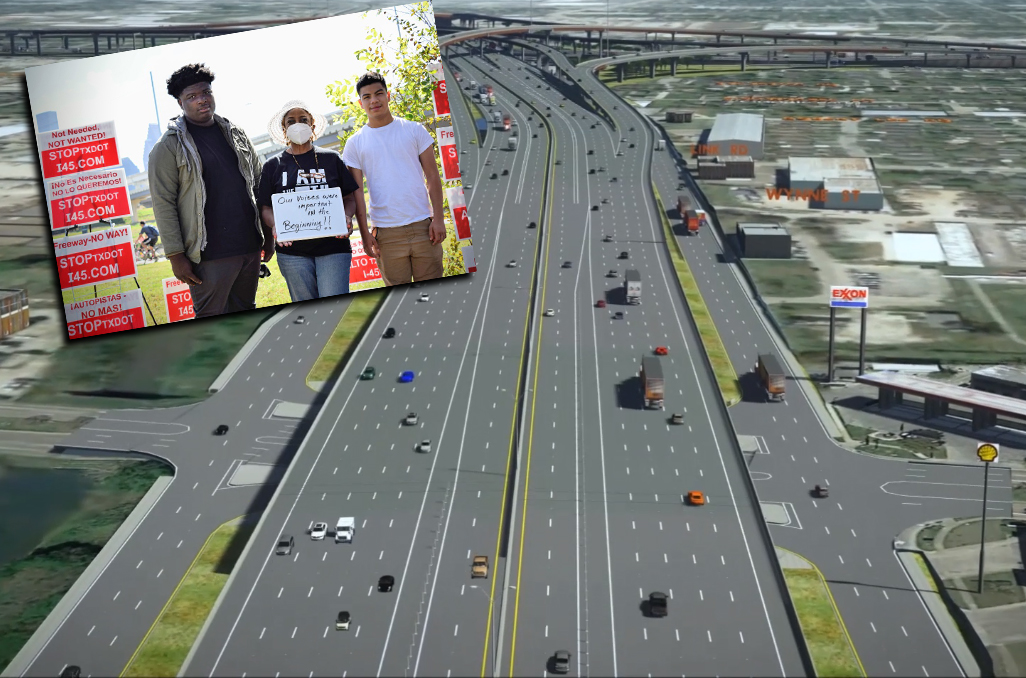 One of America's most infamous highway expansion projects is steamrolling ahead after a civil rights lawsuit brought it to a two-year pause — and experts say it's unlikely to be stopped again unless fundamental changes happen in Congress and the Texas DOT.
Last week, the Texas Department of Transportation announced that it had reached an agreement with the Federal Highway Administration to resume work on the $9-billion North Houston Highway Improvement Project, which will rebuild and expand the aging Interstate 45 and other highways throughout the Bayou City's downtown core — and displace over a thousand residents and more than 300 businesses in predominantly BIPOC communities.
As a concession, the agency promised to evaluate the possibility of reducing the highway's footprint where "reasonable" — which some advocates say means it's unlikely to be reduced at all — and committed to twice-annual public engagement meetings, a modest 11-percent increase in funding for affordable housing, and unspecified "parks, open space, trails, pedestrian and bicycle facilities." It also includes funding for four highway "caps," but notably, no money to build anything on top of them.
Advocates slammed the decision, pointing out that none of those commitments will fundamentally change the damaging impact that the expansion will have on Houston, nor will it deliver on the congestion and climate promises that the agency has claimed.
"It just means they're going to follow the widely accepted best practices, which are terrible," said Steve Davis, assistant vice president for transportation strategy at Transportation for America. "For instance, TxDOT will provide the community with an open forum to provide feedback — feedback which they may do nothing with. There are some important concessions in here, and the deal is better than it was, but these are very small wins."
Despite widespread celebration when the I-45 initiative was brought to a standstill in early 2021, many advocates privately believed it was only a matter of time before it rose from the dead.
"This is a project that has always felt sort of inevitable," said Joe Cutrufo, executive director of Bike Houston. "It was disappointing, though, to see U.S. DOT let this move forward, especially given everything we've heard from Secretary [Pete] Buttigieg since he's entered office about how the days of dividing neighborhoods with wider and wider roads are over, and we're bringing this era of ever-expanding highways to a close. ... That isn't happening in Houston."
Davis added that at the end of the day, Buttigieg and his colleagues don't really have much of a say in whether bad highway projects go forward — because under the Infrastructure Investment and Jobs Act, Congress guaranteed states the right to build pretty much whatever they want with the bill's $110 billion in funding. That money will distributed over five years according to a formula, rather than based on the U.S. DOT's discretion, and can be used on new lanes even when states have existing roads that are badly in need of repair or life-saving redesigns.
"When states follow the widely-accepted standard measures and models, FHWA really has no substantial power to stand in their way," he said. "[That's true] even when we know that their project is destructive, that it will increase emissions, that it will disconnect communities and primarily serve the needs of people who move through a place over the needs of the people who live there."
There is often a fierce backlash when the federal Department of Transportation merely suggests that states hold themselves to a higher standard, Davis added.
Just days before the Houston agreement was announced, the agency conceded that it had no choice but to revise a non-binding guidance memo that asked, but did not require, states to prioritize roadway repair over construction, prompting fury from Republican lawmakers and an investigation from the non-partisan Government Accountability Office.
That investigation delivered what Davis called a "surprising and unorthodox" conclusion that the FHWA's mild memo could be interpreted as carrying the force of a rule, and had to be thrown out — reifying a federal transportation culture that Davis characterizes as "essentially a block grant program" to states that may not share the administration's priorities. In a state like Texas, whose oversight board has deep ties to the auto and fossil fuel industries and whose legislature is currently exploring a bill to make road diets illegal, that means projects like I-45 are hard to beat.
"Until something fundamentally changes with the program, highway expansions are going to continue to happen," Davis adds. "States are going to be free to ignore repair needs, ignore induced demand, ignore emissions, and displace people. That's just the hard truth of things right now."
Despite their big setback, Houstonians aren't giving up hope — and freeway fighters in other communities shouldn't, either.
Locally, Cutrufo pointed to a new effort to secure Houston a proportional voting share at the local metropolitan planning organization that helped ram the I-45 through despite residents' objections. The megacity and its surrounding county are home to 60 percent of the population governed by the Houston-Galveston Area Council of Governments, but have just 17.9 percent of the voting power on the board.
"At the city and county level, we hear a lot about transit, walking and biking; we see a lot of people investing a lot into projects that are making our streets safer and making it easier and more attractive for people to get around without a car," Cutrufo added. "But there's a clear disconnect with what's happening at TxDOT that needs to change."
Davis says advocates in other communities should be pressuring for similar structural changes from their own state and regional policymakers, including pressuring them to adopt progressive standards that would force the DOT to cancel bad highway projects before they begin. Colorado did just that twice over following the adoption of a 2021 emissions rule, prompting calls from advocates across the country for their own states to follow suit.
Even if states don't heed those calls, though, Davis says U.S. DOT does have some power to nudge transportation leaders in a more sustainable direction. That might include requiring states to incorporate induced demand into their planning, or to dump the use of "value of time" metrics that experts say misleadingly inflate the economic value of highway expansions.
Until those things happen, though, sustainable transportation advocates would be wise to take note of what happened in Houston, and start exploring new strategies to defeat bad highways — no matter what Washington is saying.
"The lesson here is, Secretary Pete is not going to come in and save the day," added Cutrufo. "And he probably isn't capable of saving the day."

Kea Wilson is editor of Streetsblog USA. She has more than a dozen years experience as a writer telling emotional, urgent and actionable stories that motivate average Americans to get involved in making their cities better places. She is also a novelist, cyclist, and affordable housing advocate. She previously worked at Strong Towns, and currently lives in St. Louis, MO. Kea can be reached at kea@streetsblog.org or on Twitter @streetsblogkea. Please reach out to her with tips and submissions.
Read More:
Stay in touch
Sign up for our free newsletter