Editor's Note: This article originally appeared on Strong Towns and is republished with permission.
The Texas Department of Transportation (TxDOT) is pushing forward with an $85 billion, decade-long plan to expand the state's highway system, despite widespread opposition and even a federal lawsuit. One of its largest projects is the $9.7 billion-plus expansion of Interstate 45 in Houston, which necessitates demolishing hundreds of units of housing, businesses, community centers, and churches.
In September, the wrecking ball came for one of three buildings that make up the Lofts at the Ballpark, a 375-unit apartment complex located in downtown Houston. Members of Stop TxDOT I-45—a group that mobilized in opposition to the expansion—have highlighted the irony of the department's ambition to accommodate growth while simultaneously eliminating housing.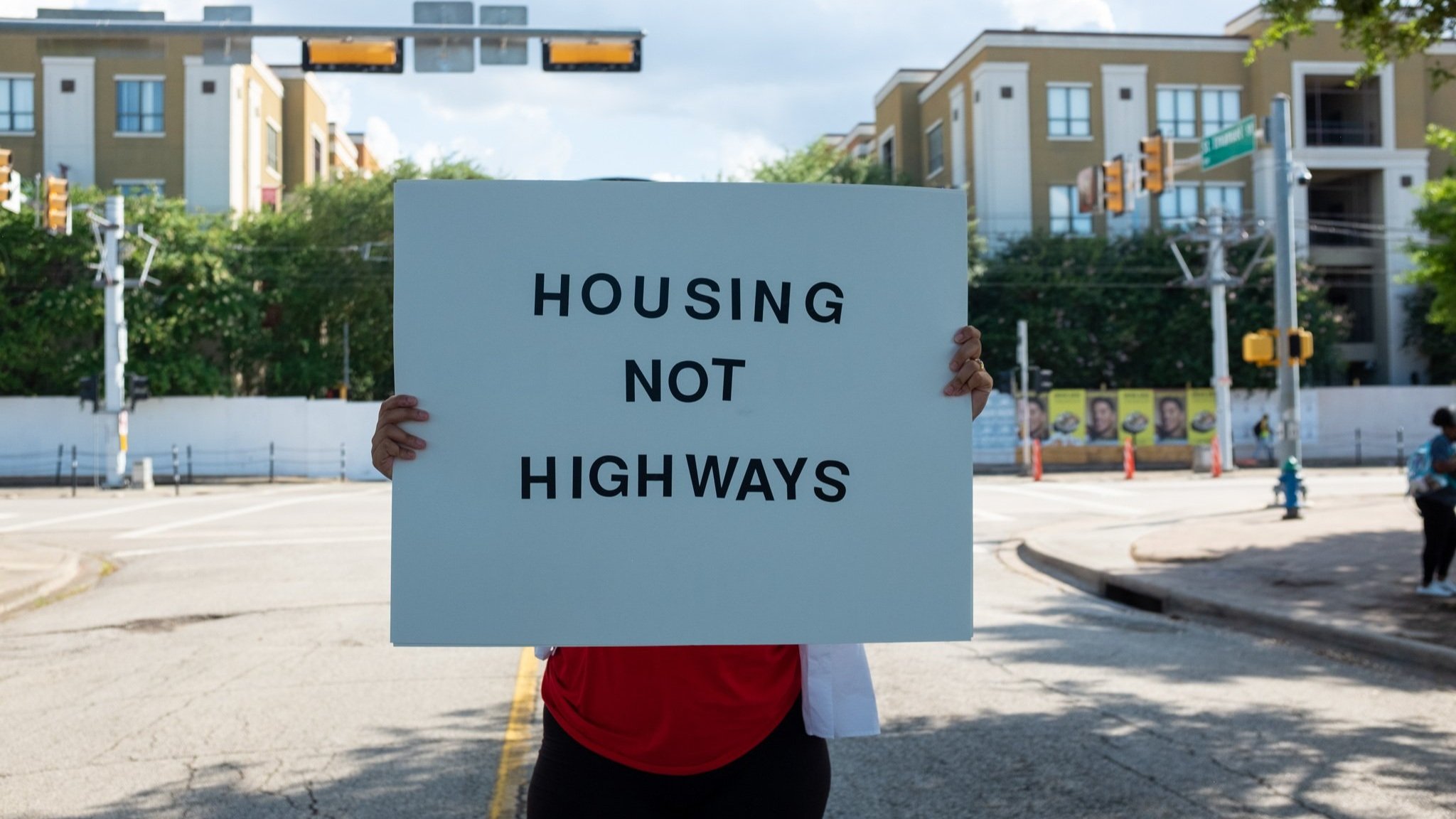 "The Lofts represented a fairly significant shift in Houston's housing development. They also served as an example of good urban planning: multi-family, connected to light rail, and located within walking distance of a revitalized entertainment district," said Michael Moritz, a community organizer with Stop TxDOT.
For Moritz, saving what remains of the complex is paramount, especially as Houston continues weathering a housing shortage. Nick Arcos of LINK Houston, a nonprofit advocating for a robust and equitable transportation network, remarked that the loss of centrally located housing can be especially devastating to lower-income communities, in particular those who rely on transit. "When TxDOT reappropriates and subsequently removes people's homes, those who lived there move farther and farther away to find affordable housing. In some cases, this means they may lose access to transit on which they depended," he said.
For that reason, several activists in TxDOT insist that, if saved, the apartments should be designated as affordable housing, especially considering the loss of the nearby Clayton Homes and similar subsidized housing in the path of the proposed expansion.
"Houston cannot afford to lose 375 transit-connected affordable housing units while housing costs and evictions soar," Stop TxDOT remarked in a press release dated June 21, 2022. The next day, Channel 2 KPRC aired a segment confirming demolition had already begun.
TxDOT purchased the property in 2021 in order to make room for the highway expansion, vacating it entirely by May 2022. By filing a open records request, Moritz was able to confirm that TxDOT purchased all three buildings in the complex from their interim owner, Banyan Residential. However, he noted a few things seemed suspicious. He pointed out that Banyan Residential bought and sold the entirety of The Lofts at Ballpark complex in a matter of weeks, selling them for over $100,000, while the assessed value, according to Harris County Appraisal Records at the time of purchase, was less than $70,000. Additionally, Banyan Residential never held property in Houston prior to purchasing The Lofts. Moritz determined that TxDOT paid more than the tax-assessed value by a significant margin, leading him and other activists to suspect Banyan Residential profited at taxpayer expense, undoubtedly knowing the property was condemned for the expansion.
Furthermore, the purchase of all three of the buildings alerted Moritz that TxDOT might have plans beyond what it had publicized. In its Environmental Impact Statement, TxDOT only accounted for 165 units to be torn down but the purchase and subsequent eviction of all three buildings — amounting to 375 units — incensed Moritz to contact the demolition company contracted at the site. Through that phone call, he learned that the company was slated to tear down all three buildings.
This news catalyzed activists to place hundreds of calls to municipal agencies, including city council, the mayor's office, and public works, to revoke the demolition permits. Houston listened and its permitting office put an administrative hold on the project. This hold joined a federal pause, issued in March 2021, pending the expansion's civil rights violations. However, in proving it purchased The Lofts prior to the federal pause — a process known as early acquisition — TxDOT asserted the city has no jurisdiction to stop the demolition and indicated it will not be seeking further permits.
In a statement posted on Twitter, TxDOT actually urged against delaying demolition, citing public safety concerns associated with vacant properties. "Vacant buildings such as these have attracted illicit and illegal activity, which would be burdensome to the city, local communities, businesses in the vicinity and potentially expose TxDOT to an array of liabilities," the agency wrote.
Opponents of I-45 immediately pointed out the hypocrisy of TxDOT cautioning against prolonged vacancy when it is itself responsible for emptying The Lofts.
While there isn't evidence suggesting crime has posed a problem since vacating the buildings, Moritz notes the imminent risk of mold and other deterioration from within. According to former residents, at the time of their acquisition, The Lofts were structurally sound, quality housing. "However, Houston's humidity coupled with a prolonged utility shut-off, lack of ventilation, and filtration might make them totally unusable," Moritz says.
Even as the demolition team has appeared to demobilize in recent months, suggesting to activists that one battle has been won, concerns over the state of the buildings are mounting. While TxDOT engineer Eliza Paul claims that TxDOT "doesn't have the capability or ability to secure the building and try to do something else with the building," other than demolish it for the highway expansion, activists lament that TxDOT is responsible for the worsening state of The Lofts.
In the battle over The Lofts, two conflicting visions of Houston's future are apparent. "Perhaps nowhere in America is the attachment to cars as strong, and the change in recent habits as noteworthy, as here," the LA Times reported in 2001. That same article charted the revitalization of Houston's downtown, focusing on Ballpark, the neighborhood and namesake of The Lofts.
"In Houston, it's particularly striking because this city was the epitome of the empty downtown at night. There was nothing to do. You would come to the theater, get back in your car and go home," said Stephen Klineberg, a Houston-based sociologist and demographics expert, in that same piece.
Moritz agrees: "The Lofts represented a fairly significant shift in Houston's housing development. What's happening is wasteful."
Asia (pronounced "ah-sha") Mieleszko serves as a Staff Writer for Strong Towns.
Kea Wilson is editor of Streetsblog USA. She has more than a dozen years experience as a writer telling emotional, urgent and actionable stories that motivate average Americans to get involved in making their cities better places. She is also a novelist, cyclist, and affordable housing advocate. She previously worked at Strong Towns, and currently lives in St. Louis, MO. Kea can be reached at kea@streetsblog.org or on Twitter @streetsblogkea. Please reach out to her with tips and submissions.
Read More:
Stay in touch
Sign up for our free newsletter