Bike Sharing
Is the Dockless Bike-Share Revolution a Mirage?
12:02 PM EST on February 7, 2018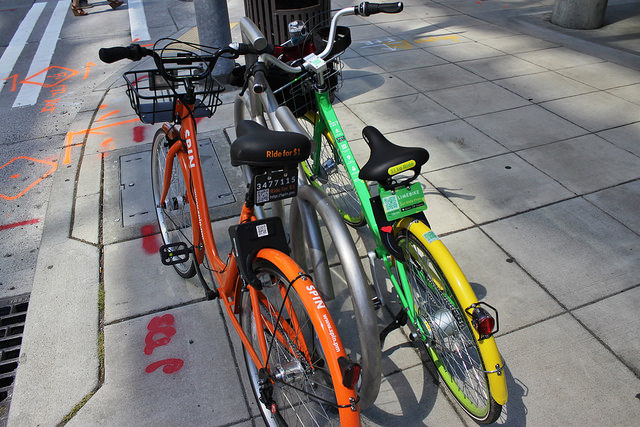 After dockless bike-share companies blanketed cities in China with millions of bicycles, firms like ofo and LimeBike set their sights on American markets, backed by heaps of venture capital. They've put thousands of bikes on the streets of Seattle, Dallas, and Washington, and they aren't about to stop there. If they haven't tried to set up shop in your city yet, odds are they will soon.
In D.C., the city government has taken a measured approach, phasing in fleets from the dockless companies to complement the station-based, publicly-run Capital Bikeshare. The new bikes have largely been well-received, and anecdotal evidence suggests they're getting more use in the city's black neighborhoods than CaBi, whose ridership skews white and affluent.
In Dallas, where companies quickly dropped 20,000 shared bikes on the streets, the dockless bike-share experiment isn't going so smoothly. Complaints about bikes discarded on sidewalks and in all sorts of bizarre places have led city officials to threaten to impound them from the companies.
It's easy to dismiss this crankiness as a fussy double standard that people never apply to the illegally parked cars littering city sidewalks, crosswalks, and bus stops. But there are bigger questions about the venture-funded dockless bike-share model that go deeper than the propriety of where the bikes are parked.
Long-time observers of American bike-share systems have serious doubts about the safety, utility, and long-term viability of the new services. One of those bike-share industry veterans is Alison Cohen, CEO of Bicycle Transit Systems.
As the executive of a bike-share operator that predates the venture-funded era, with contracts in Philadelphia, Los Angeles, and Nevada, Cohen isn't impartial. But talk to public officials at city transportation agencies -- people with no financial stake in who wins or loses in the bike-share market -- and you'll hear similar concerns.
Cohen says there's nothing that special about the "docklessness" of the new bike-share services. "The technology is not revolutionary," she said. "There have been lock-to-yourself bikes forever."
What's new is all the venture funding backing the companies, their willingness to bypass official arrangements with local governments, and the lack of transparency about ridership and other performance metrics.
Despite the information vacuum, cities are clearly intrigued by the idea of a free lunch. In a place like Dallas, adding thousands of brightly colored bicycles overnight can produce the appearance of being a bikeable city, without putting in the legwork of building out a safe on-street bike network.
Meanwhile, local governments have essentially stopped expanding bike-share systems with city funds. "There's no public money going to bike-share anymore," Cohen said. "This model of [cities issuing requests for proposals] is not happening anymore." As the government role recedes, so does public oversight of goals like integrating bike-share with transit, or ensuring the equipment is safe and well-maintained.
In Florida, a bill in the state legislature backed by a lobbyist for ofo goes so far as to pre-empt existing city contracts with bike-share companies and impose statewide safety and performance standards. The bill is opposed by the North American Bike Share Association, which sees it as a power play to circumvent basic quality controls. (NABSA is a trade group encompassing city agencies, bike-share equipment makers, and system operators -- including ofo and the new batch of bike-share companies, though presumably the membership isn't unanimous in its stance on the bill.)
How are the new bike-share services performing?
Since the new companies won't release much data on their own, Bicycle Transit Systems hired Toole Design Group to field test dockless bike-share services in D.C. and Seattle last fall and issue a report [PDF].
A significant share of the bikes -- 12 percent -- were diagnosed with "major defects," like damaged brakes or missing lights, which pose safety hazards.
The testers also found that 12 percent of the bikes were parked in private spaces that might make them inaccessible to the public.
In addition, there was a mismatch between the bikes visible in Transit, the trip-planning app the testers used, and bikes on the ground. In D.C., the actual number of bikes exceeded the what the app displayed by 8 percent, and in Seattle, there were more than twice as many bikes as shown in the app. The discrepancies raise questions about trip data the companies may release.
The companies aren't opening up ridership data
Some flaws in the new bike-share systems would be acceptable if people are making a lot of trips with them. But we don't have a good idea how much use the bikes are getting, because the companies guard that proprietary data closely, and cities for the most part aren't insisting on public access.
The numbers that have come out so far aren't impressive. In Aurora, Colorado, ofo fed vastly inflated usage stats to the city's bike-share coordinator, who passed the numbers on to Streetsblog Denver, which issued a correction and retraction after the truth came out. People were making 0.18 trips per bike each day on Aurora's dockless systems, a very low rate and a tiny fraction of the 2.5 daily trips per bike initially claimed.
Limited data from Seattle looks better. Two months into a pilot program with ofo, LimeBike, and Spin, the city reported a usage rate of 2.5 trips per bike each day, respectable numbers compared to most American bike-share systems, though still much lower than New York's Citi Bike, Paris's Velib, or Mexico City's EcoBici -- which all average more than five daily trips per bike.
But more recent data suggests usage rates in Seattle have fallen. Between late June and the end of November, people made 347,300 trips, according to the city, with 9,388 bikes permitted to the three companies at the tail end of that timeframe. The number of permitted bikes was lower at the beginning of the pilot, and there are fewer available bikes on the street than the number of permits, so we don't know how many bikes were available when. But Doug Trumm at the Urbanist points out that, assuming there were an average of 4,000 bikes available each day, that works out to just 0.68 daily trips per bike.
Insisting on a basic level of trip data transparency should be a core demand from any city before allowing the companies to operate.
How long will it last?
The dockless bike-share companies are riding an enormous wave of venture capital. China-based Mobike and ofo -- the two largest bike-share companies -- were valued at about $1 billion each late last year. A round of investment in LimeBike propelled its valuation to about $225 million less than a year after its founding, Forbes reports.
Are these companies financially viable? If so, how will they get into the black? It's a safe bet that none of the companies are turning a profit from bike-share fees, which in China run as low as 30 cents per hour.
The business model partly relies on cheap bikes of much lower quality than the earlier generation of American bike-share systems. The venture-backed firms are putting out bikes that may cost $200 each, says Cohen, compared to about $1,200 for the sturdier models in systems like Divvy or Citi Bike. The new bikes' cheap construction accounts for the high rate of defects and the sense of disposability that leads to China's enormous "bicycle graveyards."
One revenue stream for the new companies, aside from fees, is selling trip data, much like Uber does.
In China, the companies also stay afloat by collecting deposits. Each user pays around $30 U.S. to access a bike-share company's service. Some of the companies have been sued for failing to return deposits when requested. Chinese regulators, concerned that some companies are illegally investing their pool of deposits, are reportedly moving to impose stricter oversight. That may be one reason many dockless bike-share start-ups aren't expected to survive 2018.
It's possible -- maybe even likely -- that some of the venture-backed bike-share companies will emerge as viable in the long run, providing useful urban mobility services. How much should cities bet on that?

Read More:
Stay in touch
Sign up for our free newsletter