Bike Sharing
Why Aren't American Bike-Share Systems Living Up to Their Potential?
2:50 PM EST on November 24, 2014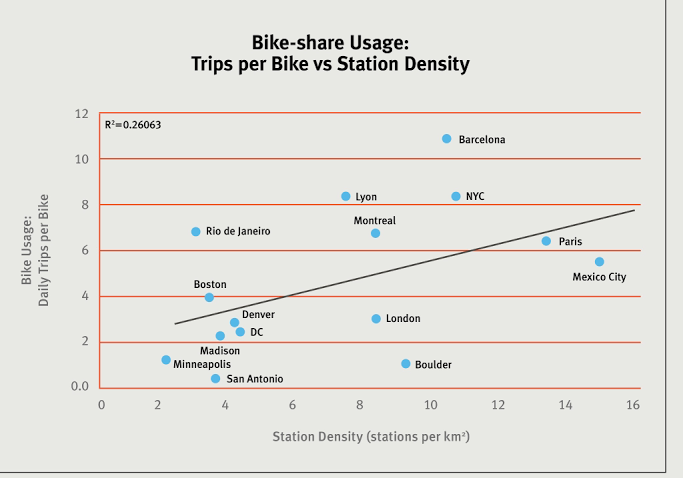 As policy director at the New York City Department of Transportation from 2007 to June, 2014, Jon Orcutt shepherded the nation's largest bike-share system through the earliest stages of planning, a wide-ranging public engagement process, and, last year, the rollout of hundreds of Citi Bike stations.
That makes Orcutt, formerly of Transportation Alternatives and the Tri-State Transportation Campaign, a leading U.S. expert on bike-share. In a recent exchange about what some cities are passing off as bike-share, Orcutt told he has some concerns about how bike-share systems are being rolled out in cities around the U.S. Intrigued, I asked him to elaborate in an interview.
Here's what he had to say about what separates a successful bike-share system from one that's not meeting its potential:
So you've come to some conclusions about how certain bike-shares are functioning?
They're not my conclusions. There's a fair amount of research out there now and you can see pretty clearly what some of the variables are. There's a huge variation across cities, especially in the United States.
Can you summarize the research?
The most useful metric is rides per bike per day. You can compare a system with 600 bikes to 6,000 bikes in different size cities pretty easily. You just see, how many rides is it getting?
I'd say the breaking point internationally is about three-and-a-half or four rides. High performing systems are seeing four rides per day on average or more, and then there's everybody else. A lot of them in the United States are under two.
That's based on the research that ITDP, the Institute for Transportation and Development Policy, put out last year. We try to track that metric very closely day to day in New York.
Which ones in the U.S would be considered in the high-performing range?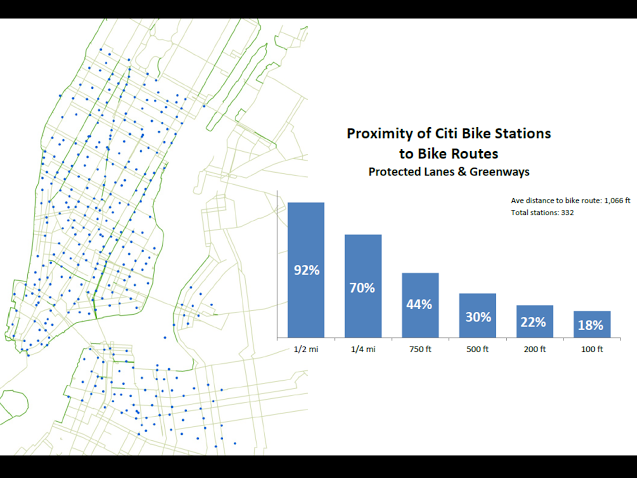 Uh, New York.
So just New York?
You know, followed by everybody else. Chicago had just gotten on the map when some of this research had come out, so I'm not sure about them.
How many rides does New York get per bike per day?
In the summer, it's in the range of six. Some months it's higher and some months it's lower.
Other cities, what are their numbers like?
The ITDP numbers show Boston around four, D.C. around two and a half, though D.C. can get to four or higher in the summer. You get into some of the smaller cities, they're down under two -- Boulder, Minneapolis. New York's total rides per bike per day from launch through October is 4.4, including the polar vortex of last winter.
What are the key ingredients to a successful bike-share system? 
I think there's a number of variables. ITDP looked at station density as a key variable. Some other research -- for example a good study issued by NYU last winter -- seems to confirm that. But also proximity to transit.
Within New York City DOT when this was coming out, I got some of our guys to take a look at proximity to protected bike lanes just in big cities to see if it was stronger, and it was definitely stronger in New York City than Washington or Chicago.
I think there's some preconditions to success. If you think of New York versus London, theirs was installed two or three years before us, but we went past their per bike ridership almost immediately because they had no bike network. If you're going to ask people to jump on these bikes and ride around, you need them to feel safe. That's another, I think, very important variable.
If you can create a good bike lane network and create a super density of bike-share stations, like the kind of stations where you're basically coming across them almost every block, it's a huge recipe for jumpstarting bike transportation in your city and that's what New York and Paris have shown.
And I think some of the ingredients are missing in some of these other cases.
Why is station density so important?
In a lot of cities they pull out a map and they start plunking down stations by their big attractions. So like, "Here's city hall, here's the museum, here's the famous statue." And that's not what generates trips in the city. What generates trips in the city are people's homes and the places they go everyday. To create a real transportation system it needs to be ubiquitous.
Think about what makes another form of transportation, like a car system. You have thousands of miles of streets in any particular city, information systems built up all around it. They're so overwhelming you don't even notice them. Everything from street lighting to street design to regulations and enforcement. And we need to do that with bikes as well if we want to get a lot of people riding them.
The tradeoff there is that you can't cover the whole city oftentimes in your first deployment. But I think that's okay, to keep people hungry for something that's succeeding rather than to have a mediocre performance by spreading things out.
Some of these systems like Boston and Washington, they're certainly not failures. I just think they have a lot more potential. I think if you see some infill development in those systems, you'll see a lot more bike traffic in those cities. They also need to do more to foster a system of on-street bike networks.
It seems like a big obstacle would just be the commitment level of the cities.
The main obstacle to doing this stuff really well is whether or not the city is serious about bike transportation. Is there a strategic plan to increase bicycling, not just public bikes but people's own bikes? And how does bike-share fit into that?
So I think a lot of people are thinking about bike-share as, it's an important thing to say we have, without really thinking about why that is.
One of the things that's been missing in the U.S. is a small-city success story and I think there's one shaping up in Austin, Texas. If you look at them, they've completely focused their initial set of stations in a very small area. The city has been doing a good job of adding protected bike lanes and they have a really ambitious network planned.
You mentioned that having a high-performing bike-share system can really expand the share of people biking for transportation. Can you talk about the numbers for some of these cities?
The way we measure biking in New York, I don't think really captures the full effect of Citi Bike, because we just measure people coming in and out of the central business district, and most of Citi Bike is within the central business district. We did an experiment in the summer of 2013, where we did counts on major avenues, and used the ratio of Citi Bikes in the count to estimate total cycling in the CBD.  We're having 30-40,000 Citi Bike trips every day in the central business district, with the estimate from that count at 113,000 total bike trips. We're now coming up on 15 million Citi Bike trips. It's just been a huge addition to the presence of bikes on the street and the number of bike trips [being made] in the city.
One of the things that happened in New York is it really flipped the conversation from "Why do we have to have these bike lanes?" to "When is Citi Bike coming to my neighborhood?" And the city just announced last month that Citi Bike will double in size over the next few years.
I think there's a very virtuous dynamic between bike-share and bike lane network expansion, once you have a successful bike-share system.

Stay in touch
Sign up for our free newsletter