In Tenth Year of Park(ing) Day, Parklets Bloom on Six Continents
Cities on six continents are celebrating Park(ing) Day today, now in its tenth year of temporarily transforming curbside space for cars into public spaces for people. Some of the pop-up parks that caught our eye this Park(ing) Day include: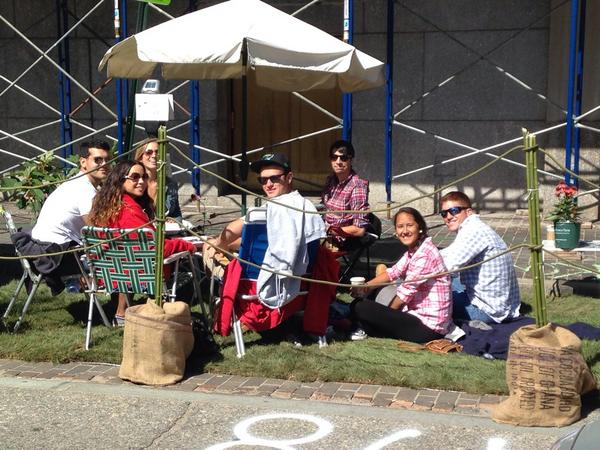 Providence pulled out all of the stops this year, with 32 parklets — and a pop-up protected bike lane down Broadway — gracing a city with fewer than 200,000 residents. The parklet sponsors include not just local design firms, retailers, and schools, but also the campaign of Jorge Elorza, the Democratic nominee for mayor in this November's election. What's more, Park(ing) Day will have lasting policy impacts in Providence. James P. Kennedy of Network blog Transport Providence points out that Elorza has endorsed making the bike lane permanent, and that both major-party candidates have endorsed a parking tax.
One group in Louisville "drew some inspiration from Angie Schmitt's work with Streetsblog looking at Parking Craters" and decided to tackle a vacant lot amidst the otherwise unbroken line of buildings along the city's historic West Main Street. Today, City Collaborative will open ReSurfaced, a six-week plaza and beer garden, on a vacant lot where a skyscraper had been proposed. The plaza offers interactive computer games laser-projected onto adjacent walls, a portable makerspace, and even its own brewed-for-the-occasion Kentucky Common beer.
The NoMa neighborhood BID in Washington, D.C. offered $200 micro-grants to individuals or groups who set up parklets along 1st Street NE, the main street of the developing neighborhood (and already home to a curb-protected bike lane). The BID's Ali Newman said that having "a network of parks means that so many more people can interact with and enjoy the public space," and that having multiple groups programming the space "gets people outside and engages the neighborhood in a new way." One organizer, Do Tank DC, set up an outdoor game room to celebrate the successful launch of its new card game, Cards Against Urbanity.
Mayor Bill Peduto of Pittsburgh was among the first to enjoy lifeguarding the "beach" that was set up on city council members' reserved parking spaces on Fourth Avenue downtown as part of that city's extensive Park(ing) Day festivities. In addition, seven parklets were set up along a key block of Liberty Avenue downtown. Businesses along Butler Street, the main drag of the city's Lawrenceville neighborhood, have organized 22 parklets, which together will form a four-block-long mini-golf course.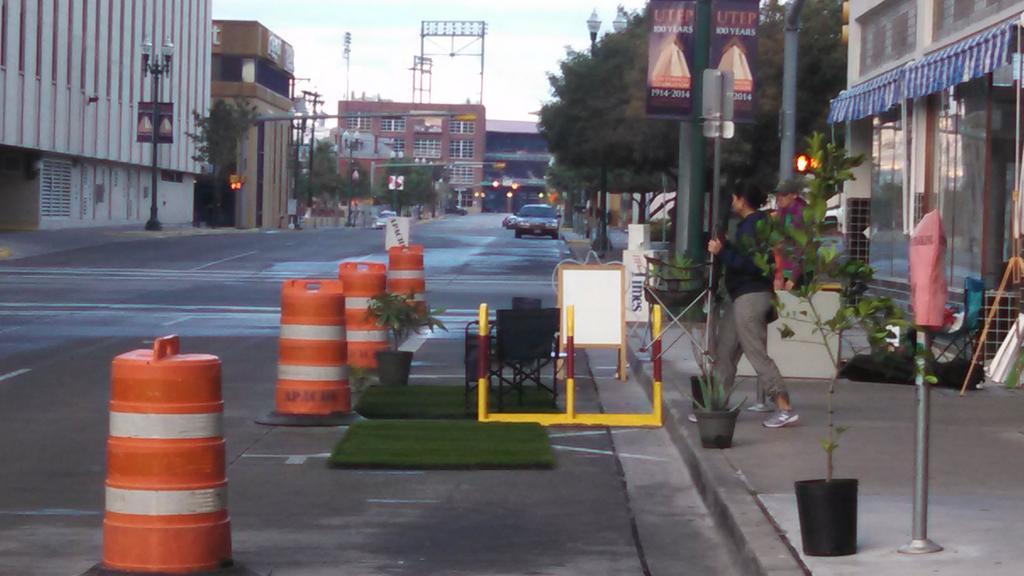 El Paso will be celebrating Park(ing) Day well into the night, with daytime activities from the city's Office of Sustainability followed by an evening festival lasting until 9 p.m., then moving inside a local pub. Events include two free concerts, a free pizza party, on-site bike repair, and a sunset Bici Pub Crawl.