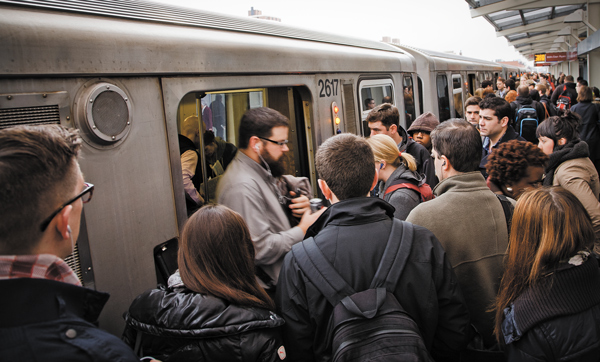 One of MAP-21's many mixed blessings was the New Starts Core Capacity program. It expanded eligibility for New Starts grants -- normally reserved as capital assistance for new transit lines -- to existing corridors. To qualify, the system just had to show that the improvements would expand the capacity of the line by at least 10 percent.
The double-edged sword is this: The expanded mission didn't come with any more money. In fact, the Federal Transit Administration saw its funding for New Starts/Small Starts frozen for several years, and then faced a 7 percent cut with the sequester for 2014. Luckily, the budget deal appears to have saved them from that, and though details are still forthcoming, it may mean a more modest 2 percent cut. Less horrific than was feared, perhaps, but still less money for more eligible projects.
That's led some people to fear that the smaller, newer systems New Starts has traditionally targeted could lose out to legacy systems in major transit markets like New York and Boston. Those concerns came out last week during a Highway and Transit Subcommittee hearing in Congress, focusing on the new program.
"With the expanded eligibilities, one could see a potential situation in which a handful of expensive projects in large urban areas could monopolize the New Starts funding over several years," said subcommittee chair Tom Petri (R-WI) in his opening remarks. "This could come at the expense of funding opportunities for new public transportation systems in the rest of the country."
The first New Starts Core Capacity grant to an existing line was put in the project pipeline last month -- for Chicago's red and purple lines, a $4 billion project.
Chicago's had good experiences with this kind of capacity expansion. CTA President Forest Claypool told the panel that high ridership had pushed the agency to make similar improvements on the brown line -- improving stations and expanding the platforms to accommodate eight-car trains -- and the ridership increase blew away expectations, meeting 2020 goals in 2011. Homes along the brown line increased in value by 40 percent.
They're looking to repeat that success on the red and purple lines, "the backbone of the system," according to Claypool. The 100-year-old red line is over capacity, already leaving passengers on the platform. The CTA plans to widen and extend the platforms, modernize the signal system, add electrical substations, straighten curves that force trains to slow down, add track at key bottlenecks, and make all stations ADA-compliant.
Claypool says these improvements could double capacity on the corridor, adding 130,000 more rides each weekday. As he told the panel, "That would compare very favorably with any New Start project around the country." If the idea of the program is the build transit ridership, Chicago's red/purple line project is a winner.
And that's exactly the kind of talk that gets under the skin of people served by smaller transit systems.
Rep. Roger Williams, a former car dealer who represents a district north of Austin, asked if Texas transit providers should be concerned that the FTA would focus on larger projects at the expense of smaller ones. "We're new at this," he said.
"Do you have a plan to ensure that our states with developing systems -- that are, again somewhat new to this -- are afforded the same consideration that others, i.e. in the northeast and Chicago?" Williams asked. And then a jab at those older systems: "See, everybody from Chicago is moving to Texas."
FTA Administrator Peter Rogoff countered that there were actually a lot of vibrant transit projects going on in Texas, from El Paso's bus rapid transit to Dallas' light rail system. He said Texas transit authorities -- and other, smaller providers around the country -- shouldn't worry about getting "choked out" by the big players.
"The real threshold requirement to participate in Core Capacity is an improvement to an existing system that will grow capacity by 10 percent or more." Rogoff said. "Given the way light rail has taken off in Dallas, and how quickly they've exceeded their ridership expectations, I don't know that they would not be interested in the program."
"I think there's a misnomer out there that Core Capacity is just about old legacy systems, and it's about bringing them into a state of good repair," Rogoff said. "MAP-21 states clearly these are not for state of good repair investments. They're for capacity improvement investments."
California Democrat Grace Napolitano suggested that upgrades to existing lines should use funds slated for state of good repair, not New Starts, but Chicago's Forest Claypool countered that New Starts was intended to build ridership, and that's just what his project does.
Claypool noted that cities including Dallas, Washington, and Charlotte are pursuing New Starts money for existing lines, too. But to date, the only other city to submit a Core Capacity grant request under the new eligibility was New York City.
Rogoff said New York's application was withdrawn when the city was overwhelmed with the recovery from Hurricane Sandy, but he expects it to be resubmitted soon. The project would increase ridership capacity by 13 percent on the E line between Queens and the World Trade Center, a line that currently serves 375,000 people a day. The 50,000 extra daily riders the line could sustain after such a project would beat out just about any other New Starts project in the country.
Rogoff says FTA is "agnostic" on whether project applications are New Starts or Core Capacity. When Napolitano asked how FTA would fairly distribute funds if the program is over-subscribed, he answered that the agency "wouldn't be in this predicament" if Congress would just pass the Obama administration's budget request. With the additional $400 million in that budget proposal, the New Starts/Small Starts program would be able to take on a lot more projects.
This year was tough on FTA. "For the first time in modern memory, FTA was unable to make new funding commitments for any new projects through the New and Small Starts program in its 2014 budget," Peter Rogoff told the panel. "And every project that already had a signed funding agreement with the FTA released less funding than the amount called for in that agreement, resulting in increased financing and carrying costs for local governments."
"Project sponsors have complained of the extraordinary rigor and requirements that we put on project sponsors to demonstrate to us that they can pay their share of the project," Rogoff lamented. "So what's happened in 2013? It's the FTA that can't pay its share of the agreement."
Rogoff clearly resents being put in this situation, especially after the FTA "heeded Congress's call to streamline New Starts and improve its efficiency," with 90 percent of its current projects slated to come in on time and on budget.
Rogoff also took the opportunity to shed some stigma from the FTA's old name: the Urban Mass Transit Administration. "People kind of view it as urban program," he said, "but the reality is that the federal dollars are much more critical, in terms of a percentage of the total budget, to the suburban and rural operators than they are to the urban systems."
New systems and small, urban and rural, Rogoff said -- they all share the same concern: the upcoming "transportation fiscal cliff" that will hit at the end of this fiscal year if Congress doesn't find a way to get more resources -- a lot more resources -- to the Highway Trust Fund.
"To many of the suburban, exurban and rural operators, the federal money is 100 percent of their capital budget," Rogoff said, "and the federal money, in a lot of those communities, also pays for transit operations. We could see whole operations close their doors if there was literally no restoration and we really did fall off the cliff."
Rogoff also said the FTA is, for now, content with the 50/50 local/federal split on New Starts projects. Any higher would be too much burden on localities, and he said he doesn't believe the private sector will be of much help making up a bigger local match. Any lower means the FTA would have to dramatically scale back the number of projects it takes on, in order to contribute more toward each one. "As much as I would love to be on parity with highways," Rogoff said, "I also want to have the headroom to get to those cites and work down our pipeline and build those projects."
Tanya became Streetsblog's Capitol Hill editor in September 2010 after covering Congress for Pacifica Radio's Washington bureau and for public radio stations around the country. She lives car-free in a transit-oriented and bike-friendly neighborhood of Washington, DC.
Stay in touch
Sign up for our free newsletter