car-sharing
Seven Ways Technology Is Rendering the Automobile Obsolete
3:56 PM EDT on May 15, 2013
As we try to understand why young people are so much less jazzed about driving than previous generations, one possible explanation always comes up: Kids today just love their smart phones.
That is part of it. But the full picture is far more nuanced.
The internet, and the ability to carry it wherever you go, has changed society in so many profound ways it's no surprise that transportation is among them. A new study by U.S. PIRG and the Frontier Group, "A New Direction," illustrates the myriad ways mobile technology has transformed young people's relationship with transportation.
Yesterday, we covered the report's critique of government travel forecasting and its analysis of why young people's driving rates will probably remain lower than those of previous generations. Technology is one of the biggest reasons. Here's why:
Constant connectivity. As you've undoubtedly noticed at the dinner table or on city sidewalks, people have trouble putting down their phones. It's not just compulsive Facebook status checking that keeps people glued to their devices. People perform an increasingly broad assortment of tasks on phones: make travel reservations, go through work email, catch up on the news, diagnose children's ailments -- the list is nearly infinite. While car companies are trying heartily to incorporate digital connectivity and social media into their cars, they still need to battle the fact that such technology is dangerously distracting for drivers. Given the option, many young people would rather take transit, where they can use their phones harmlessly, making far better use of their commuting time.
Alternative social spaces. Older adults may think it's weird when teens would rather text each other than see each other, but hey, the world is a weird place. "A survey by computer networking equipment maker Cisco in 2012 found that two-thirds of college students and young professionals spend at least as much time with friends online as they do in person," write report authors Phineas Baxandall and Tony Dutzik.
Online shopping. More and more people are making purchases online rather than in stores. Young people are leading the way on that, too. And it can be greener than going to the store yourself.
More consumer-friendly transit. Beyond the social sphere, technology is side-lining car travel by making other modes more attractive. Young people are less inclined to view transit as dirty and smelly and only for poor people, partly because the experience of riding transit is improving. Real-time tracking information, delivered instantly via cell phone, erases the need to wait outside in the elements for a delayed bus. Trip planner apps help riders figure out the best route without having to memorize maps and schedules. Modern transit fare cards make the boarding process quicker and easier, and can be replenished online.
Bike-share. The widespread use of smartphones has enabled whole new transportation options. Imagine a bike-share system that didn't include real-time digital maps telling you where to find available bikes or docks. Or, peeling away another layer of technology, imagine one that didn't have GPS locator capability or electronic payment and security systems. It would be like the free yellow bikes that were sprinkled around the Twin Cities in the mid-90s, then fizzled out a few years later as the bikes were lost to theft or vandalism.
Sharing of all kinds. Car-sharing services like Zipcar could not have thrived with 20th century technology. Every step of the way – from finding an available car online to opening the doors with your magnetic key-card – depends on modern tech. Peer-to-peer car-sharing can use lower-tech cars but still relies on the internet to connect drivers with car-owners. Internet connectivity also enables passengers to match up with drivers offering a ride-share. Plus, countless apps will help you hail a cab or even a limo from the comfort of your barstool.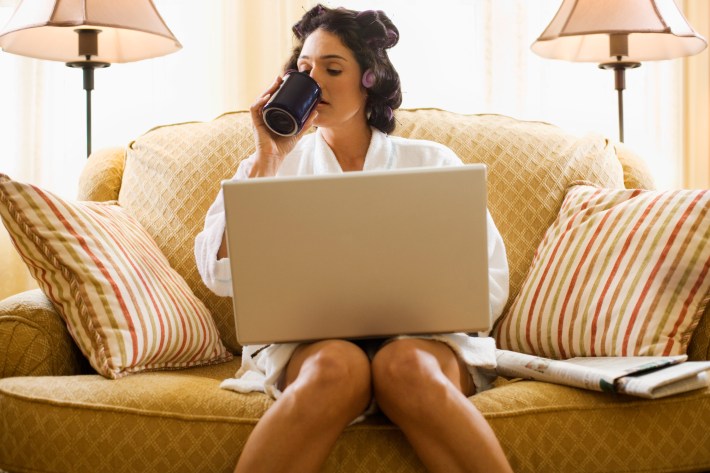 Telework. Telework saves employers money on office space, and it saves employees valuable commute time. The added flexibility of telework can be especially important to people with families and other responsibilities. It also frees people to live wherever they want – a friend of mine moved to Denver because she loves the mountains but kept her DC policy-wonk job. Teleconferencing makes it possible for people to scatter around the globe and still have face-to-face meetings when they need to. Online education similarly gives students alternatives to traveling to campus.
In all of these ways, recent technological advances have made it easier and more desirable for people to cut down on driving. They're not reducing their mileage out of a sense of civic duty or environmental commitment; they're driving less because there are simply better ways to do the things they want and need to do. And, as Baxandall and Dutzik write, it's the young people – the millennial generation – that has most readily embraced all the ways technology can save them time and money. According to a recent Zipcar survey they cite, "25 percent of those aged 18 to 34 reported that mobile transportation apps (such as taxi apps, real-time transit information and car sharing) had reduced their driving frequency, compared with only 9 percent of those 55 years of age and older."
It can be tempting to look at these new technologies as the realm of the young, but those young people will continue to demand more and more sophisticated technological solutions as they get older.
Tanya became Streetsblog's Capitol Hill editor in September 2010 after covering Congress for Pacifica Radio's Washington bureau and for public radio stations around the country. She lives car-free in a transit-oriented and bike-friendly neighborhood of Washington, DC.
Stay in touch
Sign up for our free newsletter