Bicycle Safety
Lawmakers Fret About Impact of Budget Cuts on Transit
3:21 PM EDT on March 14, 2013
"In 2014, federal investment in surface transportation -- which is currently about $50 billion per year -- will drop to $6 billion or $7 billion. In one year."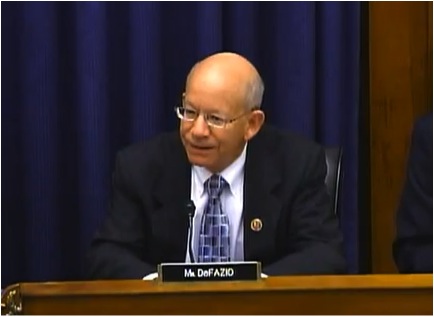 Those were the dire words spoken by Rep. Peter DeFazio (D-OR) at the start of this morning's Transportation & Infrastructure Committee hearing on MAP-21. What he meant was this: At the end of MAP-21, the Highway Trust Fund is expected to have a balance of almost zero and a $7.1 billion shortfall in 2015. Congress would have to radically reduce FY 2015 highway and transit investment levels to ensure that the trust fund remains solvent. According to AASHTO, federal highway investments would have to be cut from approximately $41 billion to $6 billion and transit investment from $11 billion to $3 billion.
"That is pathetic," DeFazio said. "And we have to do something about it."
Funding Cuts Force FTA to Break Agreements
T&I Chair Bill Shuster agreed. "That's our biggest challenge moving forward," he said. And Ranking Democrat Nick Rahall added that the sequester cuts and Congress's inability to pass a real budget has compounded the funding crisis.
FTA Administrator Peter Rogoff warned that the cuts will have a profound impact on transit projects around the country:
Overall, the sequester struck $656 million from FTA's budget. It reduced program funding for our [New Starts] capital investment grants program by almost $100 million. This will means that few, if any, New Starts construction projects will be fundable in the near term.

Even more troubling is the fact that ongoing major New Starts-Small Starts projects will experience increased borrowing costs as FTA will now be required by sequestration to slow its scheduled grant payments to projects for which we have already made written financing agreements.
And, as Rahall had intimated, it's not just the sequester. It's the constant chipping away at the budget, the complete uncertainty that pervades when no real budget ever gets passed, and the looming bankruptcy of the trust fund.
Even without the sequester, under MAP-21 our New Starts-Small Starts capital investment program was authorized to receive 10 percent less in funding when compared with amounts available to carry out the projects in recent fiscal years.

These are just some of the significant funding challenges that direct our programs and really undermine some of our efforts to serve the record number -- and I would emphasize that we are seeing a record number -- of transit riders across the country today.
Funding Cuts Make Us Less Safe
MAP-21 finally gave FTA something it had been requesting for years — safety oversight authority over transit. But instead of giving more funding for the increased workload, it's done the reverse, hobbling the agency's ability to carry out its new mandate.
In addition, Rogoff noted that the dire maintenance backlog in many of the country's transit systems creates its own safety hazard. Rep. DeFazio cited the number $77.7 billion of transit assets that are past their expected period of reliable service — and Rogoff said the number is probably much higher than that.
"We killed some people here in DC because of outmoded equipment," DeFazio added in his typically dramatic way, referring to a 2009 crash on Metro's red line that left nine dead.
Meanwhile, mere days after MAP-21 went into effect in October, granting FTA new emergency relief authority, Superstorm Sandy hit — the worst natural disaster ever to hit U.S. transit systems, which affected more than 40 percent of the nation's transit ridership. Of the $10.9 billion allotted for relief, to date only $390 million has been allocated, but Rogoff said that he expects the first $2 billion to be out the door by the end of the month.
Talking in millions and billions makes people's eyes glaze over, said Rep. Michael Capuano, a Massachusetts Democrat whose primary focus is transit, which he said was "the big thing" in his district. He wanted to know specifics: What projects have had to be cut?
"I'm pushing very hard for at least one -- actually several -- major transit projects," Capuano said. "They require New Starts funding. And it's one thing to get through all the hoops and bells and whistles to get it there, and it's another thing to get the state to have its money -- we're having those arguments as well -- but none means anything if New Starts is defunded."
Rogoff said he has a list of projects that are on the chopping block due to budget cuts. (I've requested a copy and will post it the minute I get it.)
Solutions Brainstorm
Neither Rogoff nor the other agency heads assembled were willing to suggest a policy fix for the funding shortfall, though Rogoff mentioned President Obama's proposal to use the savings from the drawdown in Afghanistan and Iraq to fund infrastructure.
One committee Republican, Roger Williams of Texas, suggested eliminating CAFE standards in an attempt to bring in more fuel tax revenue. Rogoff swatted away that proposal. Williams also exhorted the agencies to "put the customer first" like any good business and make sure that the cuts wouldn't impact them, even if it meant the agencies had to cut staff. The patent absurdity that the agencies could keep running at full steam without a hiccup with severely reduced capacity — not to mention less grant authority — was apparently lost on him.
Another Republican, Rep. Tom Rice of South Carolina, went back to the old donor/donee playbook, claiming that South Carolina got back 93 cents for each dollar it paid in federal fuel taxes. The administrators quickly corrected his error, saying that $54 billion in federal bailouts since 2008 assured that there were no donor states.
Multi-modalism Gets a Nod
A few opportunities arose to break down walls between agencies — and modes. For one, both FHWA and FTA are still working to come up with performance measures around congestion. "It will be the proof that we will have come out of our modal silos if we come up with the identical measures of congestion," Rogoff said.
Second, the emerging freight policy provides a chance for the agencies to work together. Indeed, though some have lamented that MAP-21 jump-starts a freight conversation that leans too heavily toward highways, and away from rail, U.S. DOT appears to be doing a good job interpreting its mandate in a more multi-modal way.
Bicycle and pedestrian programs got a little attention at the hearing too, starting with Rahall's praise for Highways and Transit Subcommittee Chair Tom Petri (R-WI) for his support of Transportation Enhancements. He said that funding "has done so much to improve the quality of life in rural and urban areas."
More significantly, National Highway Traffic Safety Administrator David Strickland noted that amid a steep decline in motorist fatalities there has been an "alarming" rise in bicyclist and pedestrian deaths -- by 8.7 percent and 3 percent, respectively. He said the two bicycle safety summits U.S. DOT is planning to host this year will help address that problem.
"We will look to examine what safety strategies work, and what isn't working, and will use this information to make bicycling safer throughout the nation," he said. He added that the department would also hold events in areas with the most fatalities, talk to officials on the ground about the underlying factors behind the rise in bike/ped deaths, and launch a new safety education program aimed at pedestrians and drivers.
Tanya became Streetsblog's Capitol Hill editor in September 2010 after covering Congress for Pacifica Radio's Washington bureau and for public radio stations around the country. She lives car-free in a transit-oriented and bike-friendly neighborhood of Washington, DC.
Stay in touch
Sign up for our free newsletter