Bicycling
Congress Comes to the Bike Summit (and the Bike Summit Goes to Congress)
2:26 PM EST on March 7, 2013
Tuesday morning, Rep. Earl Blumenauer took his usual place behind the podium at the National Bike Summit. (He never misses a Bike Summit.)
"I'm coming up this morning and smiling at someone going past me on the bike lane on Pennsylvania Avenue," Blumenauer said. "Remember four years ago, I talked about risking my life on Pennsylvania Avenue. And I talked from a podium not unlike this and said, 'Maybe we could just put bike lanes on Pennsylvania Avenue.' Some of you clapped; others of you said, 'I agree, but not in my lifetime.' [Four] years later: It's there, it's a fixture, it matters to people. And it's part of the renaissance in our nation's capital."
Blumenauer encouraged the 750 assembled cycling advocates to be "proud and modestly aggressive" in driving home the point that cycling infrastructure creates good, family-wage jobs. Safe Routes to School "gives us an opportunity to reduce [congestion during] the morning commute 30 percent and not have so many morbidly obese fourth graders," he said.
Summit participants were already planning to spend the next day on Capitol Hill, talking to members of Congress and their staff about increasing federal support for cycling programs. But Blumenauer told them not to stop there -- they should be lobbying even harder when the members are at home, and the district staff are trying to fill their schedules with events that will put them face-to-face with constituents. Inviting them out for a ride to try out a trail that was made possible by federal funds would be a good way of showing them the concrete (and asphalt!) benefits of programs like TIGER and Transportation Enhancements (now Transportation Alternatives).
Another member who made the trip up Pennsylvania Avenue to speak to the Bike Summit was Sen. Ben Cardin, who solidified his standing as Bike Hero when he fought for the Cardin-Cochran amendment, which preserved some local control over bike/ped funds, even as dedicated funding was stripped out of the federal bill.
Cardin talked about the new Jones Falls Trail in Baltimore and others that he secured funding for and that he uses with his family – and which helped Baltimore increase its bike commuting share by 40 percent over the past three years.
He said biking affords people the chance to get to work in a "predictable amount of time" without gridlock, as well as a healthier and cheaper commute, all while saving nearly a pound of carbon dioxide for every mile biked instead of driven.
"That's just a wonderful record," Cardin said, his voice rising. "So why should there be anyone who doubts that we should take a small fraction of the money that we would otherwise use to build concrete roads and devote it for paths? It seems so sensible -- and yet we're up against a tremendous battle here on Capitol Hill."
Cardin was aghast at the rhetoric during the MAP-21 debate. He said keeping dedicated funding for bike and pedestrian projects "made abundant sense" but too many members insisted on "not one dime other than for roads, and flexibility for the states, and no set asides at all." In the end, making sure 50 percent of Transportation Alternatives funds went to local governments and MPOs was what the cycling community had to be content with.
"Can we do better?" Cardin said. "We have to do better. I need more money for Jones Falls Trail in Baltimore."
He said money for biking was an investment in reducing health care costs – and in his own political future. "If more people biked, we'd have a healthier community," he said. "We'll save our environment, we'll save our economy and we're going to have happier people. And when we have happier people, I'm more likely to get reelected!"
Rep. Tom Petri (R-WI), the new chair of the Highways and Transit subcommittee in the House and a champion of dedicated bike funding, put in a disappointing performance. He was off-message, spending much of his time touting the safety benefits of self-driving cars. When he mentioned the support of the National Association of Realtors for bicycling, he praised them for understanding that bike facilities add value to the "subdivisions" they develop. Given his record of supporting federal funding for bicycling, though, the audience will probably charitably overlook his flubs.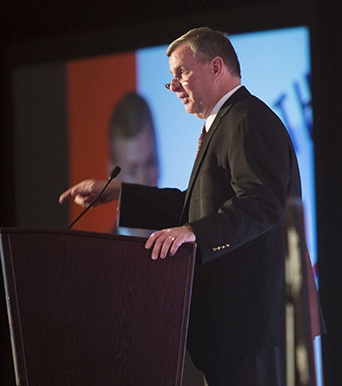 Indianapolis Mayor Greg Ballard rounded out the morning, presenting another Midwestern Republican's view, this time from the local level.
Ballard said he liked biking but he's increasing the city's bike network from one mile of bike lanes ("what does that connect to?") to 200 for a very different reason: to attract talent.
That, he said, is his real job as mayor: to attract talented young people to Indianapolis to grow the economy. "I have to create the kind of city that attracts talent," he said. "Because we're all in competition for the young talent that's out there. Putting in bike lanes and trails is part of that attraction of talent. If we don't do that, we're going to get run over."
"The young people, the millennials… are looking for bike lanes, they're looking for trails, they're looking for connectivity, they're looking for multimodal transportation," he said. "And that's what we're trying to do."
In 2008, Ballard created the city's first Office of Sustainability ever. They're bringing bike-share to the city. And to encouraging bike commuting, they created a city bike hub where people could change clothes and shower downtown before walking to work. Ballard said he "micromanaged" the locker selection to be as good as the ones the Indianapolis Colts have in their locker room, big enough to fit enough suits for the whole week.
Of course, some people liked things the old way, Ballard said, but that's not the way of the future. "Some lady said, 'When I drive next to those bike lanes, I have to slow down.' I said, 'Exactly. Now you're getting it.'"
The plan was, the day after hearing from these elected officials, Bike Summit participants would descend on Capitol Hill to visit hundreds more offices with their message of support for healthy, environmentally-sound, city-friendly transportation. A fakeout snowstorm tagged the "snowquester," poking fun at Washington's bigger problem, ended up not dumping much snow on the ground but did close the federal government on the Summit's lobby day. Not all Congressional offices closed, but the Bike League estimates that up to a third of the scheduled visits were canceled. Still, more than 300 meetings did happen – not bad for a snow day.
Tanya became Streetsblog's Capitol Hill editor in September 2010 after covering Congress for Pacifica Radio's Washington bureau and for public radio stations around the country. She lives car-free in a transit-oriented and bike-friendly neighborhood of Washington, DC.
Stay in touch
Sign up for our free newsletter