AASHTO
Shuster Shows His Thoughtful Side, Boxer Heaps Praise at AASHTO Conference
1:49 PM EST on March 1, 2013
In a sense, there's not much to say about the joint appearance at the AASHTO conference yesterday of House Transportation Committee Chair Bill Shuster and Senate EPW Chair Barbara Boxer. They thanked AASHTO for all its help getting MAP-21 passed. They addressed the big question of how to raise revenues without actually making any proposals. They agreed that infrastructure should be a non-partisan issue. None of these are breaking news.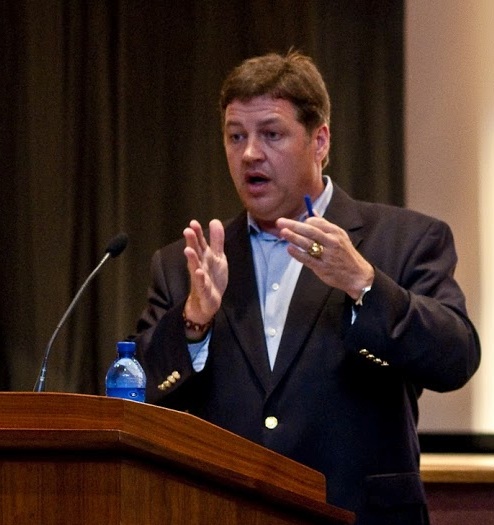 But still, there was some excitement in the air. Boxer and Shuster joked about who was and who wasn't wearing a baseball cap when they sealed the deal on MAP-21. (She's sure it was him, but he still says she was in sweats.)
But then, Boxer always had a collegial relationship with John Mica too, who would kid her about opting for smoothies when they ordered pizza during late-night negotiations.
Shuster is a different animal from Mica. He's more personable, less strident. His sense of humor is less quirky. And most important, his positions are more moderate.
Shuster never misses a chance to expound on the importance of the federal role in transportation and makes it clear that he's going on the offensive with more conservative members, especially new ones, to convince them.
He's conversant in the history of the founding of the republic and lectures audiences that infrastructure was the thing that convinced the founders that the Articles of Confederation wouldn't work. He ribbed the Heritage Foundation for giving an Adam Smith award but not recognizing that the father of capitalism was also a proponent of federal infrastructure spending. "Sometimes I ask them about that and it kind of draws a blank stare," he said.
But nothing says "I'm a reasonable guy you can work with" better than his refreshingly non-polarizing comments on the third-rail issue of rail:
I've watched, in the last 40 years, the debate in Congress. Republicans used to stand up and say, "Amtrak has failed; sell it off and do away with it all." I don't agree with that. There is a need for passenger rail in this country. My counterparts on the other side of the aisle talk about, "There's no passenger rail system that's not subsidized in the world," and they're right. But I think it's wrong that we can't get Amtrak to a place where they're not taking as big subsidies from the federal government. They can get to a place where they may be able to get close to break-even.
Yes, this the same man who co-sponsored a bill to privatize the Northeast Corridor. Looking back, he may have been the reason the privatization proposal wasn't more radical than it was.
Shuster reiterated his position -- identical to Mica's -- that high-speed rail should start in the Northeast Corridor.

I think the place we've got to focus when it comes to high-speed rail is the one place we own the tracks, the place we have the most condensed population in nation -- 18, 19 percent of our population live on 3 percent of our land mass in the Northeast Corridor. That's where we should focus. Focus there, achieve it, learn from it, and then roll it out to other parts of the country.
He emphasized that this is "not a parochial issue" for him. "I'm from Pennsylvania but I'm from western Pennsylvania," he said. "That's not the Northeast Corridor. Philadelphia is the Northeast Corridor -- and I have my challenges with Philadelphia."
Rail is a central issue to Shuster, coming as he does out of the chairmanship of the Rail Subcommittee. But he's well aware of the fact that he's taking over the gavel in a time of crisis, with a plainly unsustainable funding model in place. He says that all options are on the table, but added some details yesterday.
First, he said, "Going away from the user pay, pay-as-you-go system is the wrong way to do it." So it appears that any funding solution from Shuster will involve drivers paying more. He indicated that we "don't yet have the technology in place – or the will – for a vehicle-miles-traveled system," but that it still deserves to be considered.
Second, he made a small caveat that I haven't heard before: That any solution for the trust fund should work "at least for the next decade." That may be the maximum life span for any solution right now. Maybe at the end of that time, gasoline will be such an obsolete way to pay for the system we'll need something completely new. Maybe the technology for VMT will have matured. Either way, finding something that will work for 10 years suddenly seems more doable than figuring out the next 80.
Best of all, Shuster indicated that he's reaching across the aisle, communicating regularly with Ranking Democrat Nick Rahall, and even across the Capitol, connecting with Barbara Boxer and the Republicans on EPW. People fondly remember the glory days of bipartisan collaboration when Shuster's father, Bud Shuster, was the chair of T&I. Perhaps those days will return.
Sen. Barbara Boxer's remarks were notable too, if for no other reason than it seemed like she was in a really good mood. Seeing her in the Senate, in the middle of a tense bill process, it was rare to find her joking around. She actually had a pretty good laugh line -- that when she found out the SAFETEA-LU was named after Don Young's wife Lu, she went home and told her husband she could name the next bill after him -- SAFETEA-STU.
She waxed poetic about AASHTO's accompaniment during the often-dispiriting process of negotiating MAP-21. "We never would have had a bill without [COO] Jack Basso and [Executive Director] John Horsley," Boxer said, referring to two leaders of AASHTO who have since retired. "They provided so much help for me, including my mental health."
"I talked to a lot of people on the phone over and over and over again, as we put together those calls," Boxer said. "But for those of you who weren't a party to that, just know that this organization was crucial every time I was about to give up… You really, AASHTO, were my sounding board, my light at the end of the tunnel when things got grim."
Boxer is never stingy with praise when she likes what someone is doing, but this was more gratitude than I was expecting. Maybe it helps explain how AASHTO got so many items on its wish list in the final bill.
She said she never would have wanted the "huge, awful challenge" of the trust fund insolvency to "come on [her] watch" but it has and she won't walk away from it.
"I'm going to need you more than ever," she told her audience. "And that says a lot."
Tanya became Streetsblog's Capitol Hill editor in September 2010 after covering Congress for Pacifica Radio's Washington bureau and for public radio stations around the country. She lives car-free in a transit-oriented and bike-friendly neighborhood of Washington, DC.
Stay in touch
Sign up for our free newsletter