Gabe Klein
11 Transportation Officials Who Are Changing the Game
1:00 PM EDT on April 16, 2012
America's streets are changing for the better. The signs are everywhere: Whether it's bike sharing in Chattanooga, complete streets in New Orleans or bus rapid transit in Cleveland -- cities across the country are trying new things and making impressive progress in the pursuit of safer streets and sustainable transportation.
It's all thanks to a lot of hard work by a lot of people -- advocates, elected officials, and a new breed of policy maker you might call the visionary bureaucrat. This series is about those bureaucrats -- the people who are transforming transportation and planning agencies from public sector backwaters into centers of bold innovation and change.
Every day this week, Streetsblog will be highlighting well-known and not-so-well-known transportation officials who are working to put new ideas into action. They're overcoming bureaucratic and political obstacles, building coalitions, and demonstrating how American transportation systems should adapt for the 21st century.
We compiled this list with help from the Congress for the New Urbanism, Smart Growth America, Transportation for America, Project for Public Spaces, and the State Smart Transportation Initiative. Recognizing that a truly comprehensive list of innovators would be impossible, we aimed to put together a broad cross-section of officials working at different levels of local government, from city agencies to state DOTs. Everyone here is deserving, but not everyone who's deserving is on the list.
Here's the first of our five installments.
Janette Sadik-Khan
Commissioner, New York City Department of Transportation
What new superlatives can one use to describe Janette Sadik-Khan? At a time when progressive transportation policy is gaining momentum in many American cities, her tenure as commissioner of New York City DOT has set the standard for innovation. This list had to start with her.
Sadik-Khan is in sort of a unique position for a working transportation official, says John Norquist at the Congress for New Urbanism. Most visionary bureaucrats toil away in obscurity, often pushed out of office in a political shuffle before they can see their plans realized. Sadik-Khan has shown remarkable creativity in cutting through the red tape.
Sadik-Khan's DOT installed 250 miles of bikeways in New York City in just four years, including the first physically protected on-street bike lanes in the United States -- an important design innovation that more American cities are adopting. The agency worked with the MTA to launch the city's first rapid bus routes with off-board fare collection. DOT's plaza program has reclaimed acres of asphalt for pedestrians, most famously in Times Square, but also in all sorts of corners tucked away in different NYC neighborhoods. And though it's not the subject of many headlines, Sadik-Khan has overseen the massive, ongoing effort to keep the city's streets and bridges in a state of good repair.
Through it all Sadik-Khan has faced political hurdles and overcome them. It helps when the results of your work become apparent for all to see. The city's traffic fatalities have dropped to their lowest level in 100 years. Bus speeds are increasing and ridership is up on the lines that DOT and the MTA have upgraded. The number of cyclists riding into the Manhattan CBD doubled in four years. And that's before New York launches the nation's largest bike-share program this summer.
A lot has changed in five years, and it wouldn't have happened without Sadik-Khan's leadership.
Gabe Klein
Commissioner, Chicago Department of Transportation
Once Rahm Emanuel selected Gabe Klein to run the Chicago Department of Transportation, it was only a matter of time before Streetsblog put together this list of transportation personalities. Hiring Klein was a significant moment -- since he was already a known innovator, it showed that there's demand for top transportation policy talent in top tier American cities.
Klein made his name in the transportation reform movement as head of the District of Columbia's transportation department. In Washington, he launched the wildly successful Capital Bikeshare and set in motion plans for a not yet constructed streetcar (which, by the way, is expected to be a huge financial boon for the city).
In Chicago, it appears Klein will be no less transformative. With the backing of Emanuel, who campaigned on a strong transit and cycling platform, Klein has already gotten started on implementing a network of protected bike lanes. The first one -- on Kinzie Street -- is already thrilling city cyclists and attracting enough bike traffic to outnumber cars during the morning rush.
Bus improvements are also moving ahead apace. Chicago has committed to a package of enhancements for major bus corridors in the central city. And expectations are high that Klein and Emanuel will raise the bar for American bus rapid transit when they implement the city's first BRT corridors, currently in the works.
Klein has taken a special interest in making it safer to walk in Chicago. He's proposed instituting "pedestrian shuffles," a.k.a. Barnes dances, which give pedestrians an exclusive signal phase and enable people to cross the street in any direction without conflicts with motorists. And he has introduced a bold public awareness campaign, installing mannequins around the city wearing T-shirts that display pedestrian traffic fatality statistics.
Klein's influence extends beyond the nation's third-largest city, as well. He's the treasurer of the National Association of City Transportation Officials, a coalition that is bringing innovative bicycle infrastructure treatments, once found only in Europe, into the mainstream of American transportation planning. He is also a prolific presence on Twitter, cranking out an entertaining stream of thought that reaches transportation wonks all over the country.
Richard Hall
Secretary of Planning, State of Maryland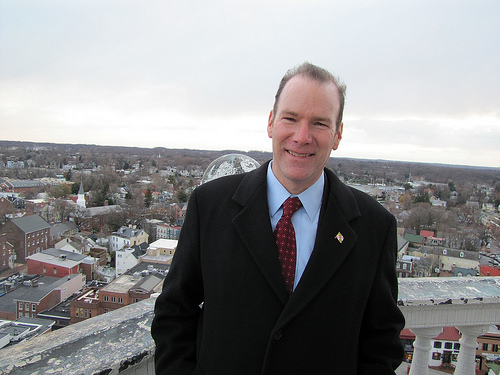 Politically, you can't give enough credit to Governor Martin O'Malley for Maryland's new state-level smart growth plan, PlanMaryland. O'Malley stood up to rural opposition and muscled legislation through late last year to put in place what may be the most progressive state-level land use planning in the country.
But you also can't separate the governor's successes from the man behind the scenes, turning policy positions into reality: Richard Hall. With Hall's help, for decades Maryland has been laying the groundwork to be a national leader in smart growth.
Hall started at Maryland's Department of Planning in 1992. He worked his way from principal planner to director of land use planning to head of the agency, a title he has held for five years.
All the while he was helping move the state toward this moment. Hall's work contributed to the state's Smart Growth Act in 1997, which established "priority growth areas" for the state and set the stage for PlanMaryland.
Now, under Hall's leadership, Maryland will decide which areas of the state will be prioritized for development. The process, by its nature, divides places into winners and losers and is sure to be a thorny undertaking, full of political hurdles. But the work of PlanMaryland has always been thorny.
Hall doesn't shy away from facing the critics head on. "Some lawmakers contend they want to 'save rural Maryland' from PlanMaryland," he said in a local forum recently. "But their aim seems to be to 'pave rural Maryland.'"
Hall and O'Malley both recognize that for too long Maryland's system was already dividing the state into winners and losers, as the interests of cities and existing communities were supplanted by unplanned, sprawling development. It will take strong leadership to change the dynamic. But these two are up to the task.
Stay tuned for the second installment in our series on visionary transportation bureaucrats tomorrow.

Stay in touch
Sign up for our free newsletter