Cars
Getting Young People Back Into Cars Is Auto Industry Job #1
2:57 PM EST on November 28, 2011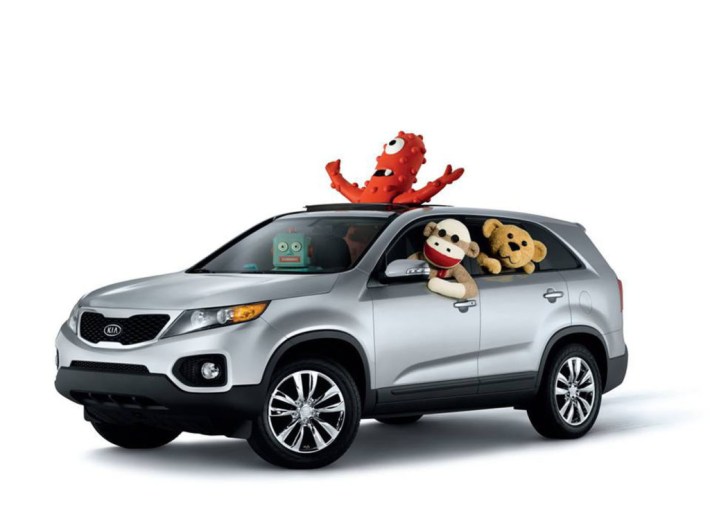 While the choked parking lots at many suburban high schools might mislead you, young people today are less interested in driving and owning cars than their counterparts in previous generations. This is happy news for environmentalists and complete streets advocates, who see fewer vehicles on the road as key to a healthier, wealthier society. For the global auto industry, though, it is an existential threat not to be ignored.
Generation Y's reluctance to embrace car culture may be temporary, reflecting merely the tough economic times, especially for those burdened with college debt. But studies show teens now maintain connectivity through the internet, not though cars, and teen driving rates have been in steady decline since the late seventies. So young people's lack of interest in driving may presage a more fundamental shift in how we connect with other people, where we choose to live and work, and how we construct our identities. Either way, the auto industry isn't taking any chances. Here are just a few tactics car makers are employing to take back the future.
Ratcheting up marketing to kids. Marketing cars directly to children pays off big for car companies even though they won't be driving or buying their own for years. American children in particular hold real sway over family purchases: more than half of parents surveyed by JD Power said their children had meaningful input in choosing the family vehicle.
Children also carry into adulthood the brand awareness that marketing creates. Many adults own or still lust after their childhood "dream car." So, in the 1990s, preschoolers started seeing ads created for them on shows like Blue's Clues. And the Kia Sorento ad with toys whooping it up on a Vegas joyride, the Town and Country ad in which kids on a sidewalk envy kids riding by in the minivan, and the VW Passat ad starring that achingly cute boy dressed as Darth Vader are a few of the growing slew of commercials targeted at children as much as their parents.
Traditional ads are only part of a marketing mix that increasingly includes social media, which can cut parents out of the loop and get kids marketing to each other (one early successful product launch using social media had young people passing virtual BMW keys among Facebook friends). At the local level, Ford dealers have teens recruiting potential car buyers in return for money for their high schools.
Going Urban. Young adults have reversed the trend their parents set by showing their preference for living in cities rather than suburbs -- and the car industry means to follow them there. The iconic advertising image of the lone vehicle winding through a stunning wilderness is being replaced with that of a car traversing a gorgeous or gritty cityscape.  Once solely the backdrop for certain luxury vehicles, the city now provides the setting for ads hawking entry-level cars such as the Ford Fiesta, Kia Soul, and Fiat 500.
Better Living Through Car Ownership. Other types of marketing geared toward wooing young urbanites back to car culture are perhaps more insidious. To co-opt young people interested in urban issues, efforts are underway such as "Future Mobility Now", which "is inviting Europe's brightest young talent to get involved and have a say on the big issues facing the transport industry." This initiative, funded by the European Automobile Manufacturers' Association, held a conference this summer at which Daimler Chairman Dieter Zetsche gave the welcoming speech to Gen Y "delegates" who considered such leading questions as, "How can cars and transport help us lead better lives?"
Caring about sharing. Car-sharing, whether cooperative or commercial, arose as a way to reduce car ownership and increase mobility options for people who don't need or want to own a vehicle. It remains to be seen if it will deliver on its potential to cut down on traffic, pollution, and household debt now that the automakers have decided to turn this potential threat into an opportunity.
Through its recent partnership with Zipcar, Ford is bringing its sedans and SUVs to college campuses across the US. The company's stated goal is to allow students to "experience" its "latest fuel-efficient vehicles, while helping them reduce their cost of living and help relieve congestion on campus." While this sounds terribly noble, the battle for advantage in a slow-growth market could well be won this way. It's no surprise that on the heels of Ford's deal, GM announced it was teaming up with peer-to-peer network Relay Rides.
And there's always the chance that this driving "experience" could lead students to view ownership of these vehicles, loaded with connectivity and luxury, not as future needs but immediate wants. Undermining the social good to come out of car-sharing may not be the industry's purpose in entering the market, but they'll surely benefit from this potential side effect.
Auto industry leaders, it seems, take young people's disinterest in a car-dependent lifestyle seriously. Advocates for other transportation options should also be inspired to push even harder for smarter planning, better transit, and greater safety for cyclists and pedestrians. Demographics may seem to favor change, but a deep-pocketed industry is determined to turn that tide, and they're just getting rolling.
Anne Lutz Fernandez, a former investment banker and marketing executive, is co-author, with anthropologist Catherine Lutz, of Carjacked: The Culture of the Automobile and its Effect on Our Lives.
Anne Lutz Fernandez is a former corporate executive with experience in management and marketing of consumer brands such as Weight Watchers frozen foods and Bufferin pain relievers. She also spent a decade as an investment banker in New York and London where her work included marketing the firm's services to multinational corporations and advising clients on strategic mergers and acquisitions. She left her position as Director at Credit Suisse to become a writer and teacher. She currently teaches English and lives in Connecticut with her husband, who is also a teacher. She co-authored her first book, Carjacked: The Culture of the Automobile and its Effect on our Lives, with her sister, anthropologist Catherine Lutz.
Stay in touch
Sign up for our free newsletter