Federal Funding
Good News From the Senate: Transit Operating Assistance and Much More
3:10 PM EDT on May 19, 2011
Today's Senate Banking Committee hearing held some good news for transit riders. Unintuitive though it may be, Banking has jurisdiction over public transportation in the Senate. While in the House, the Transportation and Infrastructure Committee handles every aspect of the reauthorization, in the Senate the bill gets carved up. Environment and Public Works is taking the lead, with the specifics on transit left to Banking. Luckily, there are some transit champions on Banking: Jack Reed (D-RI), Chuck Schumer (D-NY), Robert Menendez (D-NJ) and Jeff Merkley (D-OR) to name a few.
In an uncertain time for national transportation policy, there were several reassuring signs at today's hearing, if you knew where to look. Here are five pieces of good news:
#1: Administration Pushes to Expand Transit Operating Assistance and State of Good Repair
Significantly, FTA Administrator Rogoff echoed Secretary Ray LaHood's recent announcement of a push to expand operating assistance for transit agencies.
"There's no point in using federal dollars to buy brand spanking new buses for transit systems if they cant afford to pay the drivers to put those buses into service," Rogoff said. "We are proposing assistance that would be targeted and temporary, aimed at economically distressed, urbanized areas with 200,000 or more in population and phased out over three years." (Smaller metros can already use federal funds for operating costs.)
Larry Hanley of the Amalgamated Transit Union mentioned that with population growth, more and more metro areas are hitting that 200,000 mark, disqualifying them (under normal circumstances) for federal operating aid, making initiatives like the one Rogoff mentioned all the more important.
The plan would be to offer up to 25 percent of an agency's funding for operating costs the first year, narrowing that to 15 percent the second year and 10 percent the third and final year, with a sole focus on preserving service, especially while Americans are seeking out transit as an alternative to high gas prices.
Rogoff also said the agency has a new program to invest in the state of good repair of transit systems, citing the backlog of $50 billion in maintenance costs in just the country's seven largest urban rail systems. He said it couldn't just be a federal burden though – he wanted to see all levels of government step up to address the shortfall.
Ranking Republican Richard Shelby (R-AL) echoed the need for maintenance funds, but framed it as a mandate on local systems, asking that transit agencies that receive billions in federal funding for new capital projects be required to keep a state of good repair.
#2: South Dakota Senator Stands Up For Transit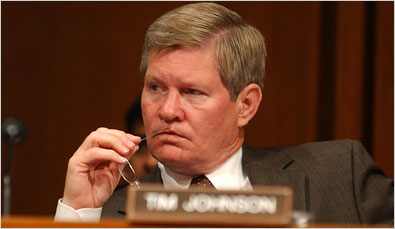 The absence of former Banking Chair Chris Dodd (D-CT) is glaring, especially as they take on the reauthorization. But current Chair Tim Johnson (D-SD) made a convincing plea for improved transit, emphasizing that public transportation is not just an urban issue.
Johnson quoted a letter he received from one of his constituents on the Pine Ridge reservation who owns a Subway franchise. "Five of the employees at our sandwich shop take a bus operated by Oglala Sioux Transit to get to work," the letter read. "You know how vast the reservation is, so having a reliable and affordable means to get to the store really helps them."
"It is sometimes forgotten," Johnson said, "but reliable and accessible public transit is vital in rural areas like South Dakota, just as it is vital in large urban cities. Our public transit systems connect workers with employers, keep cars off congested roads, reduce our dependence on foreign oil, and get people where they're going safely and affordably."
#3: Rural Transit Can Hold Down Medicare Costs

Ever wonder how to get more attention for transit on the national stage when all anyone seems to want to talk about is Medicare? You could take a cue from Rogoff, who found common cause with Sen. Jon Tester (D-MT) over concerns that so many rural towns have no transit whatsoever, even to help the sick and the elderly get to the doctor.
Rogoff pointed to the substantial funding boost for rural transit in the administration's transportation proposal and said it included opportunities for medical transportation and veterans. "We save the taxpayer a lot of money in the Medicare and Medicaid programs when we can keep people living in their homes and provide the necessary transportation to get even to those distant medical visits," said Rogoff. "And high gas prices impact everybody so we are trying to do a lot to put mobility managers out into the field to get the maximum utility out of the vans that are out there."
#4: Administration Seeks to Address Disparity in Oversight of Rail Systems
The administration and the Banking Committee pushed legislation to address rail transit safety last year in the wake of the red line crash on D.C.'s metro system, but, like many transportation-related bills, this one languished in committee, waiting for a reauthorization bill to be attached to.
Rogoff reminded the panel of the urgency of the situation, in which intercity rail undergoes far more rigorous safety checks than urban transit systems.
The fact is, the FTA is still living with an antiquated 1960s-era law that prohibits the federal government from issuing even the most basic safety regulations. At present, commuter and intercity rail systems serving nearly half a billion annual rail passengers are subject to voluminous federal safety regulations administered by hundreds of FRA inspectors across the country. By contrast, eight times as many rail transit passengers are traveling on systems that are subject to no federal safety standards whatsoever. There is almost no oversight because the 27 state agencies that are charged with doing it have almost no staff and very little experience and expertise.
#5: Consensus Is Building on Performance Measures
Sen. Jeff Merkley (D-OR) said that he's introducing a bill called the Strategic Planning Act of 2011, which creates a baseline of transportation performance metric including congestion, goods movement, safety, public health, and cost. It also implements "scenario-based planning," one of the seven improvements organizations on all ends of the spectrum can agree on, which Merkley said has proven to reduce the costs of projects.
Rogoff used that comment as a segue way into a discussion of the virtues of "livability," by which he seemed to really mean the inter-agency Partnership on Sustainable Communities. He said coordination saves money – "It's a far cry better than when we build the transit improvement, we have the gentrification effect where the affordable housing goes away, and then taxpayers have to pay yet again to create affordable housing somewhere else, and then those people need transit," he said.
JayEtta Hecker of the Bipartisan Policy Center, in her testimony, underlined the urgency of such performane measures. She said it was tied to the dramatic shortfall in funding for transportation programs.
"We are not going to get consensus for the kinds of [revenue] increases that are required in transportation until we rebuild the credibility of the program," she said. "A clearer set of performance objectives, clearer outcomes, clearer recognition that we're getting value for our money. In the long term, we actually think these reforms need to precede the kind of expectation of the increases that are called for."
Tanya became Streetsblog's Capitol Hill editor in September 2010 after covering Congress for Pacifica Radio's Washington bureau and for public radio stations around the country. She lives car-free in a transit-oriented and bike-friendly neighborhood of Washington, DC.
Stay in touch
Sign up for our free newsletter