Highway Expansion
The I-35 Expansion in Austin, Texas Shows Why States Should Never Control Their Own Environmental Review Process
A little-known loophole in federal law allows states like Texas to rubber-stamp their own environmental reviews — even when the projects they're reviewing are harmful highway boondoggles.
12:01 AM EDT on October 30, 2023
The Austin, Texas region is growing rapidly. Since 2000, the metropolitan area's population nearly doubled to 2.4 million people, and another 1.2 million residents are expected by 2040. The transportation investment choices made today will shape travel behavior, air quality, climate emission, and access to opportunity for decades to come.  
In response to the growth, the Texas Department of Transportation (TxDOT) is gearing up to spend $4.5 billion to add four lanes to I-35 through the heart of Austin. This means the gash I-35 slashes through the city is about to get even bigger – with some sections spanning more than 540 feet wide between highway lanes and frontage roads combined. The investment will lock in automobile dependence, boost harmful emissions, and facilitate sprawl that cannibalizes greenfield habitats.
Yet this clearly destructive mega-project sailed through the federal environmental review process with flying colors due to a regulatory loophole known as "NEPA assignment" that empowers TxDOT to approve its own environmental review work. And until Congress closes this loophole, Texas and the seven other states with NEPA assignment will continue to green-light harmful projects, leaving advocates for a more sustainable and balanced transportation system with little recourse.
What NEPA "assignment" is — and how it greenlights lousy highway projects
In 1969, Congress passed the National Environmental Policy Act (NEPA), which requires project sponsors to compare the anticipated benefits and harms of proposed infrastructure projects on surrounding communities and the environment — known as the "build scenario" — with the likely impacts if nothing were built (the no-build scenario.) 
This review includes both the direct effects of the proposed infrastructure project — including seizure of homes and businesses via eminent domain, construction-related air and noise pollution, and habitat loss – as well as indirect effects — like changes in land use, population density, and the health of air, water and other natural systems. The resulting report is called an Environmental Impact Statement (EIS).

During the standard environmental review procedure, a project sponsor must submit their EIS for the Federal Highway Administration (FHWA) to review for approval before construction. This review allows FHWA to check the project sponsor's work to ensure their decisions conform to federal civil rights and environmental protection laws. 
In 2005, though, Congress established a pilot program that allows certain states to assume responsibility for the oversight and approval of their own environmental review documents, which proponents argue can make the highway process more efficient and cost effective.  TxDOT applied and was granted the authority to approve its own work in 2014. 
What proponents label as administrative efficiency, though, is really a massive regulatory loophole known as "NEPA assignment." Allowing states to approve their own environmental reviews is an inherent conflict of interest.
The gaping flaws in the I-35 EIS show that FHWA should assess TxDOT's practices and revoke its NEPA assignment authority should it find errors in other environmental documents. And it's an object lesson in why Congress should eliminate the NEPA assignment program altogether as part of the next transportation bill. 
TxDOT's flimsy math
As required by law, the I-35 EIS includes an in-depth analysis of overall driving and tailpipe emissions, including greenhouse gases, under a build and no-build scenario. 
The results, though, don't withstand even modest scrutiny.
According to TxDOT, the total vehicle miles of travel (VMT) on I-35 in central Austin will rise by 45 percent between 2019 and 2050 as the population grows. But this is where things get weird: TxDOT claims that total VMT and vehicle emissions would be essentially the same under both the build and no-build scenarios — meaning the state is projecting 45 percent growth in driving by 2050 regardless of whether I-35 is expanded or not. Moreover, the agency estimates that greenhouse gas emissions from driving on I-35 will only be seven percent higher under the build scenario. This stretches the bounds of credulity, to say the least. 
And the problems with the EIS don't stop with driving and emissions estimates. 
As a general rule, the larger the infrastructure project, the greater the indirect or induced effects over time and space. Mega highway projects have powerful long-term effects on residential and commercial development patterns as well as on overall driving, because highway expansion serves as a catalyst for land subdivision, increasing the intensity of land use and generating more vehicle miles of travel.  Yet, TxDOT claims within the EIS that the I-35 project "would not significantly induce additional growth," since the areas within one to five miles of the project are "mostly urbanized and nearly built out." 
The way the agency comes to this conclusion is by focusing their analysis only on the one-to-five mile radius around the project, which it calls the Area of Influence (AOI). Nothing about the history of interstate highway construction suggests that the development impacts of this project will be so geographically limited. I-35 is the backbone of a regional network of major and minor arterial roadways that provide access to thousands of parcels of land across an entire metropolitan area, and it will have ripple effects far beyond the AOI described by TxDOT. 
What's more, TxDOT's own numbers confirm this reality. According to the EIS, the population within Travis County – which includes Austin – is expected to grow by almost 600,000 people by the year 2045. Are those new residents all going to live within the AOI? Of course not. They're going to scatter themselves throughout the county, including in dozens of new greenfield subdivisions. This is the true AOI for the I-35 expansion.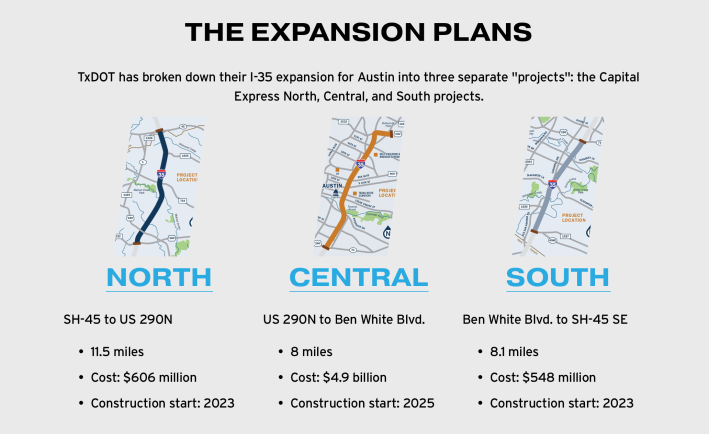 But as problematic as the AOI boundary may be, it's a minor analytical flaw compared to the much larger sleight of hand carried out by TxDOT. 
The state's analysis for the expansion is limited to the eight miles of I-35 running through the heart of Austin, which the agency calls the I-35 Express Central. It's called that to differentiate it from the 11 miles of I-35 to the north (I-35 Express North) and 12 miles of I-35 to the south (I-35 Express South) that TxDOT is also expanding. In reality, TxDOT is building a single mega-project over approximately 31 miles of I-35. Breaking the project into three smaller segments is only useful for obscuring its cumulative direct and indirect impacts. 
A new way forward 
Expanding I-35 won't solve Austin's congestion problem. Research consistently shows that congestion will return to pre-expansion levels within three to five years of completing construction. The congestion relief provided by expansion will disappear in a blink, while auto dependence will continue for decades. And the billions of dollars TxDOT plans to spend on I-35 will leave less money for sustainable and equitable solutions like public transportation, biking, and walking. 
In 2019, Austin adopted a Strategic Mobility Plan that sought to reduce "dependence on driving alone" for commuting trips. The city laid out a "transit-intensive" vision that would boost transit, biking, and walking to at least 50 percent of all commuter trips. Expanding I-35 will undermine this laudable goal. 
It's time for Austin and the other communities in the metropolitan region to withdraw support for I-35 and throw their full political and financial weight behind transportation investments that are effective, sustainable, and equitable. And it's time for Congress to repeal the ability of states to rubber-stamp their own environmental review documents. Shaving a bit of time from the review process is penny wise and pound foolish if it results in infrastructure projects that produce significant harms that last for decades. The Federal Highway Administration needs to get back to providing meaningful oversight of project reviews — starting with this one.  

Kevin DeGood is the Director of Infrastructure Policy at the Center for American Progress in Washington, D.C.
Read More:
Stay in touch
Sign up for our free newsletter