Highway Expansion
Highway Boondoggles: Widening I-95 Across Connecticut
2:51 PM EST on January 19, 2016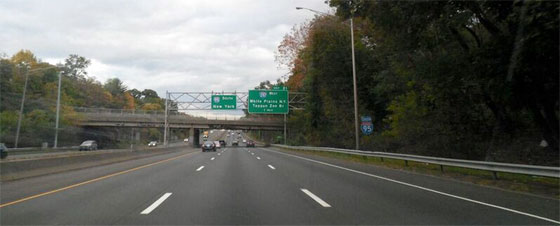 Last year Congress passed a multi-year transportation bill. Like previous bills, it gives tens of billions of dollars to states every year to spend with almost no strings attached. How much of this federal funding will state DOTs devote to expensive, traffic-inducing highway projects that further entrench car dependence and sprawl?
In a new report, Highway Boondoggles 2 (the original came out in 2014), U.S. PIRG and the Frontier Group teamed up to profile the most egregious examples of state DOTs that can't shake the road expansion habit. Streetsblog will be serializing the case studies in the report, starting with this excerpt about Connecticut, which just lost GE to Boston. 
A long-dormant idea for a multi-billion-dollar expansion of I-95 is being promoted by the state's governor as a fix for congestion, despite official studies dating back to 2002 recommending against any expansion of the highway, saying it would make congestion worse, extend traffic delays, and increase pollution.
Connecticut Governor Dannel Malloy has proposed a 30-year, $100 billion plan to invest in transportation across the state. More than 10 percent of that spending, $11.2 billion, is dedicated to reversing decades of Connecticut's planning priorities by adding an additional lane to I-95 across the entire state -- 110 miles from the New York state line to the Rhode Island border.
Malloy says his proposal will reduce congestion, despite years of industry and academic research showing that widening highways is an expensive and ineffective way to solve congestion-related problems. "You can't build your way out of congestion," the chief planner of the Connecticut Department of Transportation told the Connecticut Post in October 2015.
Local knowledge dating back more than a decade also supports looking for solutions other than highway widening. In 1999, a consultant's report came out identifying congestion along I-95 as a barrier to business interests across the state. A government-commissioned follow-up study was issued in 2002 with 150 recommendations for addressing the state's transportation needs, none of which included widening I-95.
That report [PDF], released by the board of the Coastal Corridor Transportation Investment Area -- which spans Fairfield and New Haven counties and a small portion of southern Litchfield County -- found that congestion on I-95 was a problem in those counties, which are near New York City, but then went on to make plain that expanding the highway is not a solution:
Significant increase in road capacity... would be very expensive and would have negative environmental impacts. Moreover, adding capacity to highways induces additional traffic, as people take additional automobile trips and new development creates even more demand. It is now generally accepted that states cannot build their way out of congestion.
The report's top recommendations specifically target congestion on I-95, but rather than proposing highway expansion, they endorse improved rail service for passengers and freight, and state policies "to encourage commuters to modify their travel patterns and behavior in such a way as to reduce single-occupant vehicle traffic and, by extension, traffic congestion."
One example the report raises is adding variable tolls to the road at peak times, which could encourage people to shift their travel times, consolidate trips, or otherwise reduce their driving. A 2009 study found that doing so on I-95 and State Route 15 between the New York state border and Stratford in southwestern Connecticut could reduce the volume/capacity ratio by 10 percentage points on both roads and raise $40 billion. Investing that money in improving access to existing transit, building new transit connections, expanding rail capacity for freight traffic, and focusing development on transit-accessible areas could help further reduce congestion throughout the region. In fact, the 2002 state plan explicitly "opposes expanding vehicular capacity on I-95 west of New Haven... unless and until all reasonable alternative modes of transportation and strategies have been explored and put in place."
There is a clear, proven, and obviously better choice for Connecticut: the rail line that parallels I-95 across the entire state, carrying the Metro-North rail service between New Haven and New York City, Shore Line East rail service between New Haven and New London, and the Amtrak Acela high-speed rail service along its entire length. Shifting the billions from highway expansion to rail improvement could deliver significant benefits, including meeting the governor's goal of congestion reduction.
Rail was highlighted in that 2002 report as a major way to fight congestion. Metro-North's potential was proven in a 2009 survey of Fairfield County businesses, which found, in the words of a 2011 Connecticut Transportation Strategy Board report, that "economic growth in the I-95 corridor continued even as congestion brought traffic on I-95... to a crawl." The reason was simple: Though "highway capacity was exhausted, capacity still existed on [the] New Haven Line."
As I-95 traffic in southwestern Connecticut fell an average of 0.8 percent a year from 2008 to 2014, New Haven Line ridership grew an average of 0.6 percent a year (see below). Rail improvements can improve train service and further reduce congestion on I-95, according to both the 2002 report and a 2014 study of the New Haven Line by the Regional Plan Association.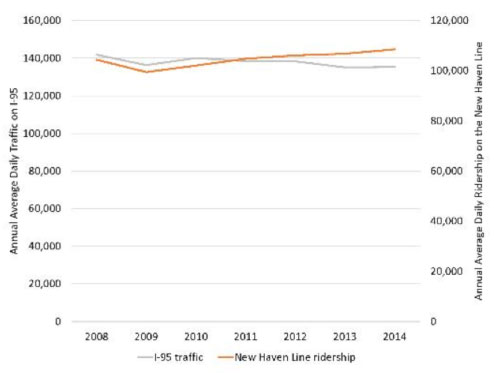 Gov. Malloy has also called for increasing service on the New Haven Line: Part of his $100 billion transportation plan calls for $22 billion in spending on maintaining and improving the state's rail system. Of that, $14.6 billion would go toward preserving and maintaining the existing system; $7.2 billion would pay for expansions to service.
Customer demand is already driving increased service frequency on the rail line. Five of the last seven years have seen historic ridership highs for the New Haven Line. In November 2014, Metro-North trains started coming every half-hour all day. Demand for that improved service contributed to the New Haven Line setting a new all-time ridership record in 2014. Calls have already come for service to increase to once every 10 or 15 minutes.
Even more demand for New Haven Line service may develop as a result of a slated extension of Metro-North service to Penn Station, to be paid for by New York's Metropolitan Transportation Authority.
With limited financial resources at hand, Connecticut faces a choice between a vision of the future based on speedy and efficient rail service and one that expends vast resources on the expansion of a highway that is likely to remain just as congested afterwards as it is today.
Stay in touch
Sign up for our free newsletter