Safety
At MAP-21's Halfway Mark, Leaders Gather to Start the "Walking Revolution"
1:29 PM EDT on October 3, 2013
This week, in the midst of a government shutdown, at least one thing was moving and shaking in Washington: the first-ever Walking Summit. Sponsored by Kaiser Permanente, America Walks, the Safe Routes to School National Partnership and several other national groups, the conference sold out more than a month before showtime, the enthusiastic response surprising even the organizers. Today, despite the shutdown, many of the 400 participants are walking the Hill, meeting with their lawmakers to advocate for federal support for walking -- though many meetings have been canceled, especially on the Senate side.
Summit participants showcased the diversity of the movement for movement. There were sports medicine physicians who prescribe walking as medicine -- it's free, it has no harmful side effects, and it works to heal a surprising number of ailments. There was a city councilwoman from South Carolina who ran for office to help build safe, healthy, walkable neighborhoods. A "recovering couch potato" was there, with his own fitness program for other "out of shape, middle-aged" people.
A representative of the National PTA showed a touching picture of her young son taking a picture of her daughter as she discovered her own shadow -- the magic that happens when families walk together instead of driving everywhere. The NAACP was there to bring a social justice and equity angle to the conversation about physical activity and the built environment. AARP is part of this movement, advocating for livable communities where seniors can age in place. The American Heart Association is involved, giving grants to active living campaigns.
But let's get down to brass tacks: We're one year into a two-year transportation bill that was devastating for walking and biking programs. It eliminated dedicated funding for Safe Routes to School and Recreational Trails, and it cut funding for active transportation by 33 percent, giving states the option of slicing off up to 50 percent of what was left. Arizona, Georgia, Iowa, North Dakota, Oklahoma, South Carolina and Utah have all made the very bad decision to do just that.
Sen. Barbara Boxer and others on the Hill have indicated that they're pleased with the policy measures in MAP-21 and are less interested in revisiting policy in the next bill than they are in simply finding a way to stabilize the funding source. Active transportation advocates would beg to differ. They would like to see performance measures that bring real accountability for state DOTs, including a specific measure for walking and biking.
But will we really be debating -- and passing -- a new transportation reauthorization next year? Considering it took three years of extensions to pass the last one, the odds are long. Still, reformers are gearing up.
But Deb Hubsmith, founder of the Safe Routes to School National Partnership, says before dealing with the reauthorization, they want to make the current bill work as well as it can.
SRTS-NP just had a big victory in California, where Hubsmith lives. Last week, Governor Jerry Brown signed a budget bill including a landmark Active Transportation program that increases funding for walking and bicycling by 35 percent. Not only will California spend all its federal funds from the Transportation Alternatives Program for biking and walking projects, the state also pledged to transfer $21 million from the Highway Safety Improvement Program to active transportation.  The state is also safeguarding dedicated funding for Safe Routes to School, and 25 percent of all funds must support disadvantaged communities.
California was particularly interested in collaborating on this because of their state laws mandating emissions reduction, AB32 and SB375. But Hubsmith hopes other states and localities can have victories like these, even without such progressive statutes and even under MAP-21.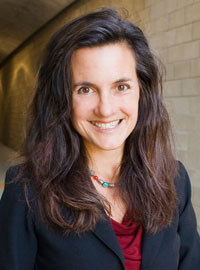 States can maximize what's available to them through all possible channels, including HSIP and the Surface Transportation Program. Just as money can be "flexed out" of TAP to other uses, it can be "flexed in" from other pots of money too. Advocacy Advance, a joint program of the Alliance for Biking & Walking and the League of American Bicyclists, focuses on helping cities do just that.
The SRTS Partnership has a "distributed leadership" model, building power at the local level. "For too long we relied on the federal government, and we knew that our dribs and drabs of money were going to come in from the federal government, and that was never enough," Hubsmith said.
They're not just working locally for the sake of influencing national leaders. "It doesn't really seem like Congress is going to raise the gas tax," she said. "They haven't done that in 20 years and who knows what's going to happen in the future." So they're looking to cities, states and metropolitan planning organizations to generate new sources of funding on their own -- "because we can't rely on the feds anymore."
"And so now with MAP-21, and the action moving to the state and the regional level, it gives us the opportunity to build our base and develop new leaders," Hubsmith said. With new leaders like real estate developers, AARP, and Michelle Obama's Let's Move Campaign, "it will no longer be just the walking and bicycling movement that's standing up" for active, sustainable transportation, Hubsmith said. "It's going to be America that's standing up."
Transportation Secretary Anthony Foxx was supposed to speak yesterday at the Walking Summit, but the shutdown prevented him from appearing. Next week, Foxx is scheduled to go to his hometown of Charlotte to participate in Walk to School Day -- if the shutdown doesn't affect that as well.
Interim Surgeon General Boris Lushniak was also supposed to speak yesterday but couldn't. He's filling Regina Benjamin's shoes even as she continues to serve as an honorary co-chair of Every Body Walk, as part of the call to action on walking she launched last year.
Aside from the sheer scarcity of funding, walking and biking advocates also have to face "exhausting" attacks from opponents who want to eliminate all federal support for active transportation, in favor of using transportation dollars for roads only. Hubsmith puts a positive spin on that, saying, "sometimes it takes a conflict in order to bring forward a national conversation."
To make that conversation a successful one, Hubsmith said, reformers need to stop quoting statistics and start talking about values like health, family, safety, and quality of life. And they need to send the message that "federal investment in walking and bicycling is a necessary investment that's going to create a stronger and healthier future, and that it's not optional."
"In the year 2020," Hubsmith said, "when we look back to October of 2013, we're going to say that the walking revolution started now."
Tanya became Streetsblog's Capitol Hill editor in September 2010 after covering Congress for Pacifica Radio's Washington bureau and for public radio stations around the country. She lives car-free in a transit-oriented and bike-friendly neighborhood of Washington, DC.
Stay in touch
Sign up for our free newsletter