Federal Funding
Asphalt Industry Leader: "We're Not Out Picking Fights" With Other Modes
2:48 PM EDT on September 16, 2013
Jay Hansen is executive vice president of the National Asphalt Pavement Association. He's led the organization's efforts to secure federal highway funding and even convinced the Smithsonian's National Museum of American History to install a permanent asphalt pavement exhibit. He says he's been reading Streetsblog Capitol Hill since it started publishing. I talked to him Friday after the association's first-ever Washington "fly-in" to strategize about legislation and lobby Congress. T. Carter Ross, NAPA's Vice President for Communications was also with us.
We began by discussing the current state of federal transportation funding before turning to the topic of how that money should be spent.
Tanya Snyder: I wanted to ask you about the fix-it-first policy. At this point there's potentially money behind President Obama's policy, because he has this $50 billion program. But money aside, in constrained times, as asphalt contractors, do you advocate for a fix-it-first model or would you advocate for concurrent expansion as well?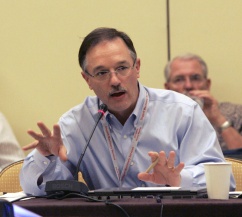 Jay Hansen: We advocate, definitely, a fix-it-first policy. We haven't been continually investing in our roads to keep them smooth and perform well. And the reason for that is that there's not enough money coming in the trust fund; we haven't raised the gas tax in 20 years.
We need to expand the system where it makes sense, but we need to fix what we have as well. ASCE gives the roads a grade of D.
TS: Do you use ASCE's numbers when you visited Congressional offices? Not so much the grades, but I think ASCE says it would cost three-and-a-half trillion dollars to bring the country's infrastructure up to a state of good repair. Do you support those numbers?
JH: Sometimes I wonder if we're grading the roads in a way that the members of Congress go, "If we're investing all this money and we're only getting the roads up to a D, we're throwing good money after bad." When you're up on the Hill, you're almost at the 30,000-foot level, even with state-by-state data. You need people like contractors to go in and say, "In our community, if we had the money, this bridge would get repaired. Right now it's been posted, you can't drive trucks over a certain weight limit over that bridge."
It has to be brought down to that level; it's a kitchen table kind of talk, as opposed to, "Here's a 700-page report that says we need to invest more in highways." We've been doing that for years and I don't think it's working.
We're part of the Americans for Transportation Mobility coalition led by the U.S. Chamber with transit, and unions are part of that. We're all on same page. The purpose of that coalition is to get the business community more involved.
TS: There have been moves in Congress, with the last bill and since, to make the Highway Trust Fund go farther by eliminating trust fund funding for non-highway expenditures -- things like transit and transportation alternatives. Where do you come down on that?
JH: The departments of transportation are multi-modal and they support highways and transit. We've had the highway/transit fights back in the 70s and 80s. I think those fights are over.
Where Mr. Mica tried to bring up his highway bill, where he did what you were indicating, where they gutted transit, it didn't get off the house floor.
Politics is such today that you need to bring urban and rural members together; everyone needs to benefit from this program to build the political support that you need to pass it. That is not lost on us.
We've had those fights. We're completely comfortable with the way the current program is today. We're at the table with the American Public Transportation Association, with the chamber. It doesn't do ay of us any good to be fighting over how the money is spent. Right now there's not enough money for anybody. And the goal here is to try to generate support to get some legislation moving that's going to provide funding for all these modes. And we have to get to the first step, which is to get a bill introduced, and we have a ways to go on that.
There's been fights over market share between the concrete industry and the asphalt industry in MAP-21. We're not there right now. We're together. Because we see the greater importance is helping a divided Congress pass an authorization bill with revenues that will stabilize and grow. That's a heavy lift. If we're fighting over market share between the various interest groups, we've lost before we've even started.
TS: All these studies are coming out about the Millennials, saying they're are driving less, that younger generations -- and older generations -- are more interested in transit options, urban living where distances are shorter, things like that. How does the asphalt association get ready for a future that may involve less driving?
JH: We're at the end stage of the project delivery system. There's a lot of planning that goes on and those decisions get made, and we're not necessarily at the table. That's really the architects and the public. But once they've decided what they want to build, we have the pavement technologies, like porous asphalt.
TS: But what if there's just less need for asphalt, or at least traditional road-building?
T. Carter Ross: The industry has scaled up as there was demand. So now if there's less new development going out into exurbs, there's less need for road there. That's not really our guys' call. It's the developers or the DOTs that are making the decisions. They call us to do the job when they've decided that's what needs to be done.
JH: Most of our market is highway and roads. There's so much need out there just to rebuild what we have. It's not really at the forefront of our mind: "How can we change how the local planning commission has said we're not going to have an asphalt road here?" We're not doing that. Those are decisions made at the local level. What we're trying to do is say, if you're going to use asphalt, it's going to be sustainable, economical, durable, safe product.
TCR: And even where you may have increased densities in urban areas and people choosing to drive less, there's still a need to connect communities and to get food from farms to tables, and to get goods from ports to other side of the country. There are places for rail in that, there are places for roads in that, and for buses to move people back and forth from places. You can't have that going across a grassy walk.
Until we decide that we're moving to flying cars or something, there's still a need for the roads. And the ones we have now, a lot are old and need attention and repair. We're ready to step in and do it.
TS: You also mentioned the other day that asphalt contractors are happy to build a cycle track.
TCR: Whether you're doing a network of bike paths, like the river trail on the south side of the Anacostia -- it's a good material for those sorts of purposes. There are places where you're building alternative transportation networks. Our guys have got the machines and mixes that will work for that and we're happy to build them.
TS: You mentioned rail. A lot of people are thinking now about the expansion of the Panama Canal and getting the surface transportation network to the level where we can handle a lot more goods coming through. Is that a place where the asphalt association would be trying to get the market share from rail over to highways?
JH: We don't really have a stake in that fight. That's a fight between truckers and freight in terms of efficiencies and longer combination vehicles, truck weights and all that. We traditionally have not gotten into any of that. We're just very singularly focused on "we need funding." We're just focused on working together with others. We're not out picking fights.
Tanya became Streetsblog's Capitol Hill editor in September 2010 after covering Congress for Pacifica Radio's Washington bureau and for public radio stations around the country. She lives car-free in a transit-oriented and bike-friendly neighborhood of Washington, DC.
Stay in touch
Sign up for our free newsletter