TIGER
TIGER V a Shot in the Arm for Livable Streets in Cities and Small Towns
1:50 PM EDT on September 5, 2013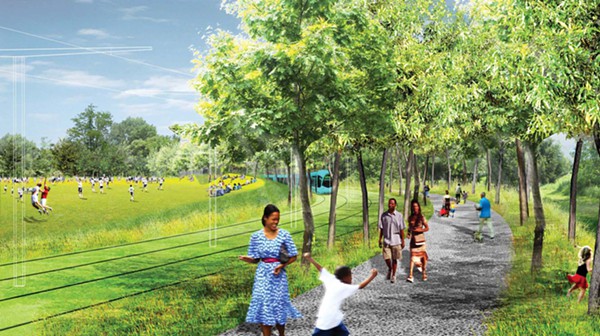 Out of 585 applications, U.S. DOT has chosen 52 transportation projects in 37 states to receive TIGER awards totaling $474 million. The Transportation Investment Generating Economic Recovery program was originally an element of President Obama's 2009 stimulus package. Although it hasn't been reauthorized and many Republicans claim to hate it, funding somehow keeps being appropriated for TIGER. Amazingly, despite enormous funding obstacles, including a sequester, U.S. DOT just announced the fifth round of TIGER awards.
As DOT said in a statement this morning, "The highly competitive TIGER program offers one of the only federal funding possibilities for large, multi-modal projects that often are not suitable for other federal funding sources." That's what makes this program so important. The fact that it has been a source of funding for biking and walking, transit, and intermodal freight makes it all the more essential.
In all five rounds combined, the TIGER program has awarded more than $3.6 billion to 270 projects in all 50 states, the District of Columbia and Puerto Rico. According to the department, demand for the program has outweighed available funds 32 to 1.
TIGER gave the Inner Loop highway teardown in Rochester, New York, a $17.7 million vote of confidence, bringing the project closer to reality. "The project will convert the 8-12 lanes of expressway and frontage roads into a single two-lane street, with parking, a separated bicycle track and sidewalks," according to U.S. DOT. "This project will remove this barrier to downtown revitalization and will enable residents to walk safely and conveniently on an appropriately-scaled city street."
As reporters Brian Sharp and David Riley wrote in the Democrat and Chronicle, "Filling the eastern portion of Rochester's Inner Loop not only will alter the landscape, it will re-establish neighborhood connections to downtown that have been severed for decades — creating a development site equal in size to Midtown." Charmingly, they write that the Inner Loop was built in the 1960s, "at a time when urban design was focused on the automobile" -- as if that time were over.
The Atlanta Beltline also got a shot in the arm in the form of an $18 million grant to develop 2.5 miles of shared-use trails on the former freight-rail line. Mayor Kasim Reed calls the Atlanta Beltline "one of the most transformative projects ever undertaken in our city's history." U.S. DOT calls this project a "ladder of opportunity," connecting people to jobs and economic opportunities. When complete, the 33-mile system of trails, transit, and parks will circle downtown Atlanta and connect more than 45 neighborhoods. That's a whole lot better for cities than your typical motorized beltway.

Local Transit
Transportation Appropriations Chair, Sen. Patty Murray (D-WA) helped create the TIGER program, and this week she's probably pretty glad she did. A project on I-90 in Washington state will add a center-running light rail line and HOV/bus lanes. The $24 million infusion from TIGER will also help replace downtown Tacoma's trestle bridge that Sounder and Amtrak trains use. U.S. DOT touts this as an example of President Obama's commitment to a "fix-it-first" approach to infrastructure.  "Replacing the 100-year old single-track wooden trestle and bridge with a modern twin-track structure will double capacity and improve reliability and travel time for Sounder and Amtrak Cascades passenger rail service," the agency wrote in a statement.
The Connecticut Department of Transportation won a $10 million grant to construct a second platform at the New Haven State Street Station to eliminate the need for arriving trains to cross multiple tracks, minimizing delays on the Northeast Corridor. "The expansion of the rail line from 12 to 34 weekday trips will substantially improve transportation options for travelers between Springfield, Mass., Hartford and New Haven, Conn.," according to DOT. "With fast, frequent, rail passenger services operating approximately 18 hours-per-day, there will be substantial ridership increases and shifts from automobile travel to rail, primarily from the parallel highway, I-91."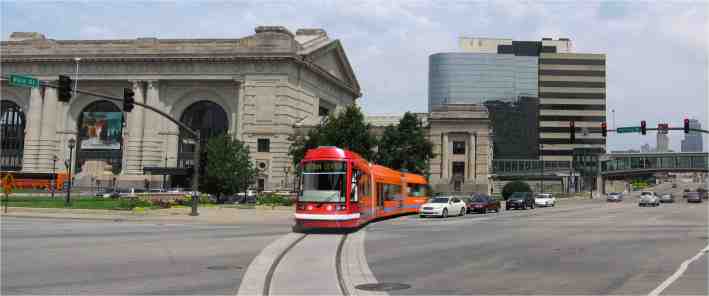 Kansas City, Missouri, will receive a $20 million grant to build a 2.2-mile streetcar line through the central business district. The last round of TIGER hadn't gone as well for the city, which lost a bid for a $25 million grant, but the Mid-America Regional Council stepped up with $17.7 million in local matching funds. Phase one will begin construction this year and is slated to be operational by summer 2015, with phase two -- totaling 22 miles -- already under discussion. The residents of the downtown area voted to impose a one-cent sales tax in a transportation development district surrounding the streetcar line, though opponents have brought a legal challenge against it.
Philadelphia's transit authority, SEPTA, has been awarded a $10 million grant to ease chokepoints on the West Trenton Regional Rail Line by building a new four-mile stretch of track so that passenger trains won't have to share track with freight rail. It will also help pay for the implementation of positive train control safety measures, required by the federal government. The cost of the project is $38 million, of which the city had initially requested $18 million.
In downtown Raleigh, $10 million in TIGER funds will be put to work to construct a full multi-modal station to support transit, commuter, and intercity rail service. They'll extend the platform, build a vehicle underpass to eliminate an at-grade crossing, and improve tracks and signaling.
Meanwhile, in Nashville, $10 million will go far -- installing equipment to give buses signal priority on high traffic corridors, installing new bus shelters, providing real-time arrival information, and making pedestrian improvements.
Biking and Walking
Boston gets $15.5 million to fight congestion by building direct pedestrian and bicyclist links between transit centers, jobs, and residential neighborhoods. With wider sidewalks, shared use streets, and dedicated bike lanes -- including a protected two-way cycle track -- they'll improve safety and accessibility for all users. The investment leverages the asset the city has in its Hubway bike-share system. Using bike and pedestrian connections -- instead of road widening -- to combat congestion is the explicit aim of the Massachusetts DOT and is a great use for TIGER funds.
Lee County, Florida -- one of the country's most dangerous places for bicyclists and pedestrians -- gets $10.5 million to complete three sections of the regional shared-use trail network, connecting major employment centers, residential areas, a university, and the central business district. "Of roadway crashes during 2000-2013 in Lee County, 22 percent involved injuries or fatalities to pedestrians or bicyclists, nearly double the national average," according to DOT. "During this time period, 280 people died while walking or bicycling on Lee County's roadways. Additionally, this project was highlighted as part of the U.S. DOT Spring Bike Summit." Darla Letourneau of BikeWalkLee called the grant announcement "a watershed moment" as it puts the county "on a new path toward a livable, sustainable, and economically vibrant future."
In rural Foley, Alabama, which passed a complete streets policy in 2011, $4.7 million in TIGER funds will be used to add bike lanes and sidewalks to roadways already in need of repair. The project will improve accommodations on four intersections and fund the construction of a pedestrian bridge. In all, the grant will increase the town's pedestrian and bike facilities by nearly 15 miles each.
Montana's Bitterroot Trail will finally be completed, thanks to $4.5 million from TIGER. By adding a seven-mile bicycle connecting the city of Missoula with the town of Lolo, the project will connect two regional bicycle trail networks, completing the 50-mile route between Missoula and the town of Hamilton. That missing seven-mile stretch has to be ridden on a segment of road which has seen at least 3 cyclist and pedestrian fatalities and 9 injuries over the last 20 years.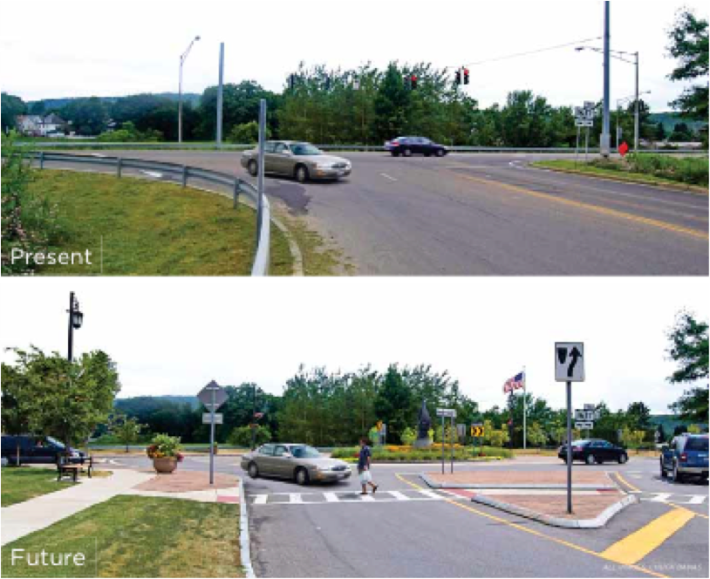 And in Olean, New York -- population 14,452, about 75 miles south of Buffalo -- 6.5 million of rural TIGER money will "transform and repair the dilapidated and overly wide main road... into a calm, traditional boulevard, with a 7-foot buffered bike lane in each direction, a tree-lined median, and raised mid-block crosswalks," according to DOT.
Truckee, California, will save lives with a scant $1.5 million by creating a safe crossing for bicycles and pedestrians across a railroad track where they must currently pass under the track in a narrow tunnel with two travel lanes of traffic that is jammed with large trucks.
Passenger rail and freight rail
Oklahoma City gets $13.6 million to reinstate space for Amtrak passenger rail service by renovating the city's underutilized Santa Fe Depot. It will also accommodate future streetcar, light rail, and commuter rail services. Improved bicycle, pedestrian and transit connections are part of the package too. The project will revitalize a neglected part of Oklahoma City's urban core, according to DOT. "In its current condition, the station is a detriment to existing train ridership due to the lack of adequate passenger facilities" but the city "has already augmented the Depot selection with improvements to the surrounding area including improved connections to the Bricktown district."
Springfield, Illinois scored a $14.4 million grant to build one of eight underpasses for the 10th Street railroad consolidation project, which brings together the Union Pacific Railroad, Norfolk Southern Railway, and Amtrak. The city must complete design and engineering work by September 2014 or it risks losing the grant, according to Sen. Dick Durbin, who announced the grant.? The consolidation also requires construction of a second set of tracks, a $315 million project expected to take eight years to complete.
In Colorado, Sen. Mark Udall, who has introduced legislation this summer to establish quiet zones along train lines, announced the town of Windsor won a $2.7 million grant to establish two quiet zones. Udall says train noise "can deter economic development, hurt small businesses and reduce Coloradans' quality of life."
Ports from Baltimore to Duluth and from Tucson to Oswego got TIGER grants to build intermodal ramps, connections to road and rail infrastructure, expand capacity, and bring facilities up to a state of good repair.
Projects That Didn't Make the Cut
Among the 533 projects that didn't get selected was Charlotte's streetcar plan -- ironically, a pet project of U.S. Secretary of Transportation Anthony Foxx when he was the city's mayor. Charlotte's 1.5-mile starter streetcar project from Time Warner Cable Arena to Novant Health Presbyterian Medical Center was funded in part by a $25 million grant from the Federal Transit Administration. But the plans to extend that line to Johnson C. Smith University through the Elizabeth neighborhood has hit numerous setbacks. City Council nixed a plan to fund it with property taxes and the city was counting on a $63 million TIGER grant to match local funds. City Manager Ron Carlee, who created the new financial plan after the City Council vote, told the Observer he "would have been surprised if we had gotten this grant" and that the project can still move forward.
Tanya became Streetsblog's Capitol Hill editor in September 2010 after covering Congress for Pacifica Radio's Washington bureau and for public radio stations around the country. She lives car-free in a transit-oriented and bike-friendly neighborhood of Washington, DC.
Stay in touch
Sign up for our free newsletter