Elections
Communities Vote to Tax Themselves to Support Transit
12:29 PM EST on November 9, 2012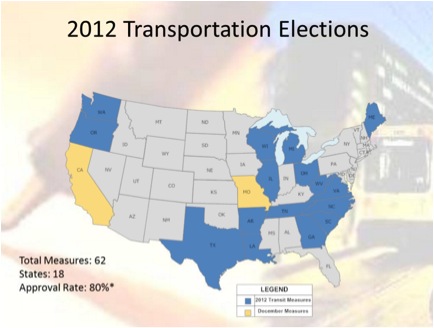 In addition to some of the high-profile measures that we covered already, Election Day brought many successes on some smaller ballot initiatives. According to the Center For Transportation Excellence, pro-transit campaigns had an 80 percent success rate this year at the ballot box, with more ballot measures coming up for a vote than any previous year.
Arlington County, Virginia voted by a 4-to-1 margin to approve a $32 million bond, with about half the proceeds supporting Washington Metro capital projects and the rest paying for street repair, bike/ped infrastructure, and traffic calming. The path to victory is easy in Arlington – it's the country's third-wealthiest county, and no bond measure has failed there since 1979, according to the Washington Post.
Richland County, South Carolina, home to the city of Columbia and the University of South Carolina, passed a one-cent sales tax – one-quarter of which will pay for regional bus service, with the rest funding road improvements, greenways, and bike lanes.
In Lynden, Washington, outside of Bellingham, voters approved a 0.2-cent sales tax hike expected to bring in $300,000 over two years to pay for road maintenance and walking trails.
And Stephenson County, Illinois, approved an advisory measure voicing support for a countywide transit system funded by federal, state, and local sources.
Much of this information comes from the Center For Transportation Excellence, which tracks transit-related ballot measures. CFTE doesn't track referendums for road projects, so don't take the passage of these measures to mean that transit is uniquely successful at the ballot. The biggest bond measure to pass this year -- for anything -- was $1.3 billion for roads in Arkansas. Despite the fact that it levied a half-cent sales tax to pay for the bonding, voters approved it 58 to 42. Alaska also approved a $453 million bond measure to pay for ports, harbors, and roads. And Maine approved a $51.5 million bond for road repair [PDF].
There were some anti-transit measures on the ballot, too. One went down in Gainesville's Alachua County, Florida – but it's hard to know if it's a victory for transit or just anti-tax sentiment. The .75-cent transportation sales tax on the ballot carried with it an explicit prohibition on transit spending. "Original plans called for two separate sales tax measures -- one for roads and one for transit," explains CFTE, "but the County Commission decided against the transit measure."
Another anti-transit measure, framed as a pro-democracy initiative, got voter support in Tigard, Oregon, a Portland suburb. Voters there approved by a whopping 81 percent a charter amendment that would require that any tax or fee increase for light rail go before a public vote. "These charter amendments are really aimed at stopping light rail expansion and doing so under the guise of expanding public involvement in the decision-making process," Jason Jordan of CFTE told reporters yesterday. "They hold rail transit to a much different standard than any other mode of transportation."
The Portland suburbs were home to another defeat – a 0.1 percent sales tax hike to fund light rail and bus rapid transit went down to defeat in Clark County, Washington, just on the other side of the Columbia River. Perhaps the residents of the county had sales tax fatigue – voters approved a similar measure last year to save the public transportation system from 35 percent service cuts. But more likely, say some observers, voters were expressing dissatisfaction with the Columbia River Crossing mega-project.
As Michael Andersen wrote just before the vote on his Portland Afoot blog:
This 0.1 percentage point sales tax hike in urban areas would actually just help C-Tran pay for light rail and high-capacity bus transit operations, money that C-Tran might be able to do without. But Clark County representatives in both the federal and state legislature have decided to treat it as a referendum on the Columbia River Crossing as planned – with tolls, rail and eight lanes of through traffic. If Proposition 1 fails, Clark County could have to wait another decade for high-capacity transit – and the pro-highway lobby will have a significantly harder time persuading Clark County lawmakers to carry water for them in the legislature.
Meanwhile, in Pierce County, Washington, which straddles Tacoma and Mt. Rainier, a sales tax measure is still too close to call. The $28 million it would raise every year would prevent the bus system from having to eliminate night and weekend service – a prospect that has riders worried.
Another one that's still too close to call is Alameda County, California's amendment to double the sales tax. The funds would pay for improvements to everything from freeways to bike/ped to transit east of the San Francisco Bay. Like Measure J in L.A., the measure needs a two-thirds majority and though it's trailing at the moment, it still has widespread voter support. At last count, the measure had won 65.6 percent of the vote – one percentage point shy of what it needs to pass.
Just to the north, Napa County overwhelmingly passed a renewal of a half-cent sales tax that used to go toward flood control and now will be used exclusively for street and sidewalk repair and maintenance.
All of these successes tell a different story than if you only look at the highest-profile referendums of the year – Measure J in L.A. and T-SPLOST in Atlanta. Both of those measures failed against unusual obstacles – including the fact that many transit advocates organized against them.
Despite the overwhelming victory of so many transit measures this year, "the solution can't be to shift all the burden over to the locals," Art Guzzetti of the American Public Transportation Association emphasized on the call with reporters yesterday.
"This is a partnership," Guzzetti said. "It's easy to say, 'If the locals are so happy to tax themselves, let them.'" He said locally-raised tax money used to be the last piece of the puzzle, once state, federal, and private dollars were already pledged. It can't be the only piece of the puzzle.
Tanya became Streetsblog's Capitol Hill editor in September 2010 after covering Congress for Pacifica Radio's Washington bureau and for public radio stations around the country. She lives car-free in a transit-oriented and bike-friendly neighborhood of Washington, DC.
Stay in touch
Sign up for our free newsletter