Elections
Fact-Checking Deval Patrick's Attack on Romney's Transpo Record
2:33 PM EDT on September 5, 2012
Massachusetts Governor Deval Patrick got wild applause last night when he told the Democratic Convention audience: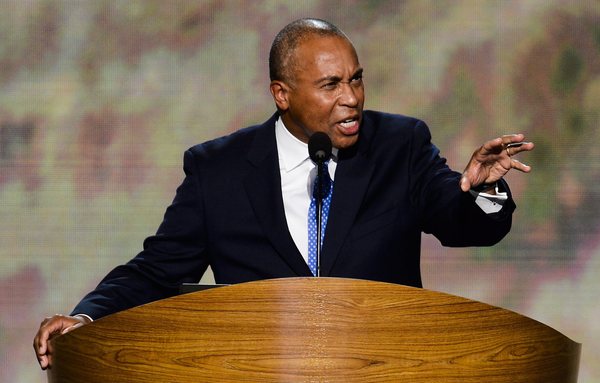 In Massachusetts, we know Mitt Romney. By the time he left office, Massachusetts was 47th in the nation in job creation—during better economic times—and household income in our state was declining. He cut education deeper than anywhere else in America. Roads and bridges were crumbling... Mitt Romney talks a lot about all the things he's fixed. I can tell you that Massachusetts wasn't one of them.
Fact-checking has been a booming business in this election cycle, and the Washington Post was all over Patrick's speech. It labeled the "crumbling" claim "debatable," noting that it's a subjective area. The Post referenced Matt Dellinger's analysis of Romney's time as governor of Massachusetts for Transportation Nation:
In 2005, mid-term, he unveiled a twenty-year, $31-billion state transportation plan that re-emphasized his "fix-it-first" convictions, directing "seventy-five percent of all new capital spending toward maintaining and improving the Commonwealth's existing transportation network." Hailing the "post-Big-Dig world," Romney's plan was modally balanced. Twelve billion went to "reconstructing, decongesting and expanding roadways across the Commonwealth, including all major choke points," while nine billion went to "achieving a state of good repair on the MBTA's aging assets."
Those are funding priorities the federal government would do well to emulate.
Besides, maybe Patrick shouldn't be throwing stones. If we're just talking about spending money, yes, Patrick is spending money on infrastructure. He recently authorized $1.5 billion in bonds that will help the state finance infrastructure improvements, and last year -- if projections were correct -- the state spent double what it spent on road and bridge projects in 2007, his first year in office.
But is he spending as smartly as Romney did? Patrick eliminated some of Romney's signature programs, including the Office for Commonwealth Development, "which banded together the state agencies that have anything to do with growth and development — transportation, environment, housing, and energy," wrote Alan Wirzbicki last year in the Boston Globe. Patrick also did away with Commonwealth Capital, Romney's smart growth-inspired infill incentives program.
Perhaps Patrick should be targeting VP pick Paul Ryan with his scathing comments instead? By all accounts, Ryan's cut-to-the-bone budgeting style would be a disaster for transportation (as well as countless other domestic priorities). And the GOP's platform has made clear their preference for highways over sustainable transportation, as well as their overarching thirst for oil above everything else. But looking just at Romney's record as governor, contrary to Patrick's attacks, there's a lot to like.
According to Alec MacGillis, writing in The New Republic about Romney's devotion to smart growth, Romney was looking to reform Massachusetts planning since before he was even in office, promising on the campaign trail, "Smart growth, or purposeful planning, is a concept that will be in the governor's office if I'm elected." And it was: Romney named environmental firebrand (and bike commuter) Douglas Foy to head up his new Office for Commonwealth Development.
MacGillis says, "Romney and Foy wasted little time in putting smart-growth policies to work":
The state, they declared, would take a "fix-it-first" approach to highway spending—repairing existing roads instead of building new ones. They also pledged to cut the number of SUVs in the state fleet. In addition, the state put out a new highway-design manual intended to make towns more pedestrian-friendly, with narrower streets designed for slower driving speeds. "It was all really woolly, totally green, new-urbanist stuff—and it was state policy," says Anthony Flint, who covered land-use issues for The Boston Globe and went on to join Foy's office in 2005. The biggest move came in 2004, when Romney signed legislation, dubbed Chapter 40R, providing funds to towns and cities that agreed to allow more high-density, multi-family housing. "It was fundamentally anti-sprawl. It was saying that the days of having a developer buy a Christmas tree farm and throw up a bunch of single-family homes on half-acre lots were over," Flint recalls. "It was a real awakening." ...

One of Romney's peeves, Foy recalls, was that zoning in many towns barred building apartments over street-level shops: "He loved talking about the fact that Concord was illegal in Concord—that you couldn't build the paradigmatic New England town with the town center, which struck him as ludicrous." Then there was the day Romney and Foy were together at a ribbon-cutting for a traffic-calming project and Romney started lamenting that Salt Lake City's streets were too wide because they were designed in the days of wagon trains that needed to be able to turn around. "He thought that that was a problem and that New England had thankfully not had wagon trains, so its streets were more tightly knit … and more pedestrian-friendly," Foy remembers.
Patrick has made his "roads and bridges were crumbling" charge before, saying in a June editorial on CNN's website that Romney "made no effort to remedy" his "Republican predecessors' poor oversight of the infamous Big Dig project in downtown Boston [which] resulted in billions of dollars of cost overruns, substandard workmanship and debilitating debt."
As Streetsblog mentioned a year ago -- back when Texas Gov. Rick Perry was the frontrunner in the Republican primary -- Romney does, indeed, deserve blame for "reneging on promises made by his predecessors to build transit to offset some of the environmental damage done by the Big Dig road project." Instead of maintaining funding for transit expansion, as promised, Romney diverted some of that money to expensive highway projects, according to an editorial in the Harvard Crimson. The transit projects he did fund "would primarily benefit the Commonwealth's more affluent residents."
Still, Romney's resistance to building lots of new transit infrastructure may be an indicator of exactly the kind of fix-it-first mentality he's known for -- and a sign that crumbling infrastructure was, indeed, a major concern of his. After all, Boston has the oldest transit system in the country, with badly deteriorating infrastructure. Former Boston transportation official Ted Brown says it was "admirable" that Romney gave capital projects a back seat to focus on maintenance.
Tanya became Streetsblog's Capitol Hill editor in September 2010 after covering Congress for Pacifica Radio's Washington bureau and for public radio stations around the country. She lives car-free in a transit-oriented and bike-friendly neighborhood of Washington, DC.
Stay in touch
Sign up for our free newsletter