Federal Funding
Under New Bill, America's Transpo Loan Program Ignores National Goals
10:23 AM EDT on July 3, 2012
In the highly polarized and antagonistic transportation bill negotiations, dragged out over the course of almost a year, there was one thing that Democrats and Republicans could agree on: vastly expanding the TIFIA loan program. The Transportation Infrastructure Finance and Innovation Act (TIFIA) program has, since 1998, provided federal credit assistance at favorable interest rates to surface transportation projects of national and regional significance.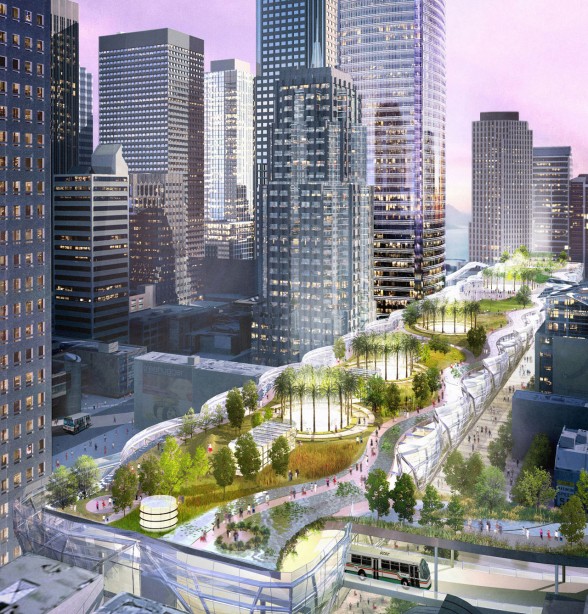 Under the new bill, however, it appears any old highway plan will do.
MAP-21, the transportation bill that is now on its way to the president for his signature, turned TIFIA from a $122 million program to a $1 billion program – and at the same time, made it completely useless as an instrument to reward and enable innovation.
The bill eliminated all project selection criteria from the TIFIA program. It's now first-come-first-served.
"By removing those selection criteria, they've basically turned the federal government into a bank," said Sarah Kline, director of policy for Reconnecting America, "instead of an entity with national policy in mind."
TIFIA used to employ the following criteria to evaluate potential loan recipients:
national or regional significance (including livability, economic competitiveness, and safety) -- 20 percent
private participation -- 20 percent
environmental sustainability and state of good repair -- 20 percent
whether the loan would help accelerate project delivery -- 12.5 percent
creditworthiness -- 12.5 percent
use of technology -- 5 percent
consumption of budget authority -- 5 percent
whether the loan would reduce the need for federal grants -- 5 percent
Under the new bill, creditworthiness now accounts for pretty much the full 100 percent.
Projects will still need to be approved by the U.S. DOT credit council. "They're not rubberstamping things that come through," said Kerry O'Hare, vice president of Building America's Future and a former FHWA administrator.  "There's a real financial analysis that's done. People don't just willy-nilly say, 'We're going to sign off on this.'"
But the credit council is looking only at the ability to repay loans. Not sustainability, not significance, not economic competitiveness.
"The federal government essentially has no control over what kind of projects get built," Kline said. "As long as you come in with an application that is technically eligible and meets the credit-worthiness, it's not clear to me that the federal government can say, 'No, this is not the kind of project we want to fund; we're looking for things that are innovative; this is not innovative.'"
The change to TIFIA is consistent with other elements in the transportation bill that the House insisted on. The removal of Congressional earmarks toughened the Republicans' resolve to eliminate "administration earmarks," as they call discretionary programs. They considered any subjective criteria -- like innovation -- too much leeway for the executive branch.
Now that TIFIA has a billion dollars to work with, watchdogs think some projects in the pipeline might not even meet the creditworthiness standard. The Bipartisan Policy Center last year suggested expanding TIFIA to a more modest $450 million instead of $1 billion, after looking at the pool of applicants and their creditworthiness. Erich Zimmerman of Taxpayers for Common Sense told reporters last week that there's never been a default on a TIFIA loan, but with an expansion this large, it's likely to happen.
And even if the projects are determined not to pose an undue financial risk to taxpayers, casting such a wide net could too easily pull in projects that just don't make for good transportation policy.
Besides, a complex and detailed application like TIFIA's may not be well-suited to a first-come-first-served system, which essentially becomes a race. The premium on the speed with which an agency can put together an application can handicap transit, especially for small agecies that may not have specialized staff who can easily whip the application together.
"The consequence is that you may see a lot of straightforward road projects in places like North Carolina and Indiana get funded from this program," said Steven Higashide, federal advocate at the Tri-State Transportation Campaign. "Those are simple projects, so it'll be easy to complete those applications. They'll be first in line. Transit projects and sustainable projects might miss out because of that."
A project needs to cost at least $50 million total to be eligible for a TIFIA loan in most cases, with a lower bar only for technology-based projects. This high total cost requirement can also present a barrier to transit systems, especially small ones.
"It seems like it makes it easier to build sprawl roads or 'roads to nowhere' as long as you can pay the federal agency back," Higashide said. "There's not really any judgment on what's a wise project or one that a state or region needs."
One change to the TIFIA program could help transit agencies, however. U.S. DOT will now allow TIFIA loans to be subordinated to pre-existing debt in some cases. That means other creditors would get paid back first in the case of bankruptcy. This exposes the federal government – and the taxpayer -- to more risk. But it makes it easier to attract private capital for the matching dollars, a change which could help transit agencies compete.
Another change is the increase in the federal share from 33 to 49 percent, meaning applicants have less work to do to find the rest of the money. "If the federal government is taking on more of a share of the burden, then this really might not be right time to get be getting rid of those evaluation criteria," said Robert Puentes of the Brookings Institution. "If this bill was really about the economy, you would have kept those in."
However, Puentes questions how much the other criteria were ever a serious factor in choosing TIFIA loan recipients. The list of TIFIA awardees never looked like a list of TIGER winners – it's always been more slanted toward road projects.
"The projects that are approved through the [TIFIA] program do not specifically have to address livability or sustainability goals, unlike TIGER projects," said Yonah Freemark of The Transport Politic in an interview about TIFIA several months ago. "In fact, many of the projects approved for TIFIA have been very highway-oriented, in a way that TIGER projects have not."
Tanya became Streetsblog's Capitol Hill editor in September 2010 after covering Congress for Pacifica Radio's Washington bureau and for public radio stations around the country. She lives car-free in a transit-oriented and bike-friendly neighborhood of Washington, DC.
Stay in touch
Sign up for our free newsletter