Barack Obama
After Years of Resistance, Auto Industry Agrees to New Mileage Standards
12:26 PM EDT on August 2, 2011
As though to prove compromise isn't as stiff a corpse as it appears, the Obama administration announced on Friday that it had reached a key agreement with an industry proficient at stonewalling government regulation: the automakers. The deal, which meaningfully raises fuel economy standards, was something of a welcome surprise, with the industry putting aside its usual act as regulatory victim and playing the role of committed partner.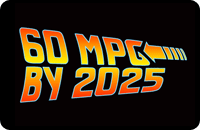 President Obama's claims to the historic nature of the agreement are not overblown. Under the proposal, by 2025, car companies will now be required to reach a 54.5 mpg goal for Corporate Average Fuel Economy (CAFE), meaning that each maker's fleet of cars or light trucks sold domestically must achieve that mileage per gallon in a particular model year. It's weighted based on sales, too, so automakers can't just create a token fuel-sipper and continue to sell nothing but guzzlers.
This is the second time this administration has wrangled higher CAFE standards; in 2009, the near collapse of the industry and bailout allowed it to secure a 35.5 mpg standard for 2016. These achievements—the tremendous environmental and economic benefits of which are outlined well by the Natural Resources Defense Council's Roland Hwang—follow decades of inaction when successful lobbying stifled progress.
As recently as last week, the industry appeared to be gearing up for an intensified public relations campaign against stricter standards, with its largest lobbying group, the Alliance of Automobile Manufacturers, airing radio ads warning the standards would destroy the economy.
In the end, the automakers were satisfied with what their still-considerable influence in Washington brought them in concessions, including a target mpg lower than the 60-plus supported by leading environmental health groups and diluted standards for so-called light trucks, including SUVs and pickups. Goals for the vehicles that are the most gas-guzzling and polluting—and the most profitable—will be phased in more slowly than goals for cars, with a loophole for big pickups described by Automotive News as a "major plum" for Detroit.
This truck loophole benefits from a well-worn argument that tougher standards would mean fewer choices for consumers at the showroom. Hardworking rural folk and small business owners, especially, would suffer, denied the ability to own a decent pickup, the industry bleated. Tapping into the culture wars, industry advocates implied that these standards are set by out-of-touch liberal elites who just don't get how real Americans live. The down-home truth is that the automakers will continue to produce plenty hefty and powerful pickups and still meet the standards, which require only that they achieve a mean, sales-weighted average mpg across their fleets. While pickups on average may downsize, trucks have been on a course of steroids over recent decades, with some so-called half-ton trucks now capable of carrying a ton or more of cargo, far in excess of the needs of most buyers.
Still, the automakers have agreed to meaningful improvements in mileage and emissions, even though they have so vociferously opposed them in the past, and their ability to influence policy remains strong. Last year, as GM and Chrysler worked to pay back taxpayers and Toyota reeled from its safety crisis, the industry spent $59 million on lobbying and billions on commercials meant to make us feel warm and fuzzy about the bailout. We might have expected the industry to dig deep to tamp down the 2025 standard further, making many of the same contentions that enabled it, for decades, to defer new regulation.
The industry's problem is that many of these arguments don't work as well as they did in the past, when it sought to convince key constituencies outside the Beltway--consumers and workers--that it had their best interests at heart in resisting improved fuel economy.
Key among these was the false claim that under higher mpg standards, cars would cost consumers more. Even a recent update of a flawed study by the automaker-funded Center for Automotive Research, roundly criticized for inflating expected costs, estimated that raising the standard as high as 56 mpg would produce fuel savings to consumers that would more than offset higher vehicle prices. Under the agreement just announced, consumers will save enough on gas to pay for the increased vehicle prices within three to four years of ownership.
Meanwhile, consumers see automakers finding their own ways to squeeze more dollars from them by cramming vehicles with expensive and complex entertainment systems, wireless hotspots, and services like GM's OnStar, for which they can charge month after month. They wonder why, if the industry is so concerned about affordability, prices for many popular models are soaring: the Chrysler Town and Country sells for 32 percent more and the Chevy Equinox sells for 24 percent more today than they did five years ago. Nissan is so anxious about consumers' ability to pay for its electric Leaf that it decided to charge $2,420 more for next year's base model, loading it with a "cold weather package" that includes a heated steering wheel and seats.
Workers, like consumers, have been used as human shields in the industry's war against regulation. But after ponying up for the bailouts, the public can't help but see with a jaundiced eye any claims of potential job losses due to the higher costs of achieving stricter standards. Support for the bailout, tepid as it was, stemmed from the desire to keep Americans employed, but of course, the bailout restructuring led to more layoffs -- tens of thousands of them. Meanwhile, the data shows that even a stricter 62 mpg target would create jobs rather than destroy them, since more technology would be built into each vehicle. And new research by Citigroup shows higher mpg standards upping auto sales and variable profits worldwide, narrowing the gap between US and foreign makers, which would enable domestic makers to hire more workers.
It is industry stonewalling that has been the proven job killer. Over the past decade, manufacturers, parts companies, and dealers managed to slash roughly a million jobs without any help at all from stricter mpg standards. Many of those jobs were lost before the recession hit, as domestic makers persisted in pushing high-margin, gas-sucking behemoths while foreign companies introduced the first hybrids. Then, 2008's gas price spike and the recession took those firms that had pooh-poohed fuel efficiency to the edge of the abyss for a good look. Had they not pushed back so long and so hard, they could have entered the millennium leading, not lagging, in green tech, saving thousands of jobs.
For years, the U.S. auto industry's strategies to avoid improving fuel efficiency offered consumers more opportunities to spend at the showroom and at the gas pump, while cutting jobs and increasing air pollution. And although America is buying its cars again, it seems the nation isn't buying its usual obstructionism on the issue of fuel economy. A recent Pew poll found 82 percent in favor of an mpg standard higher than last week's agreement calls for. The strength of this public opinion should help the administration hold firm against further concessions as the proposal undergoes its months of review to finalization.
Catherine Lutz, a Brown University anthropologist, and Anne Lutz Fernandez, a former marketer and banker, are the authors of Carjacked: The Culture of the Automobile and its Effect on our Lives (Palgrave Macmillan).
Anne Lutz Fernandez is a former corporate executive with experience in management and marketing of consumer brands such as Weight Watchers frozen foods and Bufferin pain relievers. She also spent a decade as an investment banker in New York and London where her work included marketing the firm's services to multinational corporations and advising clients on strategic mergers and acquisitions. She left her position as Director at Credit Suisse to become a writer and teacher. She currently teaches English and lives in Connecticut with her husband, who is also a teacher. She co-authored her first book, Carjacked: The Culture of the Automobile and its Effect on our Lives, with her sister, anthropologist Catherine Lutz.
Stay in touch
Sign up for our free newsletter