Florida
Rail-Wary FL Gov. Scott Threw Caution to the Wind in Supporting SunRail
12:31 PM EDT on July 15, 2011
On Monday, Transportation Secretary Ray LaHood will travel to Orlando for the ground-breaking of the SunRail commuter rail project in central Florida. We reported with some pleasure two weeks ago that Gov. Rick Scott had approved the project. But what we didn't mention was that there's significant opposition to the project, and it's not all from the usual suspects of Tea Partiers and deficit hawks and transit haters.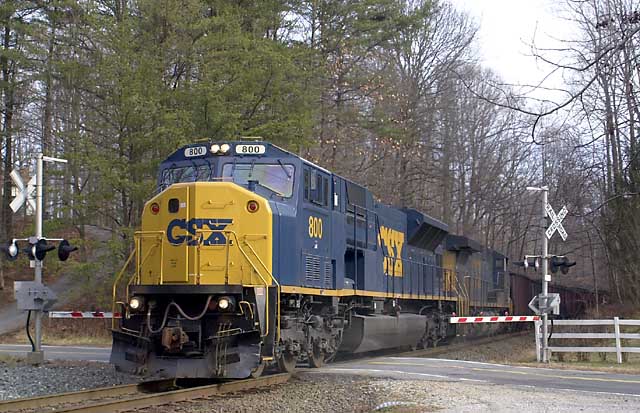 Many rail supporters say Scott should have approved high-speed rail and killed SunRail, not the other way around. "Governor Scott used all the right arguments to green light the wrong rail project," said Florida Senate Democratic Leader Pro Tem Arthenia Joyner. "His support had nothing to do with good policy, good logic, or the good of Floridians."
"Inconsistency, thy name is Rick," editorialized The Ledger. The Lakeland-area paper speculates that the decision was a raw political calculation designed to broaden his base of support -- a strategy that appears to have backfired.
The project is among the least cost-effective that the federal government have approved recently, costing an estimated $24,000 per rider, according to the Transport Politic. Daily ridership estimates all the way out to 2030 are only 7,400.
Many deride the project as corporate welfare for the freight company CSX, whose profits grew by 35 percent last year. Of the $1.2 billion total cost of the SunRail line, $432 million will go directly to CSX. The money will pay for the purchase of the track that the commuter trains will run on, but also for many unrelated CSX projects, like track improvements, overpasses and transfer stations on completely separate lines that have nothing to do with SunRail.
Besides, the state isn't really buying the track at all – CSX will still have exclusive use of it on weekends and at night. SunRail service is only projected to run during the day, Monday through Friday, every 30 minutes at rush hour – and every two hours the rest of the day.
Why the huge giveaway to CSX? Speculation has centered around the close relationship between the freight rail giant and Rep. John Mica (R-FL), the chair of the House Transportation Committee, who has been advocating for this line to be built since 1992. CSX is the number 12 lifetime contributor to Mica's campaigns and causes. The New York Times reports that other SunRail beneficiaries have paid their dues too:

Campaign finance records show that many of the contractors that worked on the [SunRail] project, including an engineering firm, Parsons Brinckerhoff, have been major contributors to Mr. Mica's re-election campaigns. So have businesses and individuals who could benefit from the project, including ICI Homes, a real estate developer that owns several sites close to a proposed SunRail station, and Florida Hospital in Orlando, whose $250 million expansion plan is contingent on getting a station on its property.

Executives at ICI Homes, or their relatives, have contributed nearly $70,000 to Mr. Mica over the last decade. An additional $35,000 in donations have come from staff members and lawyers at GrayRobinson, a Florida law firm lobbying for the project.
The Times reports that Mica used earmarks to buy the first railcars for the project a decade before any trains would run and that he helped eliminate cost-effectiveness criteria for federally financed rail projects in order to help SunRail. For a Congressman who just slashed transportation spending by 33 percent and insists that the transportation sector "do more with less," his commitment to inefficiency in the case of SunRail is truly puzzling.
In any case, what do Mica's ties to SunRail have to do with Scott's decision to approve the project? Mica leaned hard on Scott to give it the green light. He even hinted – strongly – that Scott's decision on SunRail could influence Mica's decision on whether or not to approve $75 million to dredge the Port of Miami – one of Scott's top infrastructure priorities.
Scott's critics are particularly frustrated at his approval of SunRail since he rejected $2.4 billion in federal high-speed rail funds, saying he was concerned with cost overruns. Private companies had pledged to provide the $300 million needed to complete the high-speed rail project. But it's the Florida taxpayer that's holding the bag for SunRail - $651.6 million worth.
The high-speed rail link, many argue, was more urgent and would have drawn greater ridership, providing needed connectivity between the Orlando airport and Disney World. SunRail, although it goes through Orlando, does not stop at those locations.
The criticism has been scorching. The day Scott approved SunRail, Republican state Sen. Paula Dockery of Lakeland, a vocal opponent of the SunRail project (and high-speed rail supporter) said in a statement, "This decision has completed the governor's transformation from businessman to political insider."
"It is unclear if, when making the decision, the governor had a change of heart, if he simply succumbed to the desires of the big money special interests, or if he has a severe case of amnesia and thought that he was supposed to be representing CSX instead of Florida's taxpayers," Dockery went on.
Another major supporter of high-speed rail that has slammed the SunRail project is the Florida AFL-CIO. The labor group objects to the corporate giveaway to CSX – especially the fact that the agreement would let CSX escape its labor liability by making all rail employees independent contractors. By making them contractors, and not employees, the workers would no longer be protected by a whole host of federal laws including the Railway Labor Act, the Federal Employees Liability Act, the Railroad Retirement Act, and the Interstate Commerce Commission Termination Act.
The change in status, and accompanying loss of rights, would apply not just to new workers but to existing CSX employees – "those that weren't laid off," says Rich Templin of the Florida AFL-CIO. "We procured a list of names of people to be fired. They were all union members."
Railroad worker rights don't just protect the worker, Templin said. Trained rail workers know the safety procedures and know when they're being broken. A non-unionized contract worker who brings a complaint about safety-noncompliance can be terminated more easily than a company employee represented by a union, Templin said.
Even worse, Templin said, the way that the legislation was crafted makes the changes permanent.
The federal government is providing $178 million to help fund the first phase of SunRail. There has been some speculation that the $72 million that has not yet been paid out could be in jeopardy if the FTA's New Starts transit program is cut.
Tanya became Streetsblog's Capitol Hill editor in September 2010 after covering Congress for Pacifica Radio's Washington bureau and for public radio stations around the country. She lives car-free in a transit-oriented and bike-friendly neighborhood of Washington, DC.
Stay in touch
Sign up for our free newsletter