Elderly & Disabled
EPA Recognizes Cities for Using Smart Growth Tools That Get Seniors Active
2:21 PM EST on February 8, 2011
Sprawl can take a disproportionate toll on older people. Their eyesight might make them nervous about driving at night, or unable to drive at all. It can take them a long time to cross wide, high-traffic arterial roads. Poor transit options can make them feel like a burden on others whom they depend on for rides, or can leave them stranded at home. Besides, if they don't have places to walk to, the effects of aging can creep up faster on those who aren't out getting regular exercise.
Recognizing these dangers for older Americans, the U.S. Environmental Protection Agency (EPA) honored four cities yesterday with its "Building Healthy Communities for Active Aging Award." Combining the principles of smart growth with the concept of active aging, the awards are intended to raise awareness about ways to build communities where seniors can lead active lives.
The population of American seniors – persons 65 years or older – is rapidly increasing. By 2030, there will be about 72.1 million senior citizens, or about 19 percent of the population – up from 12.9 percent in 2009.
Mecklenburg County, NC
One of the EPA's awardees, Mecklenburg County, North Carolina recognized this silver boom and began improvements in 2005 by adopting the Status of Seniors Initiative (SOSI), making improvements to the built environment to make it more age-friendly.
The county and city of Charlotte have concentrated new growth in several existing corridors, creating higher densities, mixed-use development and a more walkable community. More than 5,000 new housing units have been constructed. Sixteen miles of greenways, 88 miles of bike facilities and 106 miles of sidewalks have been completed.
Charlotte has taken specific steps to integrate seniors into the community by retrofitting dozens of streets and adding ADA-compliant ramps at intersections. The city has increased the size of its signage, the number of crossing medians, times for pedestrian crossing and audible crossing areas.
"A walkable and livable city promotes a much higher quality of life that facilitates independent living… where its residents can stay active and healthy as they age," says Debora Mitchell Sparks, Executive Director of the Charlotte Mecklenberg Council on Aging.
Brazos Valley, TX
The EPA also gave a 2010 Achievement Award to the Brazos Valley Council of Governments in north-central Texas, where the city of Bryan built downtown walking trails with mile markers and installed pedestrian-scale street lamps with energy-efficient bulbs at regular intervals. Planter beds, bike racks and park benches have also been added.
"One of the things that we accomplished was executing a plan that encouraged all of our citizens to get out and experience our community," said Tom Wilkinson, Executive Director of the Brazos Valley Council of Governments. "I think the most important aspect was its inclusiveness."
They also invested in facade improvements to historic buildings, acquired a seven-block area adjacent to Bryan's downtown that was composed mostly of dilapidated buildings and warehouses. Wilkinson says streetscaping has make the area safer for biking and walking and has encouraged denser development of the area. A wheelchair-accessible trail system with ten exercise stations and a fitness circuit for people of all abilities are also encouraging older people to get out and get moving. And a transport service for the elderly has grown from one county in 2002 to a six-county system today.
Fairfax County, VA
Fairfax County, VA and Philadelphia, PA were also selected by EPA for "Commitment Awards," for communities that are planning for and beginning to integrate smart growth with active aging principles.
Fairfax County was selected for an innovative program that utilizes existing, underused facilities to provide space for senior programs. Its Burke/West Springfield Senior Center Without Walls opened in 2009 with a line dancing class at a local church where over 70 individuals participated. (Here's a video of their work.)
"It really creates an opportunity for people to use existing facilities without having to create your traditional bricks-and-mortar program," Evan Braff of Fairfax County told Streetsblog. "We got this award because it's kind of 'EPA friendly' – not going out and creating new construction, but using things that are underutilized and taking advantage of them."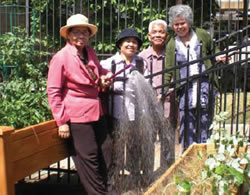 Their activities – including tai chi, "coffee and companionship" sessions, yoga, dancing, karate, and a running club – take place in churches, synagogues, mosques, and other community spaces in a roughly ten-mile area. Braff says this has had two positive side effects: by having multiple locations, the activities are walkable for a far greater number of seniors, and the location in multicultural spaces has exposed people to community resources they may not have otherwise explored. It's also a good model for expanding active senior programs in times of tight budgets for local governments.
Philadelphia, PA
Finally, Philadelphia, the other "Commitment Award" winner, has the highest proportion of elderly residents out of the ten largest cities in the U.S. and was selected for its "Age-friendly Philadelphia" agenda. The city seeks to improve the built environment to facilitate safety and social connectedness and bring other partners in to their efforts to enhance the well-being of seniors.
They're working on age-friendly parks with adequate clean restrooms, quiet shaded areas, good lighting and public transportation accessibility. They're also promoting age-friendly bus shelters and greater access to community gardens and urban farms. And they're trying to change the zoning code to permit seniors to rent out parts of their houses so they can continue to afford to live in their own homes and can have another person around for help, if needed.
"These efforts will not only have an effect on the health of older adults but also help integrate them into their neighborhoods and communities," said Kate Clark, a planner with the Philadelphia Corporation for the Aging. "This in turn will benefit the seniors and people of all ages."
Applications for the 2012 EPA Aging Initiative's annual Building Healthy Communities for Active Aging Awards program are due this July.
Stay in touch
Sign up for our free newsletter