Atlanta
In Atlanta, Transit Service Lags Behind a Booming Population
2:43 PM EST on February 23, 2017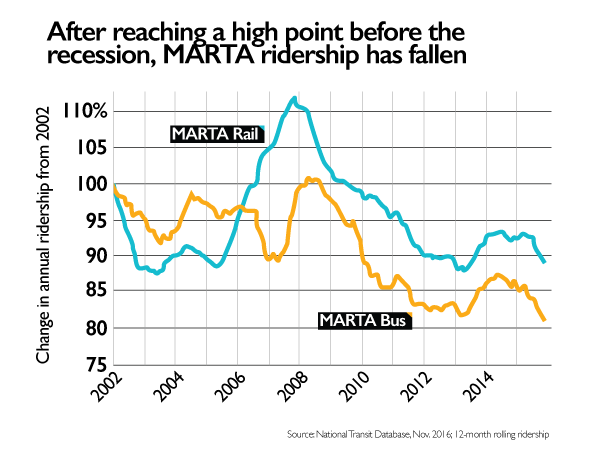 "My commute has doubled in about four years," Danielle Elkins, the vice president of Advance Atlanta, told me. "It can take an hour or an hour and a half to my office, when it used to take 20 to 25 minutes."
Her experience is hardly unique. Since 2000, the Atlanta region has grown by more than 1.5 million people, or over 25 percent, but transit service is not keeping up. Both rail and bus ridership on MARTA, the major regional transit provider, have fallen dramatically in recent years.
In this post, which kicks off our "Getting Transit Right" series, we'll examine the quality of transit service in Atlanta -- what shaped the current transit network, and how well service patterns serve the needs of residents.
Atlanta transit does have some significant features going for it, including frequent rail service and an integrated transit card. But as we'll see, there's a big mismatch between the region's employment centers and its bus and train networks, and access to convenient all-day service is limited.
A troubled history of transit investment and sprawl
In 1971, residents of Atlanta and DeKalb and Fulton counties voted to support the creation of MARTA. Funded by a 1-cent sales tax, the new agency would operate buses and lead the construction of a rail network with support from the federal government.
Foreshadowing future problems, the referendum was dogged by scare tactics from racist suburbanites, and it failed in Clayton, Cobb, and Gwinnett counties, which were excluded from the system from that point on.
While the transit system slowly expanded until 2000, and suburban Clayton, Cobb, and Gwinnett counties added bus service, a truly integrated regional transit system never materialized. Today, a system designed for the scale of the populated parts of the Atlanta region in 1970 has been overtaken by suburban growth. As the following maps illustrate, the region's developed area has sprawled out dramatically across the counties surrounding Atlanta, onto previously undeveloped land (shown in gray).
The now-48-mile heavy rail system attracts more than 200,000 daily boardings, ridership that compares well relative to other southern cities. But only 8 percent of the population in the Atlanta region's core counties lives within a mile of a rail station, down from 22 percent in 1970.
Atlanta transit service today
MARTA's bus and rail operations serve Atlanta proper and most of the densely populated areas of DeKalb and Fulton Counties, with some service extending into Clayton County since 2014. Cobb and Gwinnett Counties have their own bus service, and commuter buses operated by GRTA extend along the region's highway network, reaching far into the suburbs to places like Canton, 40 miles northeast from downtown.
The region's major services all share one fare card, the Breeze, and riders who use it can transfer for free between most services. That's a major convenience for people traveling throughout the region.
So is the frequency of service offered by MARTA trains. In the central segments of the system, trains are scheduled to arrive at least every 10 minutes all day, though service is less frequent on the branches.
The region's largest employment clusters are arrayed along MARTA's north-south lines. However, several dense job centers are not served by the rail system: Cumberland in Cobb County; Emory and the Centers for Disease Control in DeKalb County; Norwood in Gwinnett County; and Alpharetta in northern Fulton County (numbered on the map above). Bus service to those locations is also limited, and their distance from downtown complicates efforts to serve them by effective transit.
As the following map illustrates, very few of the region's inhabitants -- generally just those living around rail lines or in the center of Atlanta -- have access to more than 50,000 jobs within a 30-minute transit trip:
Notably, people living in southeast Atlanta and central DeKalb are faced with long transit trips to most jobs in the region. But these are also the areas with the largest concentrations of people who regularly use transit (shown in blue and purple in the following map), as well as the highest share of African-American residents and people living in poverty. These areas have not seen significant transit expansions since the airport station at the far south end of the north-south rail line opened in 1988.
Indeed, in the Atlanta urban area, while only 10.5 percent of people who drive alone to work have commutes over an hour each way, 44.8 percent of transit commuters do.
In general, transit is slow and infrequent for most people. Examples abound of buses that are few and far between. The route 36 bus that connects Midtown with Emory (two major job centers) arrives only every 45 minutes at best. Cobb County's bus service doesn't operate on Sundays. Express bus services from Cumming, northeast of downtown, depart three times per morning -- in total.
Taking a closer look at service in Atlanta and the central suburbs, access to transit that arrives at least every 15 minutes during rush hour (the orange and red areas) is oriented mainly toward getting downtown:
After the morning peak, frequent service becomes considerably more scarce, meaning transit isn't well-suited for the full variety of trips that people want to make:
Transit agencies in the Atlanta region receive no significant state funding for operations and until recently were hamstrung by the inability to raise additional funds. Because of a constitutional amendment, state gas tax revenues must be spent on roads and bridges only, and the state legislature has chosen to distribute virtually nothing through its general fund to transit (though it has spent some money on capital improvements recently).
After reaching a peak in 2009, MARTA transit service was reduced substantially. Those service cuts have been somewhat but not fully restored in the past few years. New demand-response services in the suburbs offered by ride-sharing companies like vRide also fill gaps, but they serve very few people per vehicle compared to buses or trains.
"The people who have felt the burden of this reduction in service are the people who depend most on it," said Simon Berrebi, head of the advocacy group MARTA Army. "It's important that we incorporate their needs." Indeed, the cuts to MARTA were especially painful because the agency carries 94 percent of transit passengers in the region, though it accounts for 68 percent of regional service.
Grading Atlanta transit service 
The MARTA system has a strong backbone but it's showing its age. Atlanta transit services simply haven't improved as the region has grown substantially in recent years.

Strengths
Frequent rail service can serve as an important rapid transit backbone for the region.
Fare cards grant access to most of the region's transit services with free transfers.
Weaknesses
Transit service has not kept up with population growth.
Areas with the highest number of transit riders are not well-connected to major job clusters.
Frequent bus service is too sparse to be a reliable all-day travel option.
Coming next
In the upcoming articles about Atlanta, I'll delve into how land use affects transit in the region, then discuss how future transit investments could change the landscape for residents by opening up access to more places.
Stay in touch
Sign up for our free newsletter