Freight
TIGER's Love Affair With Freight — And Bikes
12:37 PM EDT on April 26, 2013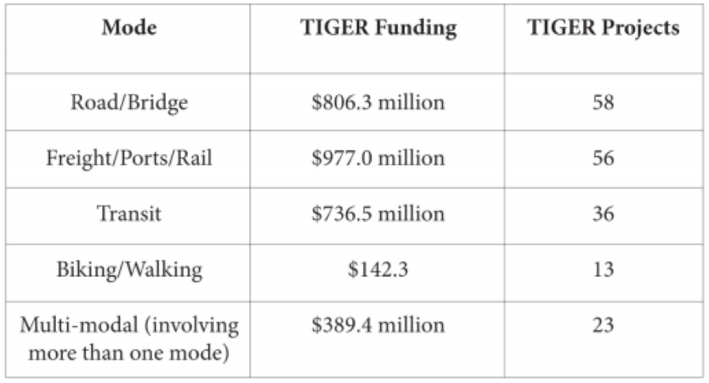 This article is the second of a two-part series about how U.S. DOT's Transportation Investment Generating Economic Recovery program -- TIGER, a discretionary grant program that got its start under the Recovery Act in 2009 -- has made transportation planning more strategic, based on a benefit-cost analysis and national goals. Read the first part here, about Republicans' empty charges of political bias. 
U.S. DOT has committed to maintaining geographic equity and a set-aside of roughly a quarter of each TIGER grant cycle to rural areas. (The Eno Center for Transportation, which just released a report on lessons learned from the TIGER experience [PDF], notes that that commitment has probably also been the key to making the program politically sustainable.) But as always, there's a problem of definitions. What qualifies as rural? Should grantors strive to give equally to each of the four traditional regions, or should grant amounts be proportionate to population?
In the end, DOT tried to be equitable to the four regions, by population, within a range of 12 percent. But maybe it shouldn't really matter who lives in a certain area as long as the benefits of a project are spread out? For example, freight projects like the CREATE program -- a freight rail project in Chicago -- benefit the whole country, not just the community they're located in.
And freight has been a big winner with TIGER, winning nearly a third of TIGER funds throughout the four grant cycles – something U.S. DOT officials wouldn't have guessed would happen at the outset. But freight is often a perfect candidate for discretionary federal grants. Complex, interconnected, intermodal freight projects that move commerce have "elements that really don't fit inside the tidy boxes that state DOT are able to deal with," said Leslie Blakey, executive director of the Coalition for America's Gateways and Trade Corridors. The focus on national and regional significance is one area where states fail, as they are only in tune with their own needs, not the needs of the whole country.
It's not just TIGER: MAP-21 has gotten U.S. DOT to focus on freight in a way it never has before, and Congress is following suit, holding the first hearing yesterday of a newly-appointed special panel on freight. But TIGER led the way, bringing together various modal agencies to think strategically and holistically about the freight system. Though TIGER had limited funds to work with, the emphasis on intermodalism was a rare and necessary prerequisite for a useful conversation about freight.
Freight is also a prime example of the way TIGER funding can fill in the gaps between public and private funding. Private investment is "naturally part of the freight system," according to Blakey, in a way that isn't necessarily true of other areas of surface transportation. The private sector may be willing to fund the lion's share of a freight project but doesn't want to invest in certain elements that are purely for public benefit. That's an ideal place for TIGER to fit in – to cover just a portion, in partnership with private investors.
Alan Pisarski, a conservative transportation consultant who has advised everyone from the state of Kansas to the World Bank, said it might have been more efficient -- especially during the first round of TIGER -- to pour money into existing modal silos, rather than reinvent the bureaucratic wheel. Weren't those siloes just replicated within the TIGER program, along with other categorical splits like urban versus rural?
He has other doubts about TIGER, too. Why hasn't the administration insisted the grantees do a "before and after" portrait, comparing the benefits envisioned in their proposals to reality? And what's so great about rewarding "untraditional" projects anyway? Why aren't the criteria more concrete? How many of the projects really had any regional or national significance?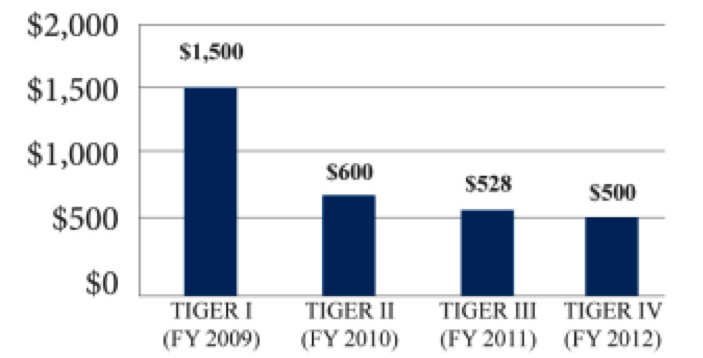 That last one is a tricky one. It can be hard to prove national significance, especially for smaller projects – which can be some of the most innovative ones. Besides, there are more and more small projects now -- and fewer and fewer big endeavors like CREATE -- as TIGER has been funded at lower levels and U.S. DOT is bound to maintain the same geographic distribution.
But those small projects are sometimes the most innovative.
"At DOT, we think the country is evolving on what it needs in terms of transportation," U.S. DOT Undersecretary Polly Trottenberg said. "We are moving in a more multimodal direction. We are fans of things like biking and walking." Very few TIGER programs were exclusively for biking and walking, but many road or bridge projects incorporated transit or bike/ped into them. Given that they're building infrastructure that will have a 50- or 100-year life span, "I think that's smart," Trottenberg said. "I'll defend it."
Complaints about transparency -- just sour grapes?
Despite occasionally echoing some of Pisarski's (and other) concerns, Congress hasn't shown any real zeal to stop funding TIGER. Still, it passed up the chance to authorize the program in the last transportation bill, opting instead to sub in the Projects of National and Regional Significance – a program that used to be eaten up entirely by earmarks – and only fund it for one year. Eno said that to get lawmakers on board with TIGER, they need to have more of a role.
Eno's Joshua Schank suggested looking to New Starts as a model, as lawmakers get a final say over New Starts projects. Trottenberg said that Congressional approval could dramatically lengthen the process, adding two years to a project, especially if DOT then needs to wait for Congressional appropriations cycles for funds to be allocated.
TIGER has also been criticized for a lack of transparency. A 2012 GAO report generally praised the administration of the program but said more documentation explaining some project selection decisions could have been helpful. Perhaps some of the opaqueness was just inexperience or even chaos: Starting out under the Recovery Act, they were a brand new administration, with a brand new staff, developing a brand new process under tight deadlines.
Still, Trottenberg said, TIGER officials have been accountable to grant applicants to an unprecedented extent. "Anyone who was serious who wanted to learn why they didn't win and how they could do better," she said, "we would sit down with them for exhaustive hours and really talk through why their application didn't work, what they could do better."
But in the end, she said, some criticism of the program is just sour grapes, caused by the fact that there's so little money to go around to so many eager applicants. "There will always be a lot of frustration and always a feeling that we didn't do it right, and that's why people didn't get funding," she said. Across the four rounds of TIGER that have already been granted, DOT has received about 35 times more applications than it could fund.
Tanya became Streetsblog's Capitol Hill editor in September 2010 after covering Congress for Pacifica Radio's Washington bureau and for public radio stations around the country. She lives car-free in a transit-oriented and bike-friendly neighborhood of Washington, DC.
Stay in touch
Sign up for our free newsletter