Highway Removal
McClatchy Muckrakers Expose Seedy Underbelly of the Highway Bonanza
12:51 PM EST on February 12, 2013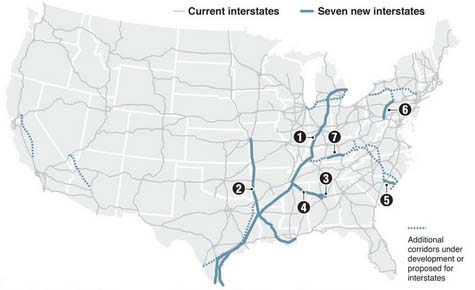 The work of a sustainable transportation reporter can be a lonely lot. But it's a lot less lonely now that two McClatchy reporters, Curtis Tate and Greg Gordon, have taken up the mantle of exposing wasteful road expansion.
With their far-reaching and well-researched three-part series, published last Sunday, Tate and Gordon brought stories of highway corruption and waste to a mainstream print audience. They spent four months researching the series, digging into 15 years of campaign finance records and interviewing leaders inside and outside of the transportation field.
"America's highway system," they wrote, "once a symbol of freedom and mobility envied the world over, is crumbling physically and financially, the potentially disastrous consequence of a politically driven road-building binge."
Kentucky and South Carolina still gripped by highway madness
Tate is from the same hometown as Rep. Hal Rogers, the powerful Kentucky Republican who wields the gavel of the Appropriations Committee in the House. Tate couldn't help but notice that Kentucky was using its federal formula funds to build Rogers' pet project (I-66) while borrowing against future federal highway funds to do badly needed maintenance and repair work. The state has even used $4.2 million in interstate maintenance funds for I-66, despite the fact that the project didn't meet the necessary criteria.
Meanwhile, although surrounding states have given up on their plans to create a new interstate, I-69, Kentucky charges forth. Rogers and Democratic Governor Steve Beshear "have received large contributions from road builders and highway engineers" but deny that these donations have influenced their zealous cheerleading for the project. Kentucky's part of the new interstate will essentially stitch together three existing roads and slap the number 69 on them – meanwhile widening shoulders and reconfiguring interchanges simply to meet interstate standards. Tate and Gordon said that their "examination of campaign finance data revealed a mutually beneficial relationship between Kentucky highway contractors and their local and state elected officials."
But this story doesn't end with Kentucky. The push to get I-73 built in South Carolina is just as unsavory (although it doesn't end, as the Kentucky story does, with the former governor and 15 members of his administration getting indicted on corruption charges related to politicking in the transportation department).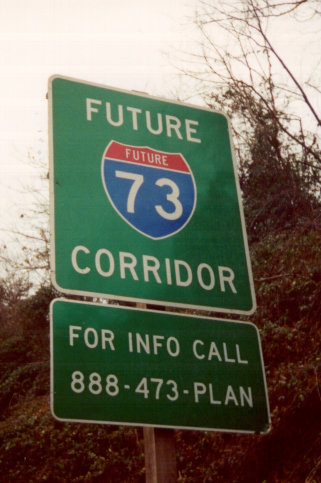 In South Carolina, business leaders wanted a straight path (read: six-lane highway) from I-95 to Myrtle Beach, a popular tourist destination. They commissioned economic studies, bought ads, lobbied elected officials, brought 75 members of Congress down to Myrtle Beach for tours, and paid handsomely into campaign war chests. Supporters, like Senator Lindsey Graham, promised it would be the "largest economic development project in South Carolina history."
Environmentalists had an alternative plan to upgrade the parallel U.S. 501 at a tenth of the cost, without destroying the wetlands that lie in the path of the proposed route. They said it would provide nearly the same economic benefit.
Power brokers in Congress and business have secured hundreds of millions of dollars for related activities, like building a bypass. I-73 was designated a "Project of Regional and National Significance," entitling it to a pot of money for such projects that really ended up being a slush fund for Congressional earmarks.
Thankfully, the road still hasn't been built. Neither has the lower-cost alternative. The state simply ran out of money.
South Carolina has the benefit of having a state infrastructure bank that's been spotlighted as a model for the nation. But that infrastructure bank is out of money, too.
As the final nail in the coffin, two months after the South Carolina Transportation Commission voted in March 2007 to name I-73 the state's top transportation priority, Transportation Department engineers evaluating the project found that it didn't meet their state-mandated criteria. Late last year, the commission finally voted to cancel the project – but supporters won't let it die. They say they're "pressing forward."
As Tate and Gordon illustrate, this battle between highway fantasy and budget reality is nothing new for the Palmetto state:
South Carolina's state-owned highway network grew during a spending splurge to more than 41,000 miles, the fourth most in the nation, even though the state ranks 40th in land area.

Numerous state officials criticized rural legislators who demanded that the proceeds of a nickel-a-gallon hike in the state gasoline tax in 1987 be used to produce a maze of outlying highways.

As a result, some four-lane state highways led "from nowhere to nowhere," such as from Abbeville to Greenwood, with a combined population of 28,000, said Republican state Rep. Tracy Edge of North Myrtle Beach, an I-73 supporter.

But times have changed in South Carolina, which was swept by anti-tax fervor and hasn't raised its 16-cent-a-gallon gas tax in a quarter-century. It's now the third lowest in the nation.

Jim Warren, the state Transportation Department's chief financial officer, said South Carolina faced "a broken paradigm" in its highway funding.

Slow to fully recognize the impact of these combined forces, state officials kept commissioning highway projects until the money ran out in the summer of 2011, forcing some contractors to wait months for payment. The state also deferred maintenance, which multiplies future repair costs.

In December, South Carolina's Transportation Infrastructure Task Force reported that it would cost $48.3 billion to bring the state's highways to "good" condition over the next 20 years – exceeding anticipated funding by $23 billion.
The need for national transportation goals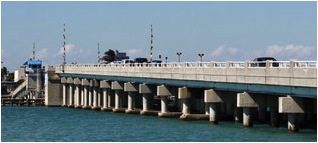 The McClatchy series doesn't stop at Kentucky and South Carolina. Texas, California, and North Carolina also come up billions and billions short of what they'd need to keep their road systems in good repair. Florida and Washington state are finding that, with federal help less reliable and less robust than in recent years, they just can't keep their transportation networks in good condition, much less build new infrastructure.
States are "spending too much on building highways and too little on fixing them," write Tate and Gordon. And, they say, it's going to cost six to 14 times more to overhaul those roads later on than it would to keep them in good shape now.
The authors point to familiar culprits: aging infrastructure, the stagnant and weakening gas tax, political concerns – and they add to that list the lack of "well-defined national transportation goals," saying that Washington has ceded control of transportation decisions to the states, "leaving a large portion of federal money up for grabs for those with the most clout." Although the federal government pays for up to 80 percent of states' transportation spending, they don't say nearly enough about where that money should go. To make matters worse, they don't collect or publicize data about where it went.
In addition to the inadequacy of the gas tax, the authors sound a warning for states to resist the temptation to issue more bonds to pay for extravagant transportation spending. "According to Federal Highway Administration data, all states carried a combined $56 billion in road bond debt at the end of 1995, in current dollars," the authors wrote. "By 2010, they owed $154 billion."
What South Carolina did – put the brakes on I-73 – is actually a brave and difficult thing for a state to do when a project has developed a momentum and a constituency of its own. Tennessee has done the same thing, notably with its part of I-69, which Kentucky is still champing at the bit to build. Pennsylvania did it years ago under Transportation Secretary Al Biehler, who now advises other states on how to live within their budgets.
Tate and Gordon even make reference to the Republican war on Transportation Enhancements: "While some lawmakers railed against spending millions of federal dollars on bike paths, flower beds and train museums, others brought home vastly more money to cast their legacies in concrete, even if just to construct an interchange or a few miles of pavement."
MAP-21 paid lip service to keeping states accountable for maintaining their roads -- which would keep them from expanding highways -- but many advocates worry the performance measures don't have enough teeth to make a real difference.
Tanya became Streetsblog's Capitol Hill editor in September 2010 after covering Congress for Pacifica Radio's Washington bureau and for public radio stations around the country. She lives car-free in a transit-oriented and bike-friendly neighborhood of Washington, DC.
Stay in touch
Sign up for our free newsletter