Jerry Wray
The State DOT Revolving Door: Meet Jerry Wray, Ohio's "Asphalt Sheriff"
2:43 PM EST on January 29, 2013
One of the top goals of the national transportation reform movement is to get state DOTs to spend their money more wisely. The feds distribute tens of billions of dollars to state DOTs each year with very few strings attached. But for every state like Massachusetts or Tennessee that's decided to shift toward building walkable streets and away from highway construction, there are plenty of state DOTs that continue to build very expensive, sprawl-inducing roads, even though they can't afford to maintain what they already have.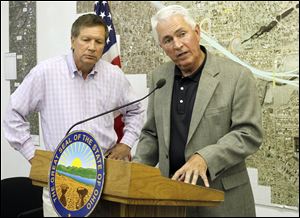 In many states, big decisions about how to spend money have less to do with the actual public benefits of a given project than the rewards that accrue to elected officials. With billions of dollars at stake, transportation departments can be used to reward favored constituencies or to achieve other political goals. Witness Birmingham's $4.7 billion zombie highway, which won't do much besides line the pockets of politically-connected companies. Or how about New Jersey Governor Chris Christie's decision in 2010 to kill the ARC rail tunnel connection to New York's Penn Station, which threw away years of preparation so Christie could win national attention from movement conservatives and appeal to his suburban base by diverting the funds to roadbuilding.
Sometimes transportation decisions amount to little more than cronyism, which is never more obvious than when a governor hires an industry lobbyist to run his state DOT. For this series, which we're calling "The Revolving Door," Streetsblog looked at three states where governors have gone so far as to put a lobbyist for the roadbuilding or energy industries in charge of transportation policy.
To kick off the Revolving Door series, we're taking a look at Ohio Department of Transportation Director Jerry Wray, nicknamed the "asphalt sheriff," who managed to sandwich a lobbying position at an asphalt industry group in between his two terms as ODOT head.
"ODOT is a machine for the road contractors. Everything that they do is intended to produce more gas tax revenue so there can be more revenue for ODOT."

- Ken Prendergast, All Aboard Ohio
Wray first filled ODOT's top office under Republican Governor George Voinovich in the 1990s, when he was often accused of favoring the asphalt industry, according to the Columbus Dispatch. After "retiring" from ODOT in 1999, he became vice president of Flexible Pavements of Ohio, an asphalt industry lobbying group. He was then brought back into the public sector when Republican Governor John Kasich took office in 2009. Major road builders like Columbus-based Kokosing Construction and its founder Bill Burgett were among Kasich's largest donors.
Right away, Wray and Kasich let Ohioans know they had new priorities for the state -- the kind of priorities that would certainly please Wray's former employer. In an interview with the Columbus Dispatch, Kasich said he and Wray shared a similar philosophy on transportation: namely, a deeply partisan obsession with obstructing the state's passenger rail plans -- the "3C" train service connecting Columbus, Cincinnati, and Columbus Cleveland that the Obama administration had pledged $400 million to start up. "His people that he will bring on will understand: no games, no politics, no train," Kasich said of Wray. Killing the train -- which would have cost the state a paltry $17 million annually to operate, less than the state currently spends cleaning and maintaining highway rest areas -- was Kasich's first act after being elected.
Wray and Kasich made it clear they were no friends of city transit either. Upon his appointment, Wray told the Cleveland Plain Dealer that promises of $150 million in additional funding for state transit agencies made by outgoing Governor Ted Stickland were null and void.
"It is available for other uses," Wray said. "We'll also have to look at whether or not it needs to be used to help with the general revenue fund and balancing the state budget."
Ken Prendergast of the rail advocacy group All Aboard Ohio says Wray's ODOT might better be known as the Department of Highways, because "anything you're trying to do other than highways is not an ODOT concern."
"ODOT is a machine for the road contractors," he said. "Everything that they do is intended to produce more gas tax revenue so there can be more revenue for ODOT."
Since coming into office barely two years ago, Wray has taken an axe to nearly every major project that would benefit rail, transit, or city development. The Cincinnati Streetcar, which the Strickland administration had rated as the best transportation project in the state, was stripped of all $50 million of promised funding. Cleveland's "West Shoreway" highway teardown got similar treatmentfrom the state's "non-partisan" funding board.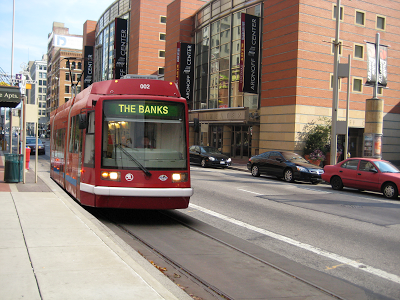 In contrast, sprawl projects like an $83 million bypass around the tiny Appalachian city of Portsmouth (population, 20,000) have received generous support [PDF].
Recently, Wray again came under fire for favoring the asphalt industry. Last May, the Columbus Dispatch reported that Wray had beefed up a price-stabilization program for asphalt, where the state steps in and absorbs additional costs if the price of oil -- a key ingredient in asphalt -- rises between the time of bidding and construction. Concrete pavers say it amounts to a wasteful subsidy for their asphalt industry competitors, and the FHWA agrees, recommending in a 2008 memo that states avoid the practice for projects that concrete and asphalt pavers both bid on.
Meanwhile, Kasich is desperately searching for new highway money to make up for lagging state gas tax revenues and recently set out to find private funds to prop up ODOT. His bid to sell the state's rest stops flopped. Then, he made leasing the Ohio Turnpike to a private company a key administration priority, only to abandon plans late last year.
Prendergast says declining vehicle miles traveled is throwing a wrench in ODOT's whole business model. Rather than rein in spending however, Prendergast says ODOT has been borrowing against future gas tax revenues that may or may not materialize.
"Miles driven is dropping," Prendergast said. "The number of people getting drivers licenses is dropping. The amount of gas tax revenue is falling. Their presumption is that if they can add more lane miles they will reverse that trend."

Stay in touch
Sign up for our free newsletter