Day One of Votes: Senate OKs Two Amendments, Rejects Keystone Pipeline
After two consecutive failed attempts, floor votes are finally proceeding on the Senate's two-year, $109 billion transportation bill. The votes come on the heels of an agreement between party leaders Harry Reid and Mitch McConnell, which will allow certain non-transportation-related amendments to be voted on. As part of the deal, those amendments will require 60 votes for passage instead of the customary simple majority.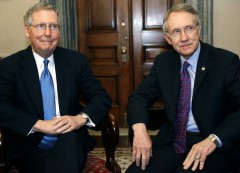 Yesterday, the Senate voted on seven amendments (out of 30) and one motion to waive certain provisions of the Budget Control Act. They passed two amendments, and the motion carried, setting up more votes on Tuesday, and a possible final vote on the bill later next week.
The budget controls waiver was important enough that majority leader Harry Reid made sure it would see a vote on the first day. If that motion were to fail, the Senate would essentially have to start over with its bill.
The two amendments that passed each did so with considerable bipartisan support. One committed extra funding to rural schools in areas where federal lands cut into the property tax base, and another directed 80 percent of BP's Deepwater Horizon spill settlement to Gulf Coast states to aid in environmental cleanup.
Of the five rejected amendments, three received a majority of votes but fell shy of the 60-vote threshold necessary for adoption. Two rejected amendments — one sponsored by a Democrat, Ron Wyden, and one by a Republican, John Hoeven — dealt with the Keystone XL pipeline, which President Obama has repeatedly come out against, at least as currently proposed.
The national media have taken note of the close call on Hoeven's amendment. Eleven Democrats voted in favor of authorizing the pipeline, giving it an easy majority at 56 votes, but not quite the 60 votes they needed to pass it. Add in the two Republicans who couldn't vote, Mark Kirk (recovering from a stroke) and John Thune (death in the family), and they cut it even closer.
There are only 23 amendments left to go, including five more non-germane amendments (four require a 60-vote majority to pass). If the Senate can approve the entire bill in the next week or two, and the House's week-long recess is not enough time to drum up support for its own five-year bill, Speaker John Boehner has indicated he will take up the Senate bill. If that happens, expect the House to throw its own amendment parade, too.
T4America's amendment tracker has been updated to reflect yesterday's results, but here is a handy summary of the day's votes:
Fourteen Republicans voted to waive the Budget Control Act. One Democrat, Mark Warner of Virginia, voted against the motion.