Elections
The Anatomy of a Successful Transit Ballot Measure
3:41 PM EST on November 16, 2011
Last week, people went to the polls in four states to vote on transit-related ballot initiatives. Of 10 measures transit advocates were watching closely, seven of them were victories. Last night, I had the opportunity to hear from Jason Jordan of the Center for Transportation Excellence about what makes a successful transit ballot campaign. Here are his tips for success:
Strategize about timing. Decide whether to put your initiative on the ballot during a high-turnout even year (when Congressional or even presidential elections are happening) or an odd year or special election with fewer items on the ballot and lower turnout. It's a strategic question, Jordan says, with no right or wrong answer, but it needs to be considered. In a general election, media costs can be higher because turnout is high, and your campaign isn't the focal point of the election. It's easy to hide, he said, but also easy to get lost. In a special election, you can microtarget your message and turn out your base, which might be enough to swing the vote. You don't have to spend as much time trying to sway the undecided.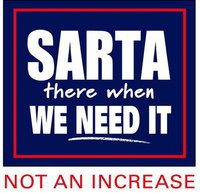 Go for an easy target. Measures to renew taxes tend to be easier battles than those to create new taxes or raise taxes. Ohio's Stark Area Regional Transit Authority (SARTA) put "Not an Increase" right in the campaign logo for its May ballot measure – and it passed, 66 to 34. Similarly, campaigns trying to maintain current services are more successful than those seeking big expansions. Northwestern Michigan's Benzie Bus asked voters merely to "Keep it Rolling."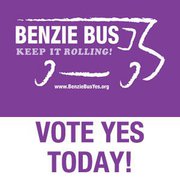 Be specific. The more specific the benefits, the more likely people are to vote in favor of transit. If they can see what's in it for them, they'll be willing to pay for it. Even people who don't normally take transit are brought along by good messaging created by transit users and advocates. Many campaigns have used the slogan, "Some of us ride it; all of us need it." Many people blame the three-way split of benefits for the defeat of the Seattle car tab measure, which would have funded transit, road repair and bike/ped projects with a $60 vehicle fee. Some have suggested that Mayor Mike McGinn's idea of a higher fee would have been more successful, if it had been easier to show that it would have funded a streetcar network.
Round up the big players. If you can, enlist big players to fund the campaign. Initial polling for the anti-transit Initiative 1125 in Washington state showed about 60 percent in favor. The campaign then brought two big future beneficiaries of the light rail project on board to help finance the No campaign. With Boeing and Microsoft's help, they were able to turn the vote around. Even if you don't have anything that big to tap into, there's always the local Chamber of Commerce.
Work your message. Initiative 1125 would have put tolling in the hands of the legislature, instead of the appointed state Transportation Commission, making tolling a more politically dangerous act. The campaign against the measure managed to craft an anti-tax message around this concept: If it's harder to toll, they'll just raise our taxes, and no one wants that!
Start at the beginning. Before you can bring a measure to the ballot, you need to make sure you have the authority to do so. Until recently, Jordan said, the only North Carolina county with ballot authority was Mecklenburg County, which includes Charlotte. "Now," he said, "the floodgates are open." Raleigh and Durham county both had successful campaigns this year.
Pick your poison. Of all transportation measures, 38 percent involve a sales tax and 29 percent involve a property tax. Property tax measures win 80 percent of the time. Bond measures, which represent only 10 percent of all initiatives, win even more often, probably because voters don't see it as a cost they have to pay. Only three percent of measures involve a vehicle fee like the one rejected in Seattle, but as other avenues are tapped out, vehicle fees may become more popular.
The votes show no partisan divide. Transit measures don't go red or blue. In 2010, 77 percent of positive transportation initiatives were approved in areas that elected Democrats versus 69 percent in areas that elected Republicans – not a huge difference.
They also show no urban/rural divide. While urban areas are known for high ridership, cuts may be even more dramatic in rural areas with small systems – especially systems primarily used by vulnerable populations. In some cases, the ballot measure might decide whether a community has a dial-a-ride service for seniors or it doesn't.
It's not bad to go negative. If you find yourself having to fight off a negative ballot initiative, like 1125 in Washington, don't despair. Despite the impression you might get by the overwhelming victory rate for transit measures, Jordan says it's actually easier to win a No campaign than a Yes campaign. After all, he said, people default to the status quo, and that's a No vote on anything new.
Jordan didn't mention this one, but I will: Some transit advocates say it's important to acknowledge corruption and mismanagement in your transit agency if that's been a public issue. It can be hard to ask people to pay more to an agency known for squandering resources. But you're not going to skirt the issue by avoiding it.
Next year, Jordan expects contests in Orange and Wake Counties, North Carolina, following the success of the Durham sales tax campaign. Alameda County, California will likely vote to extend – and possibly even raise – the sales tax for transportation. Also in California, Marin and Sonoma Counties will likely have to fight against measures to repeal a 2008 tax. Denver is looking at a campaign to devote sales tax revenues to FasTracks, the ambitious regional rail and bus network. Baton Rouge, Louisiana will look for transit funding. A statewide ballot measure in Idaho could seek ballot authority for transportation campaigns, in an attempt to follow the North Carolina model. And Atlanta could go for a one percent sales tax in the 10-county region in July.
There has been a surge of ballot measures for transportation lately, and Jordan had a few ideas about why. For one, there simply may have been pent-up demand after the recession hit, and jurisdictions can't wait any longer. Also, as local areas get tired of waiting on Washington, they're taking matters into their own hands. Also, word is out that this works: Transit has a 70 percent victory rate since 2000, and it's up to 79 percent this year. Positive transportation measures win at twice the rate of other ballot initiatives.
In fact, Jordan said he's almost getting concerned that the success rate is too good – he doesn't want anyone thinking that local areas are so good at this that they might as well bear the full responsibility for transportation funding, and take it away from the federal government. He emphasizes that in the end, the primary responsibility for transportation funding does, and should, lie with the feds.
CFTE has lots more resources on how to build a successful transit campaign. Their "Building Communities Through Public Participation" guide [PDF] is especially thorough, but they have a wealth of information for anyone who's looking.
Tanya became Streetsblog's Capitol Hill editor in September 2010 after covering Congress for Pacifica Radio's Washington bureau and for public radio stations around the country. She lives car-free in a transit-oriented and bike-friendly neighborhood of Washington, DC.
Stay in touch
Sign up for our free newsletter