Cars
Would President Romney Build Roads or Rail?
11:01 AM EDT on September 27, 2011
All eyes are on Texas Gov. Rick Perry these days, the faraway frontrunner in the Republican race. But as the primary goes on (and on and on) more Republicans might take note of the fact that in a matchup with President Obama, only one candidate stands a chance of winning: former Massachusetts Gov. Mitt Romney.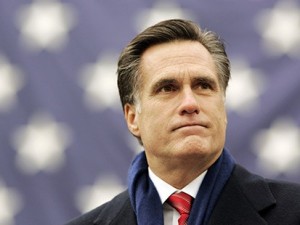 According to the most recent polling data, Obama trounces Gov. Perry. He makes mincemeat of Bachmann and Gingrich. Only one poll shows a winning Republican candidate, and that's Romney, with a two percent edge over the president in a recent USA Today poll.
We took a hard look at Rick Perry's approach to transportation last fall, when he was running for re-election. As Texas governor, Perry championed a mega-highway plan that would make the Road Gang blush. He blocked metrorail extensions and vulnerable users legislation.
But what about Romney? His record as a red governor of the blue state of Massachusetts is a little more complex, and worth exploring.
In a recent Boston Globe story comparing current Democratic Governor Deval Patrick with his predecessor, Romney emerges as the more inspired candidate when it comes to smart growth. (It doesn't help that Patrick was caught driving around in an SUV last week while telling his constituents to observe car-free week.)
According to the Globe, Patrick has done away with a program originated under Romney to encourage "mixed-use, walkable, downtown-centered, transit-oriented growth" and counter sprawl.
Under the Romney program, communities got credit for green building, saving energy, preserving open space, and zoning reform, among many other categories. Those that scored highest went to the front of the line to receive about $500 million per year in grants and revolving loan funds for infrastructure including water and sewer projects. The idea was to put state funding to municipalities through a filter, and reward innovation in sustainability at the local level; previously the money was just doled out.
Romney also pioneered an interagency partnership in Massachusetts not unlike the Obama administration initiative that brought together HUD, USDOT and EPA. Romney's Office for Commonwealth Development brought together state agencies on transportation, environment, housing, and energy -- a collaboration which has served as a model for other states. To head it, he hired Doug Foy, the head of the Conservation Law Foundation and "arguably New England's most important environmentalist," according to ModeShift.
Romney's administration encouraged brownfield, instead of greenfield, development and created a bond program to encourage transit-oriented development. And ModeShift says he was "for RGGI (the Northeast regional greenhouse gas emissions compact) before he was against it."
That highlights one fundamental truth about Mitt Romney, which is that it's sometimes hard to know what is the fundamental truth about Mitt Romney. The man who brought health care reform to Massachusetts is not the same animal currently fighting for the right-wing-extremist vote in the Republican primary.
Romney is "neutral" on the idea that human pollution is a significant cause of global warming and opposes international climate treaties like the Kyoto Protocol. He's pro-nuclear and pro-drilling (including in protected areas in Alaska). And as governor, Romney "used approximately $45,000 in the state's parks and conservation money to stage a pre-Super Bowl send-off rally for the New England Patriots football team on January 30," according to the Boston Globe.
Indeed, according to a story printed by the Massachusetts Audubon Society, Romney "viewed land protection as a barrier to his top campaign pledge to double housing production." Romney shelved the Statewide Open Space Plan soon after entering office, according to the story.
Gov. Romney also gets a lot of blame for reneging on promises made by his predecessors to build transit to offset some of the environmental damage done by the Big Dig road project. According to an editorial in the Harvard Crimson:
As part of the 1990 legal agreement to begin the Big Dig highway project, Massachusetts promised to fund a number of desperately needed public transportation projects in order to ameliorate the increased pollution and traffic that the new highway would generate. But the Romney administration has consistently downsized, delayed, or outright terminated most of the projects that were included in the 1990 agreement, choosing instead to divert transportation funds to other expensive highway projects and mass transit extensions that would primarily benefit the Commonwealth's more affluent residents.
Many of the transit projects, like a green line extension to Somerville and Medford, and orange line service in Jamaica Plain, are still in limbo.
But given that Boston has the oldest transit system in the country, with badly deteriorating infrastructure, the restraint when it comes to new construction may not be a bad thing.
"I think it's admirable that these guys [Patrick and Romney] have taken safety and maintenance as their prime goals, and capital projects have to take a back seat," said Ted Brown, a former city transportation official and writer of the Boston-based Radials blog. "I think that's a pretty good judge of what people want."
Romney did have a significant hand in improving the transportation bureaucracy in his state. There was no Massachusetts Department of Transportation until two years ago. Seven different entities had some hand in transportation planning and building, according to Brown, with the Turnpike Authority being the biggest and most powerful. The authority was independent until this year. Romney got the ball rolling on unification of the transportation work in the state and the creation of the department.
Meanwhile, the commuter rail system was privatized under Romney, but perhaps not of his own choosing: After a series of disagreements with the T, Amtrak declined to bid on the commuter rail service contract in 2003. The Massachusetts Bay Commuter Railroad Company (MBCR) now runs the rail system, and according to Brown, privatization was "not the worst thing in the world."
Romney invested in the improvement of certain lines as part of the privatization process. Some saw the improvements, performed before handing over operations, as a donation of sorts to a private company, but Brown said it had the important effect of improving the stations and making commuter rail a more viable service. Besides, he said, for riders, "it's the same deal." He said the switch was seamless, and few noticed a change.
Soon after the 2008 election was sewn up, Romney came out opposing the auto bailout, saying it would encourage Detroit automakers to "stay the course — the suicidal course of declining market shares, insurmountable labor and retiree burdens, technology atrophy, product inferiority and never-ending job losses."
His opposition certainly had nothing to do with a principled stand against car subsidies or promotion of clean-fuel vehicles. Indeed, during the 2008 campaign, he told a Michigan audience that he would help "build a brighter, prosperous future" by championing the auto industry, and he attacked opponent John McCain for backing fuel economy standards, calling them "anvils around the neck of the domestic auto manufacturers."
We'll take a look at other candidates' transportation records as the primary season unfolds.
Tanya became Streetsblog's Capitol Hill editor in September 2010 after covering Congress for Pacifica Radio's Washington bureau and for public radio stations around the country. She lives car-free in a transit-oriented and bike-friendly neighborhood of Washington, DC.
Read More:
Stay in touch
Sign up for our free newsletter