Bicycling
Cyclists Descend on Capitol Hill, Ask Lawmakers to Preserve Bike Funding
1:33 PM EST on March 11, 2011
Every year, the cyclists that gather in Washington for the National Bike Summit meet with hundreds of Congressional offices to ask for expanded bike funding. This year, they're just asking lawmakers not to cut it.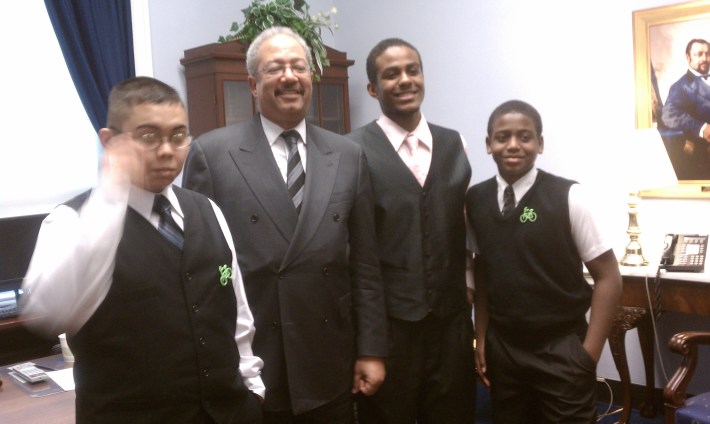 With an anti-spending mood prevailing inside the Beltway, bicycling advocates are trying to be realistic. "We haven't forgotten that there's a bill out there that still needs support," said League of American Bicyclists President Andy Clarke, referring to the larger transportation bill that will lay out the federal investment in bicycling. "We want to work a slightly different strategy and find out who is willing to support something like that up on the Hill, without making it 'The Big Ask' for everyone."
The League and America Bikes, which ran the legislative sessions at the Summit, outlined their strategy for preserving what they've fought so hard for in previous years:
The business aspect. America Bikes put together fact sheets for each individual district showing how much money that district has received for "transportation enhancements" (TE) like biking and walking, how much they've invested in Safe Routes to Schools, how many bike retailers are in the district, and how much money those retailers bring in. In most cases, the numbers show that retailers earn in one year about one-half to one-third of the amount spent on TE in the past 17 years – a pretty good return on investment, they'd argue. (Those district data sheets, which also include local legislation and advocacy groups, will be online soon at www.americabikes.org.)
The local aspect. In their 400 meetings with Congress members' offices, advocates made the case that bicycling is important to constituents by talking in detail about the popular trails and busy commuter routes in each district, as well as the bike stores and local business. They invited lawmakers to join them for a bike ride, an event, or a ribbon-cutting for a trail as a way to get the member to have a personal connection with biking in the district. Their motto was "don't cut what you haven't seen."
The ask. Lots of members of Congress will tell you how much they love biking. They'll go on at length about how many miles they put in each week, how they ride to their district office in spandex, how they've taught their kids to ride bikes. But do they support continued dedicated funding for bicycling and walking programs like transportation enhancements, Safe Routes to School, and the Recreational Trails Program? That's what advocates were trying to pin the offices down on. "If they say they support biking but they don't support funding for these programs, they don't support biking," said one movement leader.
Many members, especially new members, feel that they have a mandate to "clean house" and cut spending. "My response is that we offer a great value and we save money," said Caron Whitaker of America Bikes. "We're a cheap date."
One panelist at the Summit, Jay Walljasper, said high gas prices will continue to put people on bikes. "It's the second time in two years gas prices have gone up," he said. "The first time is a fluke. The second time is the future."
I sat in on several lobby sessions with Summit participants.
Ohioans told House Speaker John Boehner's office they didn't want to lose more young professionals looking for a better quality of life in cities like Portland. They said bicycle infrastructure makes a huge difference in the bike business, and since the paper company left, it's a significant source of employment. They said one of the number-one indicators of small-town revitalization was bicycle infrastructure and walkability. They said we could reduce our dependency on foreign oil if we went by bike on some of the 40 percent of trips that are within two miles of home. They promised they aren't "anti-car green zealots" trying to "bike-path over the world" -- they just want some bike racks and trails. They invited Boehner to join the Congressional Bike Caucus, and they made it clear they're not even asking for equitable funding, as they normally would; they're just asking to preserve current levels. "It's a sliver sliver sliver," said one advocate, "but it's changed our communities."
New Yorkers told Senator Chuck Schumer about the growing enthusiasm for – and business of – cycling outside of New York City. They said bicycles provide the first- and last-mile connectivity for transit, filling in gaps that a bus network could never fully cover. They showed charts illustrating that cycling rates go up -- and fatalities go down -- with new infrastructure. They said bikes (and bike lights) are critical for people trying to get off welfare who get jobs on the midnight shift when buses aren't running. They let the staffer know that under the president's proposal, bicycling will fall under the category of "livability," and they want Senator Schumer to support the funding levels Obama proposed.
The Virginia group encouraged the freshman Republican Robert Hurt to be a "hero" in his district. They told his aide that with gas prices rising, they hear people saying, "I'd love to ride my bike for health reasons, for transportation -- but I feel like I'd get killed on the road," and they want to make sure new cyclists can go out with confidence. They said bicycling was a "back-to-basics" solution for health and fiscal problems: "It's simple and it's cheap." They said transportation enhancements are a tiny percentage of the federal program and they more than pay for themselves.
Teenagers from Philadelphia spoke to the entire Southeastern Pennsylvania delegation about their Neighborhood BikeWorks program that teaches kids how to work on bikes and eventually earn one of their own. Cyclists listened as Oklahoma Senator James Inhofe's aides tried to convince them that although their boss tries at every chance to strip federal bike funding, he's really not against bikes. Hoosiers sought clarification from an Indiana member who had said in a field hearing that bikes shouldn't qualify for federal transportation funding. Oregon Senator Ron Wyden spent a half hour of his own time with his constituents, repeatedly asking what he can do to help cyclists.
Of course, follow-up is 75 percent of the job when it comes to advocacy on Capitol Hill. "You're building a long, committed relationship with your member of Congress," said one panelist at the lobby training. "This is not a one-night stand."
Tanya became Streetsblog's Capitol Hill editor in September 2010 after covering Congress for Pacifica Radio's Washington bureau and for public radio stations around the country. She lives car-free in a transit-oriented and bike-friendly neighborhood of Washington, DC.
Stay in touch
Sign up for our free newsletter