Cleveland
Without a Plan, Sprawl Will Continue to Hollow Out Cleveland Region
4:02 PM EDT on September 13, 2010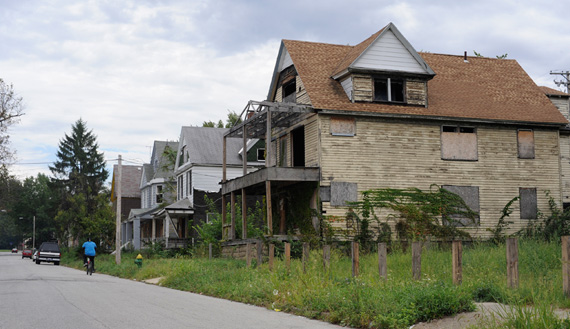 If you want to get a sense of how devastating sprawl has been to the urban areas of northeast Ohio, head over to Woodlawn Avenue in East Cleveland. Between the rows of boarded up buildings, a house collapses onto itself. Graffiti pays homage to dead loved ones — "R.I.P. Fife." Nearby, stuffed animals have been stapled to a telephone pole in a memorial, presumably, to a dead child.
Travel thirty miles west to Lorain County, and they're laying sewer pipe for a new housing development. The housing market is strong in exurban Avon, where a new highway interchange has spurred a rush in commercial real estate development on what was once forests. Here residents can commute an easy 35 minutes by highway to downtown Cleveland, while avoiding the higher taxes that come with closer-set communities, burdened by old infrastructure and the cost of providing social services to less affluent residents.
It's a pattern that can't be reversed without the type of comprehensive planning that the Obama administration has encouraged through its Sustainable Communities Initiative, which would receive a substantial boost with the passage of the Livable Communities Act.
For decades, residents of greater Cleveland have been moving up and moving out. In fact, long ago, East Cleveland itself was founded by industrialists, including John Rockefeller, who were seeking shelter from what they thought were exorbitant city tax rates.
But that's not what makes this region a special example of the destructive impacts of laissez-faire development. Housing works this way in many, if not most, mid-sized American cities, with less disastrous results. The difference in metro Cleveland is that, roughly since the 1970s, the regional population has been stagnant. That means, in essence, for every house built in Avon, a house in East Cleveland -- or the city of Cleveland, or, increasingly, one of the inner-ring suburbs -- is abandoned.
The result has been devastating for the central city and the smaller residential communities that encircle it.
Blighted, vacant homes discourage investment, weakening the already depressed urban housing market. Residential demolition costs anywhere from $5,000 to $10,000 per house, and that's if there are no complications, such as asbestos or auxiliary structures. This cost becomes an additional burden for the urban municipality, even as it hemorrhages property tax revenues. As a result, city services suffer, and the downward spiral continues, carrying middle-class families further outward, isolating the poor in the center.
Meanwhile, metro Cleveland's regional planning agency, NOACA, has maintained a neutral policy regarding sprawl -- which is to say, it has no policy. Regional land use planning has been a political non-starter for the agency, which is governed by a board of roughly three dozen politicians, representing urban, suburban and exurban interests in approximately equal measure.
A few weeks ago, however, NOACA's governing board quietly took a small step forward -- one that could have big ramifications for the region. Board members passed a resolution agreeing to apply for a federal grant to conduct regional land use planning through the Obama administration's Sustainable Communities Initiative. With support from the local philanthropic community, the Cleveland area will be pursuing a planning grant, in coordination with the regional governing bodies in nearby Youngstown and Akron.
The grant would provide up to $5 million to conduct regional planning related to land use, economic development, environmental quality, housing and transportation for the Cleveland area. Supported by the budding partnership between the U.S. Department of Housing and Urban Development, the Environmental Protection Agency, and the Department of Transportation, the grant would require the Cleveland region to determine which areas are appropriate for future development and which are not. This document would, for the first time, guide transportation and planning decisions with an eye toward sustainability.
Regionalism has been a buzzword in northeast Ohio for years. Urban and suburban leaders alike have been repeatedly exposed to the message that they should be cooperating, coordinating, even consolidating. And the urgency of the message is undeniable. Within Cuyahoga County, home to the city of Cleveland, there are 59 municipalities -- each with its own council clerk, streets department and safety forces. The cost of maintaining often duplicative services makes the local tax burden in northeast Ohio relatively high, a fact that is off-putting to businesses the region desperately needs to attract.
But change doesn't come easily in this part of the country. Where governmental consolidation has taken place across the state, it's been fraught with costly litigation. In some cases, consolidation efforts have been outright rejected by the voting public. To northeast Ohio government employees, regionalism carries the threat of job loss. This is a frightening discussion in a metro area where dependable jobs are becoming increasingly scarce and where a relatively large proportion of the population depends on the public purse for a paycheck.
As each community pursues development separately, businesses and homeowners overwhelmingly pick the newer, farther flung communities, which are considered safer and often times offer lower development costs. In an effort to cope, urban leaders are working to convert vacant lots in the city of Cleveland back into agricultural use. Meanwhile, in Avon and in exurban areas throughout the region, more and more ready agricultural land is consumed for housing. All the while, the gap between the quality of life in the city and the suburbs — in terms of city services, public education and safety — continues to widen.
City interests have looked fruitlessly to the state and the federal government for policy reforms that would make Ohio cities competitive again. The state has responded with a series of nonbinding development recommendations, which so far seem to have had little effect on regional building patterns. Then along comes the Sustainable Communities Initiative, with the promise of $5 million for planning, which regional leaders -- both suburban and urban -- cannot ignore. Will that provide the push that Cleveland leaders have been praying for?
It's too soon to celebrate a new chapter in northeast Ohio. After all, there's no guarantee that the region will win the grant money. Even then, it is difficult to say how faithful local leaders would be to this guiding document. But if the act of planning brings Cleveland area leaders together to talk about collectively shaping a more sustainable community, that, in itself, is a huge victory for the region.

Stay in touch
Sign up for our free newsletter